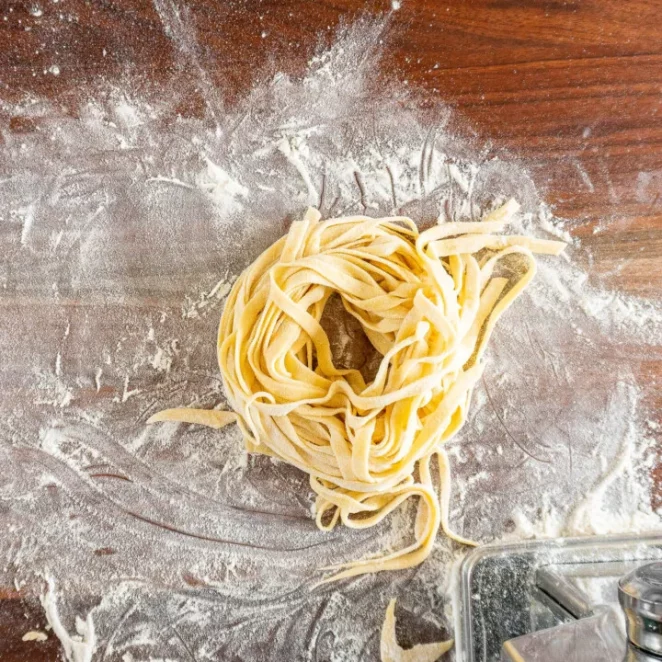 A sourdough starter is a wonderful, living, growing, breathing, bread-giving thing. But as every parent of a starter knows, sometimes you need to trim and "discard" some of the microbiologically active gloop so it doesn't take over your fridge. That surplus is known as discard because, sadly, some people simply throw it away. We urge you to put it to work! So-called discard can play a supporting or starring role in lots of recipes.
Today we're featuring savory recipes that call for starter, but don't require the rising time associated with making traditional sourdough bread. These are quick, or at least quicker, recipes. Some could be a main course or side dish at dinner, others a snack. All of them will turn "discard" into no-waste, money-saving, and delicious discoveries.
Thanks to the featured blogs for providing photos!
Consider sourdough discard to be ready made onion ring batter, says Irwin Lin, of Eat The Love. Irwin reports that the discard clings to the rings well and helps them stay crispy, even as they cool. His recipe works with whatever type of onion you have on hand.
These sourdough scallion pancakes are literally as easy as mixing chopped scallions and other goodies into your discard and then pouring pancake sized dollops into your frying pan. Rebecca of The Practical Kitchen designed this recipe to be super easy and flexible. She suggests also throwing in ginger and literally anything else you need to use up. And, she gives guidance on how the flavors will turn out depending on the type of flour you use in your starter.
Sourdough pasta? It really is pastable! Crave The Good tells you how to turn your excess into homemade noodles. Recipe developer Ally notes that fresh discard will have more mild flavor than discard that's been hanging out in the fridge without feeding. Note: This recipe requires a 30 minute rest period.
Eileen over at Baking With Butter suggests a nice strong cheese for these savory scones. She notes that the acid in the starter creates a soft and tender base. Her recipe requires the dough to rest for an hour, but if you'd like more of a fermented flavor, you can let the scones rest overnight and bake the next morning.
Here's another buttery, biscuity treat! In this recipe for sourdough discard biscuits from Heartbeet Kitchen, recipe developer Amanda shares a video so you can make sure you're shaping and cutting the dough just right.
Have a bread machine? Have discard? You have the makings of a loaf of bread without the time and labor required of a true sourdough. Ally of Crave The Good says any old sourdough starter will do, whether it was just fed that morning or has been sitting in your fridge for a week, though an older starter will have a more sour flavor. Ally's preference is one that was fed within the last seven days. Just make sure to stir down any bubbles and stir in any "hooch" (the liquid that accumulates on top) before measuring. And even if you don't have a bread machine, Ally's recipe provides guidance for making a loaf in the oven.
Sophie and Paul of Vegan on Board say that sourdough discard "brings an extra complexity and richness" to these quick bake crackers. They recommend making sure the starter you use has fully ripened, bubbled up and maybe settled down again before using it. This, they say, will make sure your liquid to flour ratio is just right. Mix-ins, like the sesame seeds pictured above, are up to you. Consider these crackers a blank canvas.
Here's another take on sourdough discard crackers from Kim of Three Olives Branch. Rosemary makes these crackers distinctive, but Kim says you could also play with thyme, parsley or even parmesan cheese. Yum!
More inspiration:
Looking for more ways to use your discard? Consider a sourdough puff pastry or pizza dough with discard starter. Also check out this post by a Boston couple that had fun experimenting with their discard during the pandemic (waffles, popovers and pizza, oh my!).