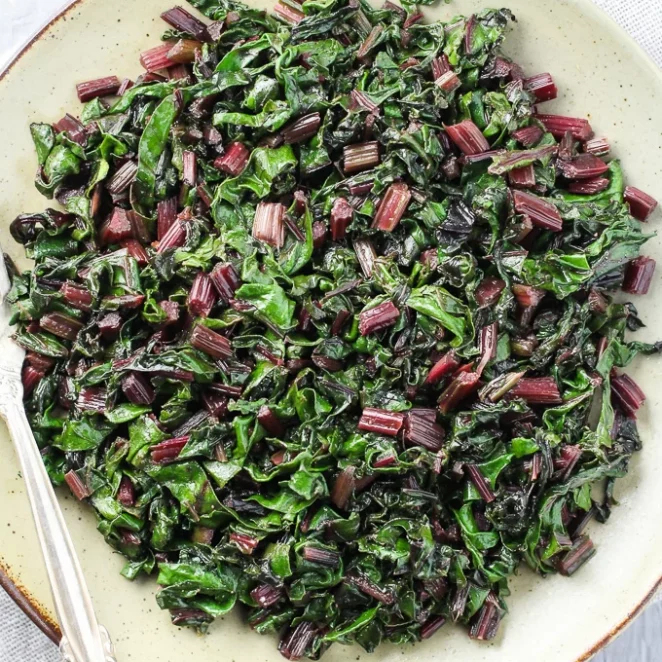 Beet greens are edible, delicious greens! They have some of the earthy flavor of beets themselves, along with a leafy texture that's sturdier than spinach, but more delicate than kale. The stems, reminiscent of Swiss chard, are also delicious. From pestos to smoothies to simple sautés we've rounded up eight great reasons to keep those greens out of the compost and on your plate. Thanks to the featured blogs for sharing photos!
Pro tips:
Make sure to thoroughly clean beet greens as grit can get caught in the stalks.
Keep in mind that the greens on a single bunch of beets cook down to a relatively small portion. If you only have one bunch, a recipe that includes other veggies may be the best use for your greens.
Use your beet greens quickly! Beets with the greens still attached will have a shortened shelf life.
Peter, of Peter's Food Adventures, notes that beet leaves and stems "can be used in place of Spinach, Swiss Chard or even Bok Choy or other greens." Case-in-point, his minestrone soup, made special with beet greens, prosciutto and a dollop of pesto. Since the beet stalks are tougher than the leaves, he sautes and simmers them with the other veggies in the soup. The beet leaves, on the other hand, require less cooking and are dropped in toward the end of the process.
This gorgeous pizza from Veggie Desserts is truly root to leaf. Recipe developer Kate Hackworthy, purees roasted beets into the dough, makes a pesto with the beet leaves, and chops the beet stalks into a topping that adds flavor, color and texture. Kate reports that her kids love eating purple pizza and it's a fun conversation starter when guests come over.
Think kale chips, except for beet leaves and you're on your way to Celebration Generation's beet green chips. Marie Porter devised the recipe after a pickling project left her with greens of 45 pounds of beets. She says the leaves roast up looking like autumn leaves (but tastier!). Keep in mind, however, that this recipe is best for when you have A LOT of greens.
Have any amount of beet greens? You can add them to a smoothie! Christie of Feasting, Not Fasting provides insight on which flavors (banana! mango! avocado!) might blend well, while also giving suggestions on making the most of whatever you have on hand.
This Indian dish incorporates toasted semolina, which recipe writer Puja of Indiaphile says "gives the greens a whole new texture. They become soft and light, almost spongy." Add onion, garlic and lots of spices and your greens will transform into a cozy dish. Puja notes that it travels well and, with some bread, makes for a great lunch at work.
Wash, chop, saute and season and you have Maria Ushakova's recipe for easy sauted beet greens. Maria says the sauteed greens are as versatile as they are easy to prepare. "They taste great served with meat, fish, or as a part of a grain and veggie bowl. You can also use them to stuff phyllo pastry," she writes on her blog.
With grated coconut and an array of spices, this stir fry, or subzi, from Raksha's Kitchen has a flavor profile characteristic of the Goan region of India. Some ingredients, like jaggery (a sweetener) and asafoetida (a pungent spice that can be traded out for onion or garlic powder) may be hard to find in North America, but there's no shame in improvising with what you have on hand.
Like spinach and other greens, beet greens will shrink during cooking, so one leaves left over from a single bunch of beets might not get you very far. That's ok! You can sauté them with other leafy veggies, like Swiss chard. In this dish from Running to the Kitchen, Gina Matsoukas explains how to bring everything Swiss chard and beet greens together with garlic and lemon.