Today we're excited to share this guest post from Boston couple Ben Jamieson and Sarah Glinski, whose pandemic accomplishments include baking sourdough bread and finding uses for their extra sourdough starter. Oh, and also they got engaged! Congrats Ben and Sarah! And thanks for dishing on your "discard!"
We're not usually trendy people, but while we were visiting some friends (from a distance) at the beginning of the pandemic, they offered to share their sourdough starter with us, and, with not much else to do with our free time these days, we said "Sure!" It took them a few tries to get us to understand how to keep it alive, but now the little alien is a welcome, low-maintenance member of our household. It even has a name, "Louis" (pronounced in the French way).
The starter usually lives in the fridge, and gets fed flour and water about once a week, generating a bit of "discard" each time (more on that below). But don't be fooled by the term "discard." We put that extra starter to work in some lovely loaves of sandwich bread, pizza dough, cinnamon raisin bread, the best waffles we've ever had, and even popovers!
Here's the deal with "discard": if you're just keeping your starter alive in the fridge and aren't actively using it to bake bread, you want to keep it pretty small. That means discarding some of it every time you feed it that flour and water. Think of the starter as a colony of tiny living critters: if you want the colony to stay the same size, you can't keep feeding the whole colony–you need to remove some of it occasionally. But the part of the colony that you throw away is just as good as the rest…and we didn't want to let those critters go to waste!
The good news is that you can keep this extra starter in the fridge and use it for certain recipes that specifically call for "discard" or "unfed" starter. Most of these recipes also call for a bit of commercial yeast to give the discarded starter a little push (remember, you aren't feeding it anymore, so it's a bit sluggish). Below we've listed our favorite "discard" recipes, all from the excellent King Arthur Baking Company website.
Cinnamon Raisin Sourdough Bread
**Sounds much more complicated than it is.**

Buttery Sourdough Sandwich Biscuits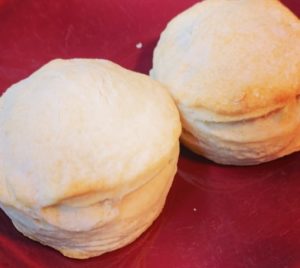 Classic Sourdough Pancakes or Waffles

**Very satisfying bubbles!**
Sourdough Pizza Crust
**Step 8 is a game-changer: adding the cheese late really concentrates the flavor of the sauce and gets the crust nice and crispy.**
(We don't have a single picture of our pizza – I think we eat it too quickly after it comes out of the oven!)