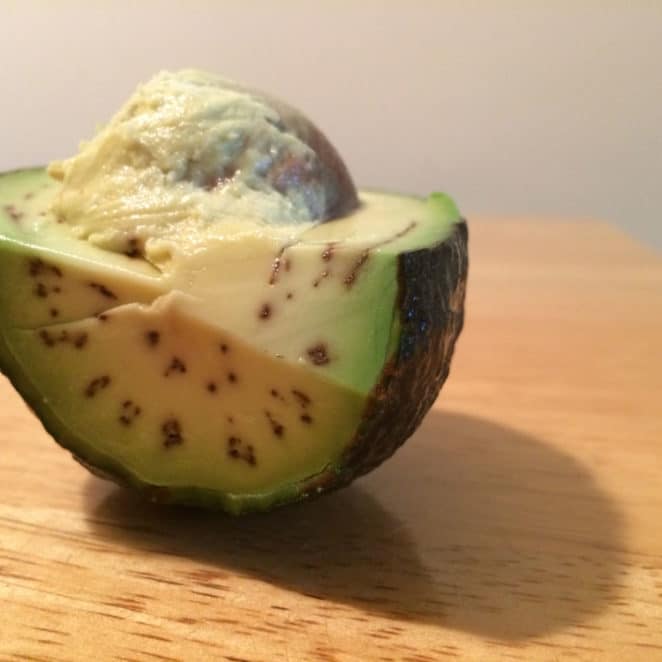 What you see: Brown and black streaks or dots in avocado flesh
What it is: Vascular browning! Mmmm!
Eat or toss? The avocado is edible, but may not taste as good. If the spots are relatively mild (and brown, rather than black), give it a taste test.
So, why do avocados sometimes have brown dots?
The inside of an avocado is a busy place, where nutrients, water and sugars are ferried around. Normally their "transport channels" are invisible to us. Unless, of course, something goes wrong.
In the case pictured above, the avocado's internal thoroughfares (known as "vascular tissue") may have been ravaged by too-cold storage for too long. The cells that make up that tissue weakened and started dying.
So that vascular tissue turned brown, which highlighted the avocado highways as lines when the avocado is cut along its long axis, and little dots when it's cut through its fat middle. (The image below is a long axis cut through the same avocado as the one at the top of this post.)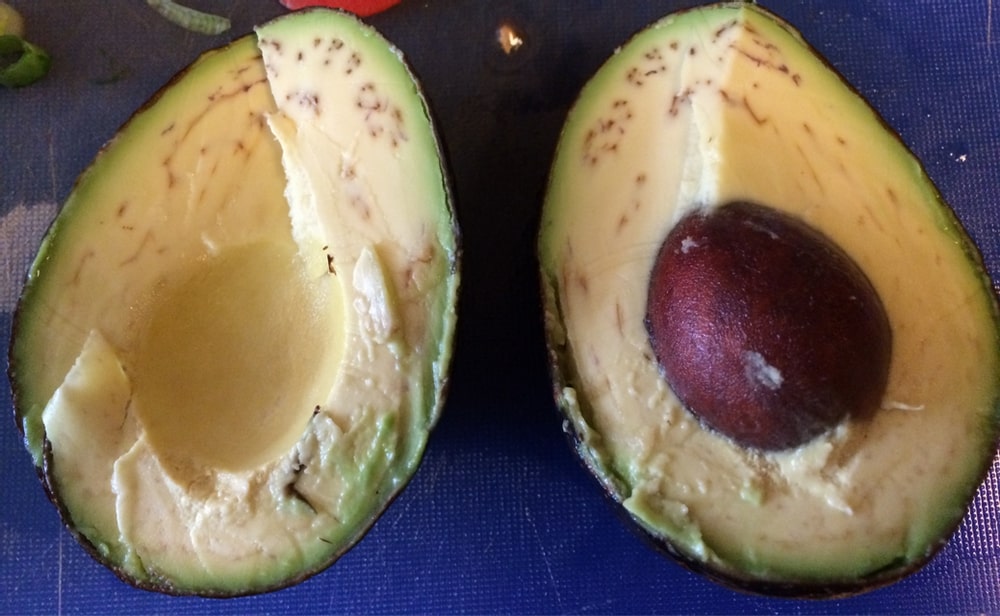 Elhadi M. Yahia, a professor at the Autonomous University of Querétaro in Mexico who has studied avocado handling after harvest, said a few weeks of refrigeration, likely before you even purchased your avocado, could lead to such vascular browning.
The disorder typically becomes visually apparent after the fruit has ripened at room temperature for a couple days.
You can eat avocados with brown dots, but may want to do a taste test first

"I have absolutely no problem eating them," Yahia said of the little brown pathways, with the caveat that palatability will depend on severity.
The issue worsens—and creates icky flavor changes—with time. Eventually you'll find blackened tissue and rancid flavors as the avocado's fats and enzymes react with oxygen in not-so-tasty ways.
When cold temperatures cause vascular browning, the issue starts in the center of the fruit, Yahia said. It's also possible for fungi to enter the fruit from the vulnerable spot where the stem attaches and travel along the vascular tissue in something called "stem-end rot."
While vascular browning doesn't necessarily indicate an infection, when cells weaken and die, they also become more vulnerable to decay organisms.
But Yahia said that the fungi that tend to strike avocados are not known to be harmful to humans and he was not aware of any food safety issues connected to vascular browning.