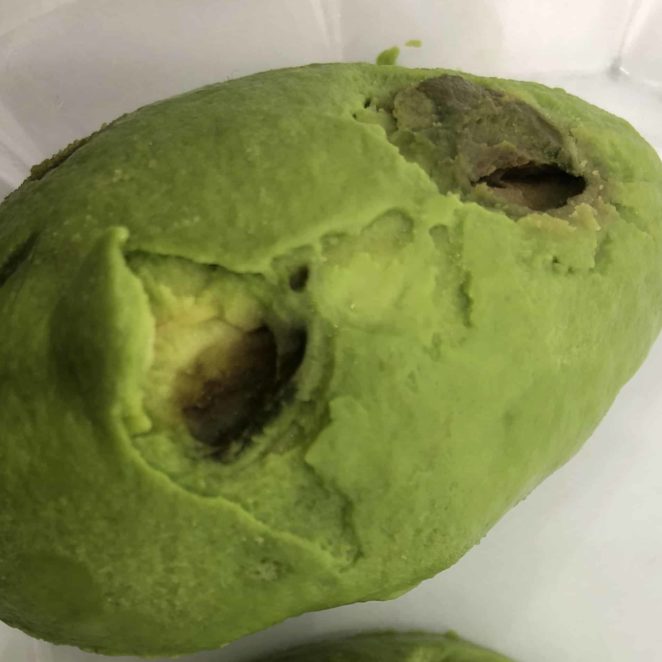 What you see: Black circles just below the avocado's peel. You may also see small holes in the bruises.
What it is: Finger bruising.
Eat or toss: Eat! But you may want to cut around the bruised areas, which could have off flavors.
Large black circles on avocados
Are you an avocado pincher? Do you fondle them at the store, pinching, pressing and squeezing until you find one that's perfectly ripe?
It's understandable–it can be tough to find a perfectly ripe avocado when you need one. But manhandling the creamy green fruit has consequences. Like this:
When your ripe-ness hunting finger bears down on the avocado skin, it easily damages the delicate green tissue below. That causes cells to leak compounds and enzymes that are normally kept separate. This triggers a chain of chemical reactions that results in the unappealing color changes of an avocado bruise (check out page 45 of this document for some great diagrams explaining this series of reactions). The more severe the damage, the darker the color. The avocado isn't unsafe to eat, but it's certainly less visually appealing.
The areas that are still green and creamy will probably taste just fine. The bruised area may have some off flavors; give it an assessing nibble and act accordingly.
Finger-bruised avocados sometimes have a little pocket of air around the damaged area. Kristine White, director of global quality assurance and research and development at Mission Produce, said that may be because the skin bounces back, even after the flesh is dented.
Here's what that looks like in a milder case: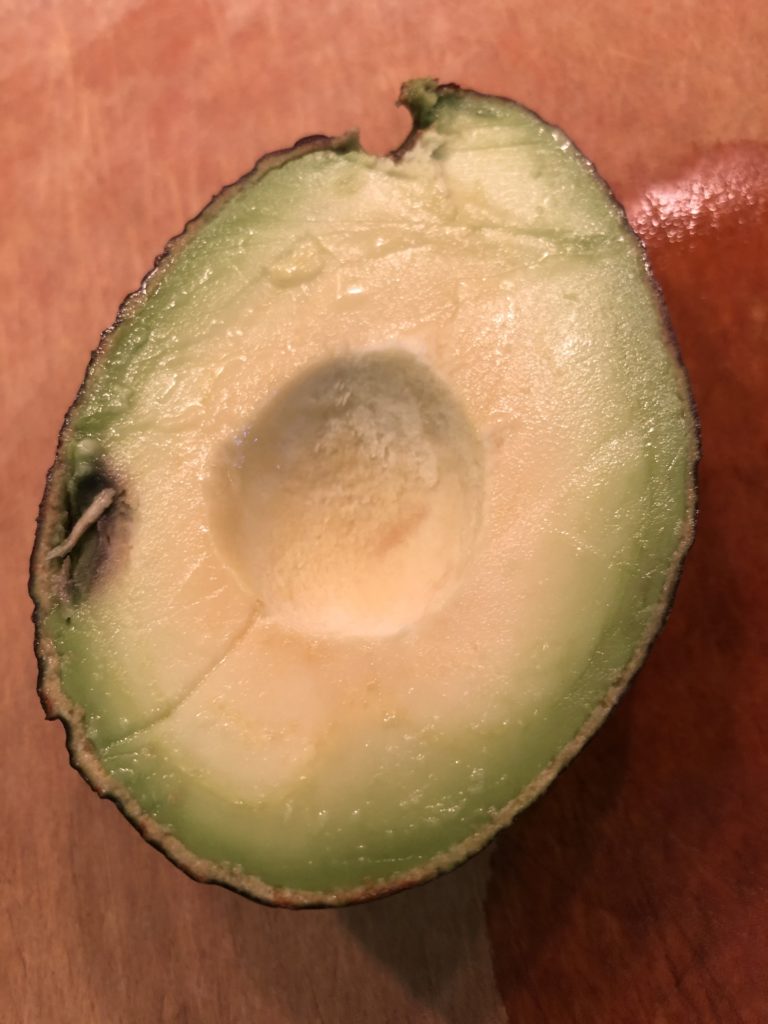 Bruised avocados rot faster
While a fresh, minor bruise doesn't render an avocado inedible, thumb-press bruises–and all types of avocado bruises for that matter–only get worse with time, and can even bring about the demise of the entire avocado. Even though a gentle press to determine ripeness doesn't break the skin, it can cause enough cellular damage to facilitate microbes slipping through the peel. Those microbes are more interested breaking down avocado cells and sucking up nutrients than harming us people, but, eventually they'll expand their reign of dark, discolored decay and make the avocado taste bad. 
Only YOU can prevent avocado bruises! But also, it might not be your fault
So, as a general rule, avoid thumb presses when assessing ripeness.
But, even if you are a model avocado handler, the damage could have been inflicted before you even set thumb into the store. While a very ripe avocado will bruise quickly, researchers found that "slight" thumb presses on avocadoes somewhere between firm and ripe led to bruises that appeared within 2 days at room temperature.
In Australia, researchers have observed shoppers handling two to three times more avocados than they buy. With bruising being one of the most common internal defects in avocados, and shoppers and retailers being primary offenders, our avocado toast will probably be better off if we can all keep our thumbs to ourselves.
Still, farmers and processors can do a lot to make avocados less vulnerable. Cooling them soon after harvest slows ripening. Moving avocados through the supply chain quickly means they're less likely to be soft and bruise-prone when they arrive at retailers. Experts also recommend treating avocados as delicately as eggs.
Squeeze rather than press
So how can you avoid this dark fate? To up my odds of having a bruise-free avocado, I buy them hard, when they're less vulnerable and have had fewer chances to be handled by other shoppers, and let them ripen in my home. When it comes time to assess ripeness, White suggests using your palm, not your thumb.
"We recommend checking for ripeness by gently squeezing the avocado in the palm of your hand, feeling for a slight give to determine if the avocado is ripe and ready to eat."