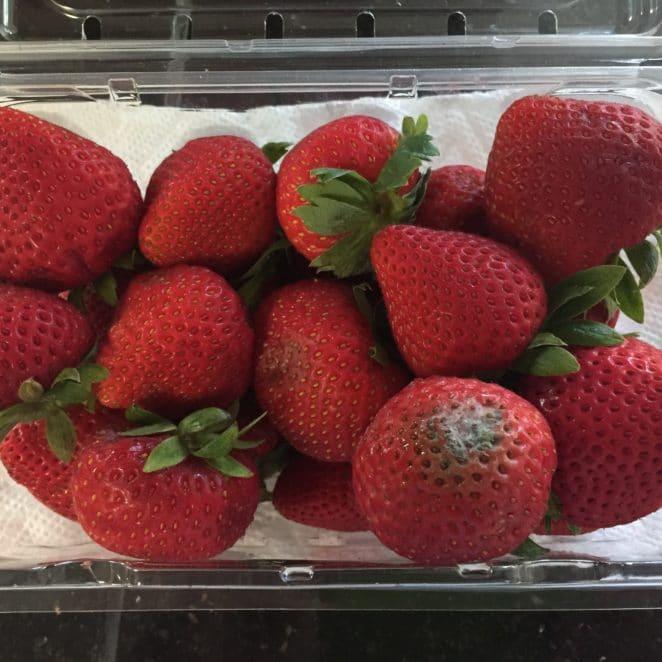 What you see: A moldy strawberry or two in a pack that otherwise looks fine.
What it is: Mold (duh).
Eat or toss: Toss the moldy one(s). If it was just one or two berries, the rest of the berries should still be OK, but start with a taste test and consume the rest soon.
Just one moldy berry
If one strawberry is moldy, does that mean that your entire carton of sweet, summery goodness needs to be dumped?
In a word, no.
But let's add some details and caveats.
You shouldn't eat mold
First off, you don't want to eat mold. Some molds contain toxins that could make you sick now, or in the long term. Airborne mold spores can trigger respiratory allergies. And if your food is moldy, that means the mold, and possibly some other microbes, is hard at work breaking the food down; it simply won't taste right.
The USDA's guidance is that moldy soft and high-moisture foods should be tossed in their entirety. The reasoning is that mold could have spread farther than you can see in a soft-fleshed food. Trimming at least an inch around moldy parts is recommended for hard, dense, low-moisture foods.
If it's just one moldy berry, toss it and take a close look at the remaining strawberries
So, back to that one moldy berry. Here's the thing: multiple scientists I consulted said it's usually OK to just toss the moldy berry and eat the rest.
Can you guarantee that those berries haven't come into contact with mold spores? No. In fact it's likely that they have, given that they've been rooming with a moldy berry. But mold spores are everywhere and touch a lot of our foods. It's only the berries with actively growing mold that you should steer clear of.
Also worth considering: while the molds most likely to contaminate strawberries are devastating for fruit growers, and while it's not a good idea to eat them, they generally aren't human health threats. The most common mold found in strawberries is a character called Botrytis cinerea. It's grayish white and fluffy. You can find beauty shots here and here.
Gray mold, aka Botrytis cinerea, is a common strawberry mold
Botrytis cinerea, which ravages lots and lots of crops, also ranks second on the Top 10 Fungal Pathogens in Molecular Plant Pathology, so you know it's serious.
But while its spores are allergens that could make you sneeze or give you a runny nose, it's highly unlikely to make you truly ill. In fact, Botrytis cinerea is sometimes known as "noble rot" because some wine growers deliberately let it grow on their grapes. Botrytis, when managed well, is prized for its ability to concentrate sugars and flavors in grapes used to make sweet wines. If it gets out of control it can, however, destroy the grapes. And no, the moldy strawberry in your carton won't be extra delicious so don't try it. Here at EatOrToss we discourage amateur mold identification and the consumption of any uninvited mold or obviously infected fruit.
But get this: you're probably already eating Botrytis spores. The fungus sometimes first digs into the strawberry plant (and loads of other crops) at the flowering stage and just hangs out quietly, waiting for the fruit to soften and sweeten before it starts spinning the sinister fuzz.
Dangerous molds produce toxins that can make you ill. But Botrytis isn't known to generate toxins and, in any event, USDA reports that in molds that do present health threats, the poisons are usually found in and around the mold's threads, not the spores. 
Just to cover all our bases, I did find one documented case of a healthy man suffering from a Botrytis infection in his lungs. The background section of the paper notes that "botrytis species are well known fungal pathogens of various plants but have not been reported as human pathogens except as allergenic precipitants of asthma and hypersensitivity pneumonitis."
Other types of mold grow on strawberries too
While Botrytis cinerea is the most common strawberry mold, other molds can also cause the heart-shaped fruits to rot and develop decay fluff or a dusty powder. Whatever the invader is, the fruit won't taste good and could also be hosting some bacteria, so you definitely don't want to eat it. 
But as long as its fruity neighbors still look pristine, they should be fine to eat. For now. Eat them fast!
Updated May 2023