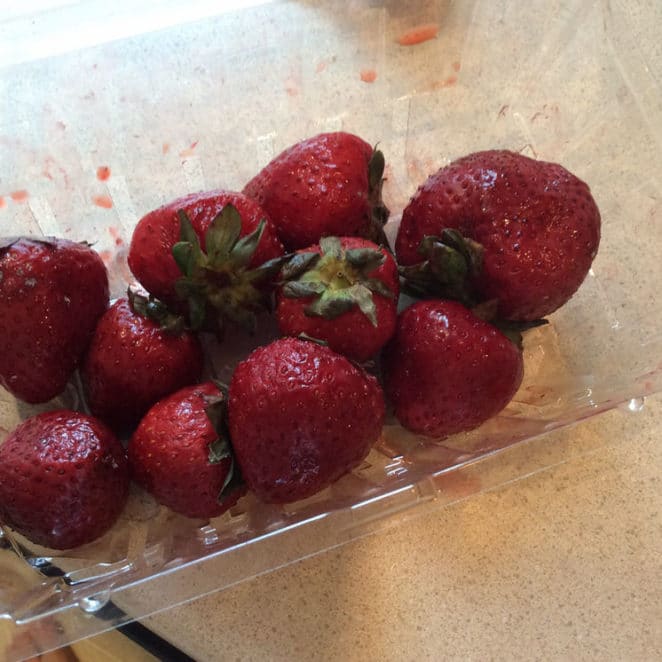 What you see: Strawberries that look "wet" and seem to be coated in strawberry juice.
What it is: Not to be dramatic or anything, but the strawberries are so old, they're basically bleeding.
Eat or toss: Probably toss. Without obvious mold or bacteria, you could still eat them but they are more vulnerable to microbes and odds are the berries won't taste very good.
Is it OK to eat strawberries that seem to be oozing strawberry juice?
Strawberry cell walls break down during ripening, which at first is great because it makes the fruit softer and juicier and all around more palatable. The better, the strawberry thinks, for us plant-eaters to consume them and distribute their seeds.
But today's ripening is tomorrow's decay. Wait too long (which in strawberry time can be a matter of days) and the strawberry enzymes ravage the cell walls so much that the liquid inside the cells seeps out and you have a regular strawberry mess.
For a better idea of how those cell walls work, consider jam. Within the cell wall structure, the strawberry enzymes target pectin, which you may recognize from the ingredients list in jam and jelly products. Pectin gives the fruity spreads body and keeps them bound together in a gel. Just as your jam might be a watery mess without pectin, so too is your strawberry.
Possibly the soft strawberries pictured above were stored in a too-hot environment, which sped up their biological processes and caused them to break down sooner. As we discussed in a recent post about arugula, fresh produce "breathes" and the faster it breathes the faster it breaks down its limited supply of nutrients. Cooler temps, like those found in your fridge, can help slow that breathing and thus slow aging. (Though, the fridge isn't the right answer for all of your produce. Eggplants, for example, belong on the counter.)
The squishy, weakened, bleeding strawberries are more prone to invasion by microbes, so that's reason No. 1 to be wary. They also will probably not taste very good and their once robust stores of Vitamin C will have dwindled considerably. If you're feeling bold, have a nibble and make an informed choice.
Thanks to reader Ben J., of Cambridge, MA, for sending this photo!