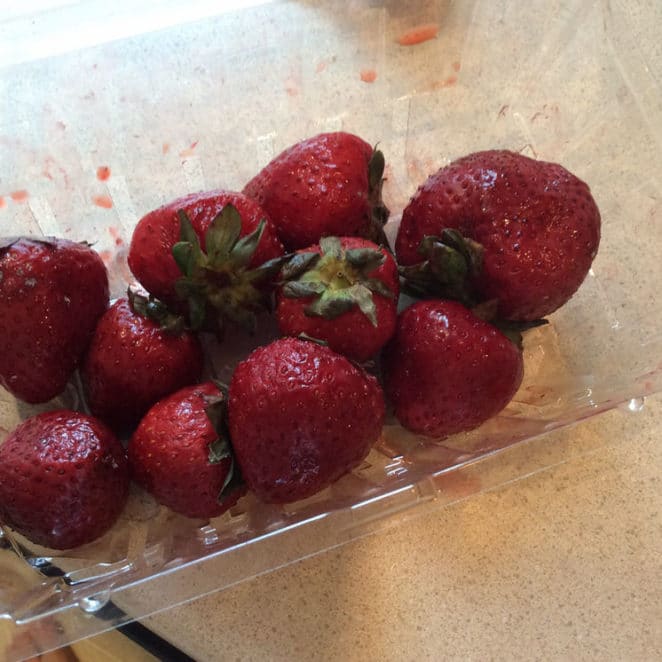 What you see: Strawberries that look "wet" and seem to be coated in strawberry juice.
What it is: Not to be dramatic or anything, but the strawberries are so old, they're basically bleeding.
Eat or toss: Probably toss. Without obvious mold or bacteria, you could still eat them but they are more vulnerable to microbes and odds are the berries won't taste very good.
Is it OK to eat strawberries that seem to be oozing strawberry juice?
Strawberry cell walls break down during ripening, which at first is great because it makes the fruit softer and juicier and all around more palatable. The better, the strawberry thinks, for us plant-eaters to consume them and distribute their seeds.
But today's ripening is tomorrow's decay. Wait too long (which in strawberry time can be a matter of days) and the strawberry enzymes ravage the cell walls so much that the liquid inside the cells seeps out and you have a regular strawberry mess.
For a better idea of how those cell walls work, consider jam. Within the cell wall structure, the strawberry aging enzymes target pectin, which you may recognize from the ingredients list in jam and jelly products. Pectin gives the fruity spreads body and keeps them bound together in a gel. Just as your jam might be a watery mess without pectin, so too is your strawberry.
Possibly the soft strawberries pictured above were stored in a too-hot environment, which sped up their biological processes and caused them to break down sooner. As we discussed in a recent post about arugula, fresh produce "breathes" and the faster it breathes the faster it breaks down its limited supply of nutrients. Cooler temps, like those found in your fridge, can help slow that breathing and thus slow aging. (Though, the fridge isn't the right answer for all of your produce. Eggplants, for example, belong on the counter.)
The squishy, weakened, bleeding strawberries are more likely to support microbial growth, so that's reason No. 1 to be wary, and to avoid them if you're immunocompromised. They also will probably not taste very good and their once robust stores of Vitamin C will have dwindled considerably. If you're feeling bold, have a nibble and make an informed choice.
SOURCES:
Cecilia N. Nunes, Ph.D. Associate Professor. Food Quality Laboratory. Department of Cell Biology, Microbiology and Molecular Biology. University of South Florida
Emily Therese Cloyd. Botanist.
What's in your strawberries? Simon Cotton. Education in Chemistry. Royal Society of Chemistry. A methodology for assessing the quality of fruit and vegetables. Doctoral Thesis. Azodanlou, Ramin. Swiss Federal Institute of Technology Zurich. 2001.
On Food and Cooking: The Science and Lore of the Kitchen. Harold McGee. p. 350 – 353. p. 365. Gain and Loss of Fruit Flavor Compounds Produced by Wild and Cultivated Strawberry Species. Asaph Aharoni, Ashok P. Giri, Francel W.A. Verstappen, Cinzia M. Bertea, Robert Sevenier, Zhongkui Sun, Maarten A. Jongsma, Wilfried Schwab, Harro J. Bouwmeester. November 2004. The Plant Cell. American Society of Plant Biologists.
Fruit Quality, Fermentation Products, and Activities of Associated Enzymes During Elevated CO2 Treatment of Strawberry Fruit at High and Low Temperatures. Jianzhi Jenny Zhang and Christopher B. Watkins. Cornell University. Journal of the American Society for Horticultural Science. 2005.
Abscisic acid and sucrose regulate tomato and strawberry fruit ripening through the abscisic acid‐stress‐ripening transcription factor. Plant Biotechnology Journal. 2016 Oct; 14(10): 2045–2065.Abscisic acid and sucrose regulate tomato and strawberry fruit ripening through the abscisic acid‐stress‐ripening transcription factor. Plant Biotechnology Journal. 2016 Oct; 14(10): 2045–2065. Haifeng Jia, Songtao Jiu, Cheng Zhang, Chen Wang, Pervaiz Tariq, Zhongjie Liu, Baoju Wang, Liwen Cui, and Jinggui Fang.
Study on the Kinetics of Vitamin C Degradation in Fresh Strawberry Juices. Lanny Sapei, Lie Hwa. Procedia Chemistry. Vol. 9, 2014, p. 62-68.
Thanks to reader Ben J., of Cambridge, MA, for sending this photo!