Pickle juice isn't just for preserving pickles! The briny, acidic liquid can do wonders in all sorts of preparations, including those for spreads and dips. We've rounded up six recipes, from salsa to bagel spread, that demonstrate just how saucy pickle juice can be!
You might follow these recipes to the letter, but you might also just use them as a starting point. As you read through, this mighty liquid's versatility will become clear: pickle juice can be the acid in a salsa, it can be mixed with creamy ingredients (like sour cream, cream cheese, mayo or yogurt) to add tang, complexity and depth; it can be the primary flavor agent, or one of many.
Many thanks to the recipe developers who shared their photos for this post! This will be the first in a series of posts about the many tricks pickle juice can do. Wishing you zippy spreads and zesty dips!
This brilliantly named dish from Belly Full takes Pico de Gallo and pickles it up a notch. Make sure to chop the pickles, red pepper and onion in an even, small dice to make it perfect for dipping. Pickle juice brings it all together.
Do you have cream cheese and a jar of dill pickles? Then you have Dill Pickle Dip! Head over to Swirls of Flavor for the recipe, or just inspiration. This recipe is easy to personalize with whatever spices appeal or simply whatever spices you have on hand.
Or, maybe you'd like something lighter and more herbal? This Dill Pickle Ranch Dip from Make it Skinny Please has a base of sour cream and calls for fresh herbs like parsley and, naturally, dill. But if you only have dried herbs, it will still turn out great!
Want to really bring out the deli in your bagel sandwich? Pickle juice is here for you. Mix some into cream cheese, along with mustard and some other ingredients that appeal to you (complete recipe on In the Kitch) and you'll have a bagel with a little extra deli in every bite.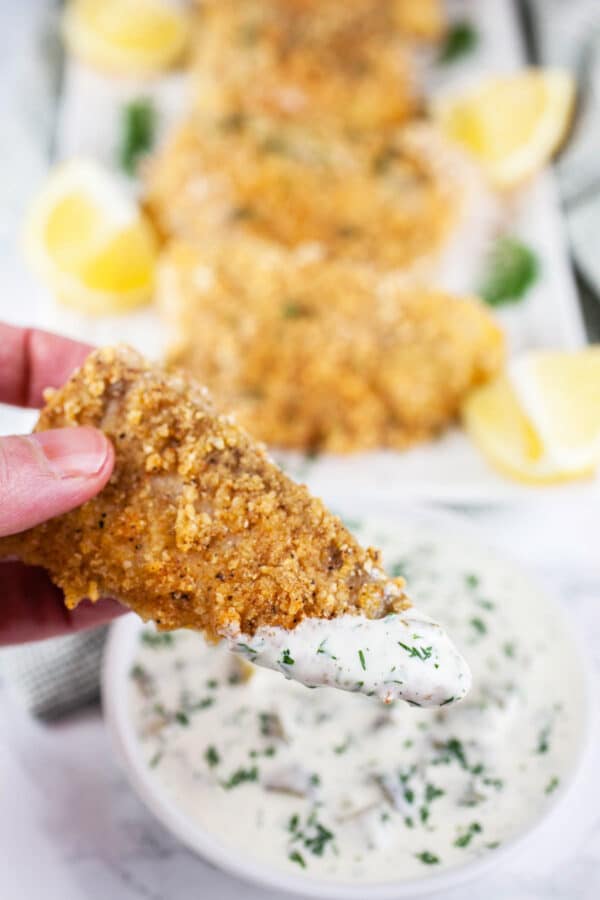 Need sauce? Pickle juice and mayo to the rescue! This recipe from The Rustic Foodie makes a flavorful sauce for fish (or even for slathering on a sandwich) from ingredients you probably already have on hand.
How about a briny, crunchy hummus, brought to you by pickles and their juice? Cadry's Kitchen has the recipe, which is entirely vegan and also uses another oft-wasted ingredient: aquafaba (that's the liquid in canned chickpeas). And, hey, if the pickles are all gone and you just want to use the brine in your hummus, we think that works too.