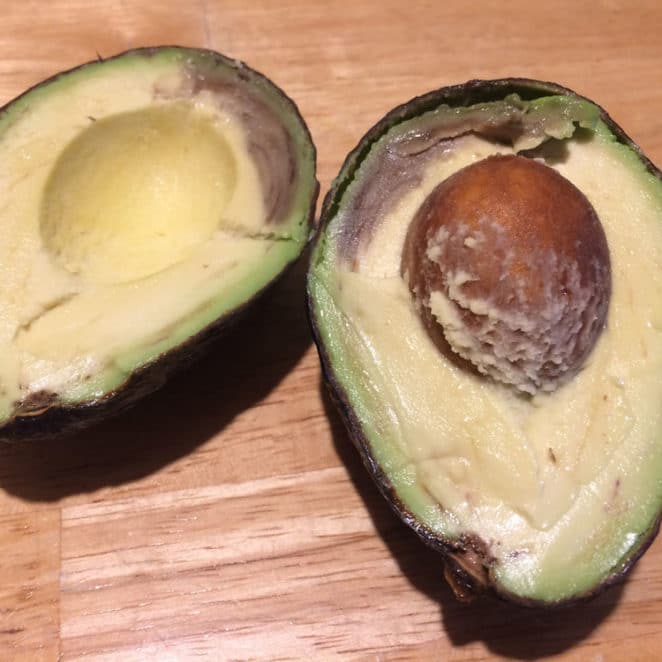 What you see: A brown area inside your avocado.
What it is: The avocado could have been dropped or otherwise bumped; and/or it could be infected.
Eat or toss: Cut out the brown area and eat the rest!
Can you eat an avocado that's brown inside?
No matter how you slice it (har!), the fat end of this avocado has clearly struggled. The tissue is brown, turning black, which means it's dying or dead and is unlikely to taste very good.
The light green flesh of the rest of the avocado is still fine, though you may want to taste test the areas with the little brown lines, which we covered in an earlier post. In any event, your avocado toast can proceed, but just with a bit less avocado than you'd hoped.
A number of scenarios could have caused this corner of the avocado to take a dark turn, explained University of Querétaro professor Elhadi M. Yahia. At some point, when it was harvested, processed, moved, displayed or possibly—not to point fingers or anything—even after you purchased it, the avocado could have been bruised.
Maybe it was dropped. Maybe it rolled off a display. Maybe it bumped up against a bottle of the olive oil you were going to drizzle on that avocado toast.
An injury or microbe can cause brown areas in an avocado
Bruises weaken the tissue, potentially causing that corner of the avocado to soften faster. Its cells could have leaked compounds that oxidized to a brown color and would eventually turn black. That could be all we're seeing in this image.
But, the weakened avocado flesh could have also created an opening for a pathogen, a fungus most likely. (If you ever see such a darkened area at the top of an avocado, it's also possible that a pathogen snuck in through the stem.)
Or, maybe, Yahia theorized, a sneaky invader was the problem all along. It's common for a fungus, known as anthracnose, to settle on an avocado early in its life and then….wait for it….wait.
When avocados are young, their skin contains anti-fungal chemicals, which break down as the fruit ripens. When the avocado softens and the chemical defenses break down, we aren't the only beings suddenly much more interested in eating the dark green fruit.
At this point, a "latent fungal infection" will wake up, work its way through the skin and start growing little tentacles inside the avocado, basically causing rot. (Please find more delicious details about this process, which involves something ominous called a "germ tube" on p. 12 of this master's thesis.)
Yahia, who has written about post-harvest handling of avocados, wasn't aware of any food safety risks connected to browning, anthracnose or other spoilage infections in avocados. Whenever rot sets in, any manner of microbes might show up, but he said the spoilage organisms that tend to strike the rich green fruit aren't known to produce anything harmful to people.
Still, by the time avocado flesh gets this dark, it's not going to taste very good. Those oxidation reactions, some of them involving fats and producing rancid flavors, always leave avocados worse for wear. Sometimes, however, their work can lead to off odors and a mushy texture; the decay can take over the entire fruit, rendering it inedible. So, cut off the brown area, consider a taste test and toast on.
Check out our other avocado posts, about brown guacamole, little brown dots and lines, and the black spots left behind when you bruise an avocado with squeezes or by pressing it to test for ripeness. Find still more about the light green, soft-fleshed fruit in our Avocado Index.
No wonder! He's suffering from a bruised avo.
---
This post was published on June 8, 2020, and updated on Jan. 19, 2023.