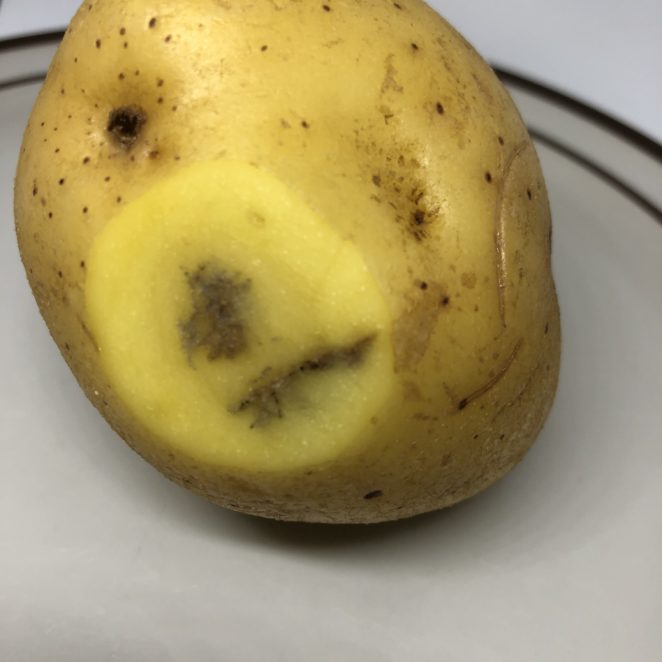 What you see: A blackish, dark area under your potato's skin; the surface may or may not appear damaged.
What it is: The blackish coloration pictured above is a bruise.
Eat or toss: Eat! The potato is safe to eat, however, unhealed wounds are more vulnerable to microbes and their texture may not be ideal.
Black discoloration inside your potato could be a bruise
From harvest to arrival at your grocery store, potatoes ride conveyer belts, roll down slides, hang out in giant potato-mountains and get scooped up by truck buckets. Farmers are careful and potatoes have sturdy souls, but some bumps and bruises are inevitable.
And bumps and bruises are exactly what happened to the potatoes we're talking about today. On the outside, the tater below is showing off what the potato industry calls a "shatter bruise." Its skin broke, as we can see from the cuts on its surface.
Underneath this potato's skin is more evidence of the impact, this time as an internal bruise known as "black spot." The impact damaged cells inside the potato; their membranes then leaked compounds that mixed and spurred a series of chemical reactions leading to the dark color. 
Sometimes potatoes can have black spot with no evidence of impact on their skins. And sometimes potatoes can have a "shatter bruise" that scuffs up the skin, but doesn't cause an internal injury that would lead to black spot. Sometimes, like in the potato featured at the top of this post, they can have both a damaged exterior and a wounded interior. Poor guy.
In the image below, courtesy of the University of Idaho, you see potatoes with black bruise spots (those dark areas) and the remnants of shatter bruises after peeling (the lines).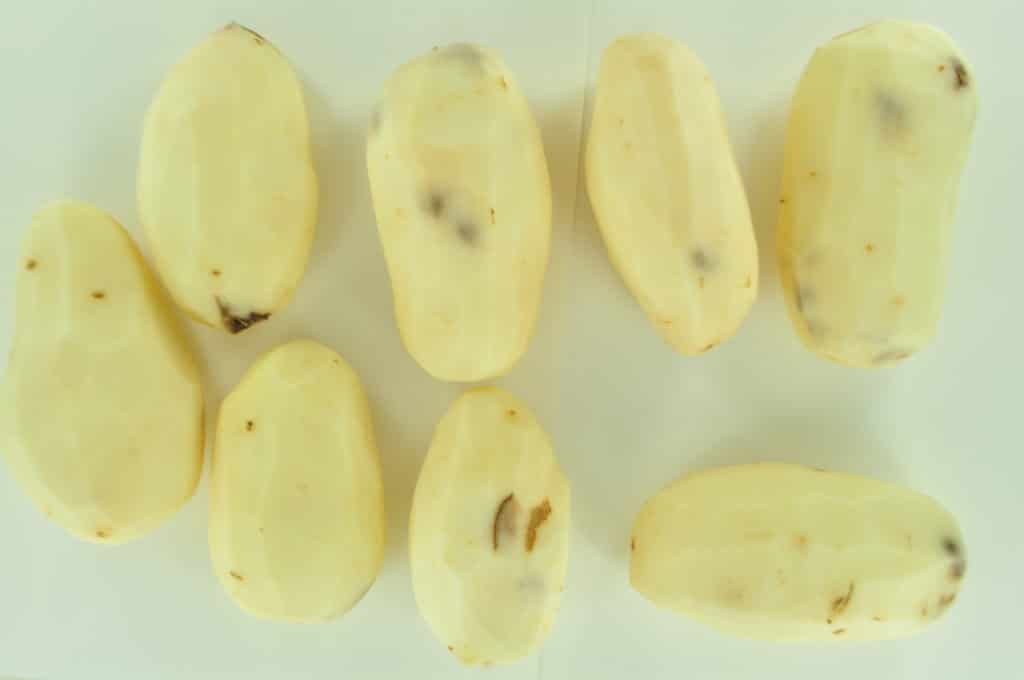 Can you eat a potato with a dark spot?
That's all very nice, you might be thinking, but can I still eat a potato with a bruise?
Yes! You can eat a bruised potato. You probably won't perceive a taste or texture difference in a potato with a slight bruise and/or a healed exterior wound like the one at the top of this post.
But, there are some buts.
If a shatter bruise doesn't heal, the potato can lose water, which can affect its texture. A bruised potato, especially one with an open wound, is more vulnerable to microbes and might succumb to disease faster. 
A healed wound is much less of a concern than an open one. Part of the potato harvesting process includes a step called "curing" in which the potatoes are stashed in spaces with carefully calibrated temperatures, humidity and air flow to promote healing of wounds.
Mr. Potato's wild ride
Large scale potato harvesting is a fascinatingly mechanized process. An elaborate contraption known simply as a "harvester" cruises across fields, pulling the tubers from the ground and using a series of conveyer belts and ramps to sift out soil and vines. Here's a neato video that shows what that looks like:
Potatoes are then stored in nearly 20-foot-tall piles in large warehouses with special air circulation systems. When they're ready for their next destination, a truck deconstructs the piles by the shovelful. The potatoes travel through another round of ramps and belts as they are packaged and shipped. Next stop? Maybe your local grocery store? A potato chip maker? A restaurant franchise? Or somewhere else.
To minimize bruising, farmers try to keep their fields clear from rocks or clods (hard clumps of dirt) that can cause bruises during the rumble tumble of harvesting. They try to run with only a steady stream of spuds (and not a trickle of taters, if you will). This dense potato flow reduces the chance of a potato enduring long drops or hitting metal surfaces. Potato handlers aim for drops of less than 6 inches. Growers also pay attention to the potato's temperature at each stage of handling; colder potatoes bruise more easily (but too warm potatoes are more susceptible to disease, so it's a balancing act). 
"It is amazing how few defects are on potatoes when they encounter a lot of moving parts, drops, and turns and are handled by a lot of equipment," Nora Olsen, professor and extension potato specialist at the University of Idaho, wrote in an email. To see more of the potato harvesting, storage and shipping process, check out these videos from the University of Idaho.
Does the dark area on your potato look slightly different? Check out our other posts on how potatoes can be dark on the inside if they're boiled, damaged by low temperatures, or peeled and then stashed in the fridge.