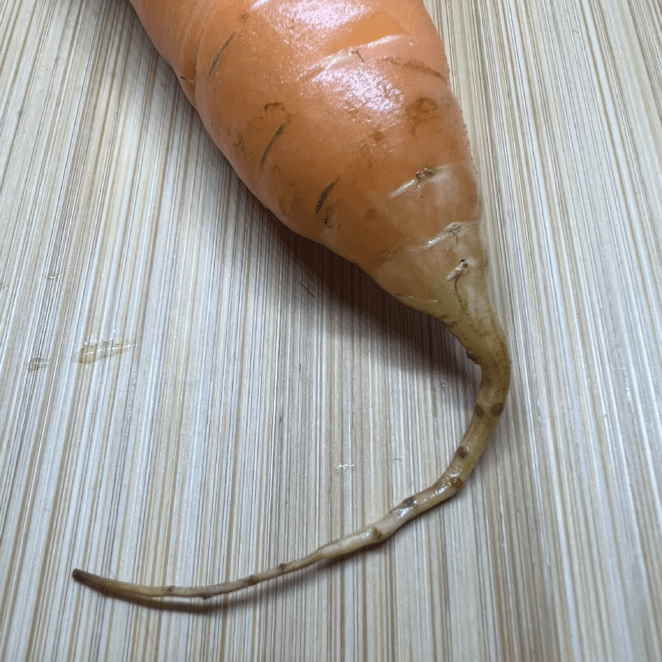 What you see: A white "string" at the bottom of your carrot.
What it is: The very end of the carrot!
Eat or toss: Eat! More carrot!
Yes, you can eat the string at the tip of a carrot!
The carrots we eat are the roots of the carrot plant, designed to bore vertically into the soil as they pull water and nutrients from the earth. Leading the charge is the skinny, floppy tip, which charts the carrot's growth.
So, don't worry! The skinny "string" at the end of a carrot is supposed to be there and is totally edible; it's just more carrot.
Carrots use a taproot system, with relies on a large central root for most of its water and nutrient uptake from the soil. That little string is the very tip of the taproot. Beets, parsnips and turnips are taproots that swell into large storage facilities for nutrients (talk about a root cellar…). Sometimes taproots sport tiny roots that grow horizontally, like these, but the central root is the main event.
Taproot systems differ from fibrous root systems, which tend to include smaller, more diffuse roots that cover a larger horizontal area (Britannica has a nice graphic about the difference).
Carrots are biennials
These root vegetables are also biennials, meaning that they flower every other year, not every year. So, if all goes according to the carrot's plan, it will spend its first year of life stashing lots of good stuff for growing in its "swollen taproot" and then, in its second year of life, will use those nutrients to flower. After flowering, the plants die.
We humans, however, interrupt this process, pulling the edible roots from the ground before that second year comes around. Sounds a bit brutal, but I guess that's how the carrot crunches?
How carrots decide which way to grow
Before we go, here are some more fun facts about how carrots and other roots decide which direction to grow:
Plants rely on a number of environmental cues to decide where and how to grow. The various responses to external stimuli are known as "tropisms."
Thigmotropism helps roots steer around rocks, clumps of clay and other obstacles in the soil (and helps lead to crazy bends like this!).
Hydrotropism helps steer a root toward water.
Gravitropism uses gravity to direct the root downward. Specialized cells at the very bottom of the tip of the carrot contain dense little starch-filled organelles (technically: amyloplasts) that settle in the cell the way that flakes of glitter fall to the bottom of a snow globe. That's how plants know which way is up and which is down. 
We hope you found this post, short, sweet, and to the carrot point!