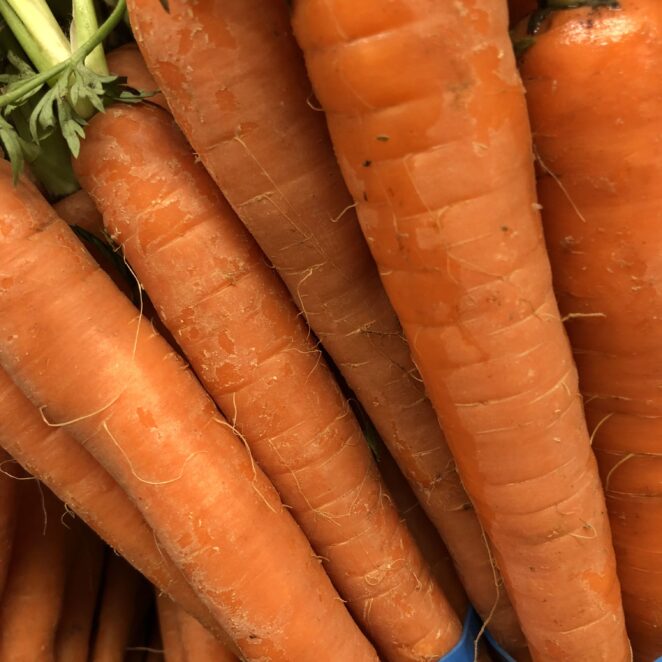 What you see: Mini roots or hair "strings" growing out the sides of your carrot.
What is is: Lateral roots!
Eat or toss: Eat! Or peel away if you're peeling the carrots. These are part of the carrot and you probably won't notice them once the carrots are cooked.
Little hairs on carrots are edible!
As roots, carrots are built to pull moisture and nutrients from the soil. Carrots are a particular type of root called a taproot; they grow downward as a single root unit, like arrows pointing toward the bottom of the well. (Fibrous root systems, on the other hand, have a wider network of smaller roots, as you can see in this graphic from Britannica.)
Carrots like well-drained sandy soils. If they're overwatered or if the field is otherwise water logged, or if the soil is more clay-like than sand-like, their water sensors are triggered and they start to grow little baby roots along the length of the carrot. These roots are lateral roots; they grow parallel to the soil's surface.
Over fertilization can also lead to lateral carrot roots.
You can eat hairy carrots
But none of this impacts the quality of the carrot. If the carrot otherwise looks good and is firm, it should still taste great.
By the way, these little roots in the images in this post aren't technically "root hairs." According to the Photographic Atlas for Botany by Maria Morrow, "root hairs" are a specific, fine and dense layer of microscopic fuzz found at the very tips of roots. Root hairs aren't traditional "hairs," but rather short-lived extensions of individual cells that increase the surface area of the growth-focused root tip so it can capture more moisture and nutrients.
Before we go we do want to mention that some diseases can cause carrots to get extra hairy. But you'll probably see other symptoms that will indicate that the carrot may not be the best eating. More about a condition called "Aster Yellows" and the work of the northern root knot nematode at this page from the University of Minnesota Extension.