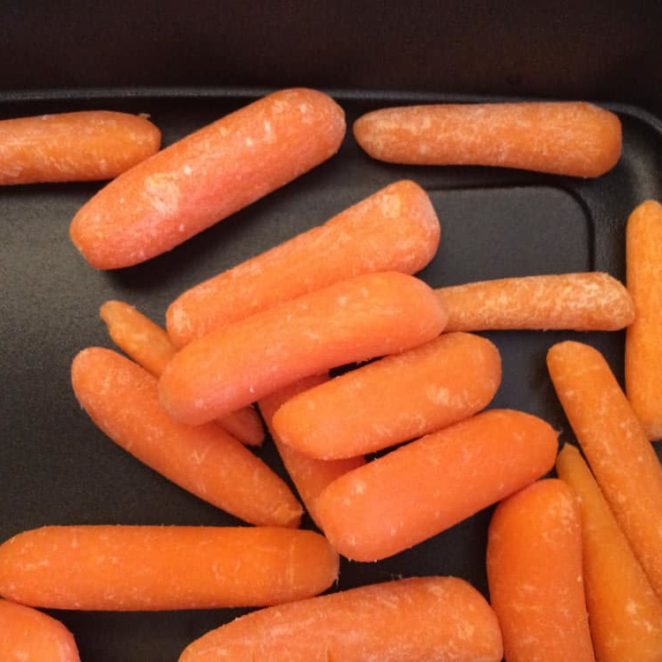 What you see: A whitish film on baby carrots.
What it is: The carrot is drying out or the carrot was physically damaged and the white stuff was its response to the injury.
Eat or toss? Eat! Both the above issues have no impact on the quality or safety of the carrots. If you want the white stuff to go away for cosmetic reasons, a water rinse or soak should do the job.
Is it safe to eat baby carrots that have turned whitish?
Ahh, the veggie tray. It served the guests faithfully, but now it's the end of the night. Those once luscious-looking baby carrots have lost their fresh sheen and are now coated in a white film of shame. But really, should we shun them? I think just a little more care and understanding is called for.
The baby carrots we buy in stores may be, well, adorable, but they're also a little, uh, naked. They've had their protective exterior buffed off, which makes them susceptible to moisture loss, which can cause their surfaces to look rough and white once they've been exposed to air for a little while. The white film is known as "blush" (little surprise given the indignity they suffered before they got to the store!), and is entirely harmless. It can even be removed with a water rinse. The carrots should still taste great.
Whole, unpeeled carrots, on the other hand, are unlikely to develop a white blush as their outer skin keeps them protected from the elements. And while fresh carrots can develop blush, cooked or store-bought frozen carrots won't because the heat of cooking caused their cellular functions to cease.
If you find the white film doesn't go away when you splash some water on it, it's probably the result of some kind of physical cut or abrasion. In that case, an enzyme causes molecules called phenols to create lignin, a structural substance found in cell walls. Once that lignin is in place, you can't get rid of the white, but it doesn't harm the carrot at all. So go ahead and eat the sweet little crunchers.
White stuff on carrots is NOT chlorine residue
And, pretty please, don't be fooled by a silly internet rumor saying that the white stuff is chlorine residue. It's true that carrots are often rinsed in an FDA-regulated chlorine solution to nix bacteria. But that rinse is typically followed by a fresh water rinse, and neither has anything to do with the blushy white on your carrots.
Do carrots go bad?
Let's say you put these back in the fridge, but aren't sure how much longer they'll last or how to know when it's really time to say goodbye. First off, we suggest prioritizing eating them! But, as with most vegetables, you'll know the carrots are done if they start to sport a slimy coating, which indicates that spoilage organisms got to the raw carrots before you did. Sometimes, I know my baby carrots are done when I see a whitish gloop developing in the bag (I haven't yet pinned down exactly what spoilage organism causes that white sliminess — if you know, please reach out!).
One thing that doesn't indicate the carrots are going bad is bendiness or floppiness. Carrots go limp when they lose moisture. Imagine a very full balloon and a deflated one and you'll get the idea. SaveTheFood.com suggests soaking limp carrots in an ice water bath to perk them up.
And before we go, one nifty fact about carrots that helps protect them: they're pretty resistant to bruising. Unlike, say apples, which bruise easily and have loosely arranged cells, carrots have tightly packed cells that resist bruising. Since bruises can grant access to spoilage organisms, this probably helps carrots last longer.
SaveTheFood.com reports that carrots will last two weeks to a few months in a root cellar environment. The fridge also works, especially if you make sure to use the high-humidity drawer. Baby carrots, which don't have the protection of the outer peel, may not last as long and need to be refrigerated. If you don't think you'll use your carrots for a while, you can shred raw carrots and freeze them for baking, according to SaveTheFood.
SOURCES:
Carrots Good for You, But Not in Bunches – Montreal Gazette. 2008.
Q&A: Baby Carrots Bad for you?
Carrots with white stuff? They're just blushing…
Updated May 2023