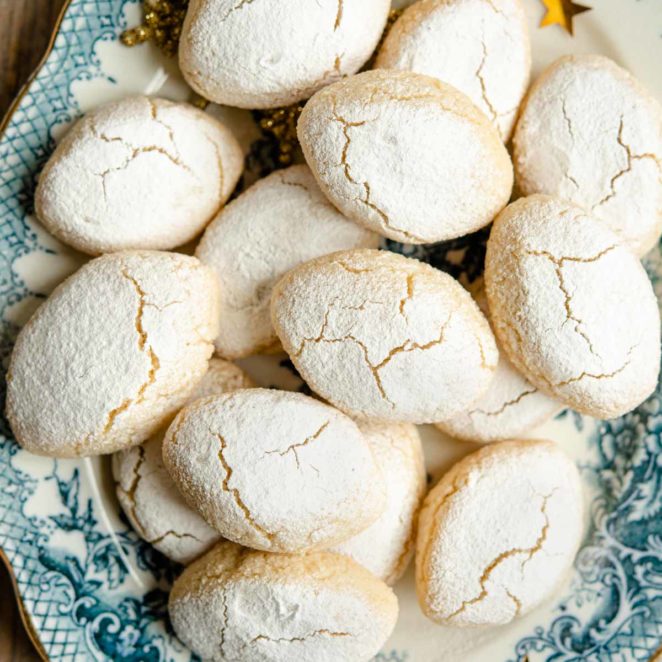 Lots of recipes call for only egg yolks, which can leave you awkwardly contemplating what to do with the gloopy leftover egg white. Don't worry, we got more than half a dozen ideas for you.
Collected from pro food bloggers across the internet, these seven recipes can help you turn that extra egg white into desserts that are well, deliciously extra. We're listing them in increasing order, based on the number of whites you need. That said, you might be able to double or halve or otherwise play with the proportions to accommodate however many eggs you need to use up. And, as you'll see noted in some of the recipes, egg white volume varies. If you want to be precise, you can use a kitchen scale to weigh the whites and go from there (Homemade in the Kitchen has more guidance on decoding egg white volume).
Egg whites are valued for their ability to whip into a delicate fluff, which many of these recipes use to great effect. If you're planning to whip, just make sure you have a precise separation from the yolk and that your bowl is squeaky clean. Any residual fat can make it harder for the eggs to achieve full fluff.
We think some of these recipes, particularly those that don't require a standing mixer, could be easy enough to pull off while you're working on the original dish (the one that called for the yolk(s)). But if needed, you can freeze the whites. SaveTheFood advises that egg whites can be frozen in an airtight container; just allow about an inch of headspace.
Big thank you to the featured blogs for sharing their photos!
Are you craving chocolate? Don't want to get out your standing mixer? Don't want too many cookies, but do have a single egg white to use up? Carla over at Homemade in the Kitchen suggests you make Egg White Chocolate Cookies. Her flourless recipe requires only a little whisking by hand, yields 4-6 cookies and tastes "so sinfully fudgy, nobody will miss the flour," Carla says.
Almond and orange flavors combine to make a soft cookie that Inside the Rustic Kitchen says "will transport you straight to the rustic streets of Siena." The food blog also describes them as low-prep and easy (music to our ears here at EatOrToss!), but just keep in mind that the dough needs to rest for several hours or overnight. Two large egg whites will net you about 18 cookies, but we wager you could double or halve the recipe depending on how many whites you need to use up.
Also from Carla at Homemade in the Kitchen: angel food cupcakes that will make good use of two extra whites. To avoid the need for a special angel food cake pan, Carla goes the cupcake route. She also gives tips on substituting vinegar or lemon juice if you don't have cream of tartar on hand. But heads up that this recipe does require a mixer to achieve egg white fluff.
Here's another take on chocolate egg white cookies, this time calling for more whites and making more cookies. Kate Dean at I Heart Eating says that mixing by hand will yield crisp edges and fudgy centers, while using a mixer will get you a meringue-like cookie. Her recipe calls for vanilla, but she notes that you could trade that up for mint extract or other flavors you might want to play with. (And for yet another take on flourless chocolate egg white cookies, check out Good Things Baking, whose recipe dresses them up with a white chocolate dip and a sprinkling of freeze dried raspberries.)
Calling for just a few ingredients, this German Christmas cookie can bat cleanup on your egg whites year round. Vanessa over at Maple + Mango describes them as a mashup of coconut macaroons and meringue cookies. She says they're easy to make, but this recipe does require a standing mixer for whipping the whites into an airy fluff.
If you have a standing mixer, large piping bag and a fair amount of time, consider turning extra egg whites into pavlova, the light meringue dessert base that's typically filled or topped with fruit and cream. Head over to Rich and Delish for the recipe, which includes tips on how to turn regular sugar into caster sugar and how to properly clean the bowl to facilitate whipping the eggs.
This cake from Where Is My Spoon will not only use up your egg whites (7 – 8 of them), but is also a great home for stray dried fruit, candied citrus peels and nuts. The recipe is a bit involved, including whipping the egg white, sifting the flour and baking powder and an optional glaze, but check out that pretty cake!
***
Looking for still more ideas? Homemade In the Kitchen has a bunch of small-batch recipes for using up those egg whites!