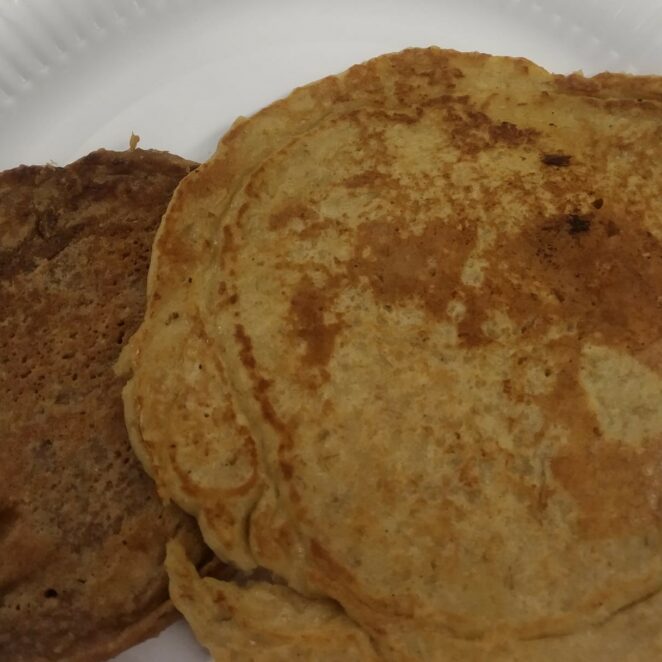 Pau Farreny J., a Spain-based cook and food waste fighter is back again this week with more use-it-up inspiration. This time, he's sharing his recipe for Overripe Banana Pancakes. Here's another reason to love your very brown bananas!
Check out the recipe below! And if you find yourself in Spain's Catalonia region, look up Espigoladors, an organization Pau works for that rescues food at risk of being thrown away, offers cooking classes for stretching ingredients and otherwise helps feed those in need while fighting the environmental consequences of food waste.
Pau tells me that in the Catalan language a mother might call her family to the table by saying:
A la taula i al llit, al primer crit.
That roughly translates to "to the table and to the bed, come when you're first called." It sounds more elegant in Catalan, but the point is, no one wants to be late to breakfast when these pancakes are on offer!
Thanks for sharing your recipe, Pau!
Print
Overripe Banana Pancakes
---
Description
An easy pancake recipe that uses up overripe bananas and other odds and ends.
---
1

overripe banana (More black=more sugar)

½ cup

of liquid (a nut milk, dairy milk or water)

½ cup

of oats

1

egg
Vegetable oil (sunflower or another neutral oil)
Optional use-it-up ingredients: leftover (crushed or mushed) cookies, other fruits (more banana, berries), extra dried fruit or nuts.  
Optional: More sugar, cocoa powder, cinnamon, other spices
---
Instructions
Peel and mash the banana in a bowl with a fork.
Add the liquid, eggs, oats and optional ingredient(s).
Mix with a hand blender until it has a homogeneous texture. Let it rest for 20 minutes so it's easier to spread.
Drizzle a frying pan with a little oil and make sure the surface is covered. Set the burner to medium heat.
Use a large spoon or small measuring cup to pour in a small amount of batter. Spread carefully; the ideal pancake height is half a centimeter.
Let it cook over medium heat, the batter will dry and solidify as it cooks.
Hold the pan at a 45-degree angle, slide the spatula under the pancake and flip it over. Cook the other side. Cooking for less time will lead to more moist pancakes; longer cook times will get you drier pancakes.
Enjoy them on their own or with fruit, syrup, yogurt, honey, or chopped nuts. Here too, if there's anything you need to use up, now's a good opportunity!
Notes
Another way to save overripe bananas is to peel and then freeze them. Then you can blend them into ice cream. Frozen bananas are also great in smoothies.
Once a banana has ripened to your liking, put it in the fridge. Its ripening process will pause.
Very dark, overripe bananas are best for this recipe; they're sweeter because more of their starches have been converted to sugars. 
Check out EatOrToss's other ideas for overripe bananas, including three-ingredient cookies and banana bread.
For more guidance on assessing whether bananas are still good to eat, check out the EatOrToss Banana Library.
Check out Pau's other recipe for Ajo Mulero, a vegan Spanish tortilla made with stale bread.