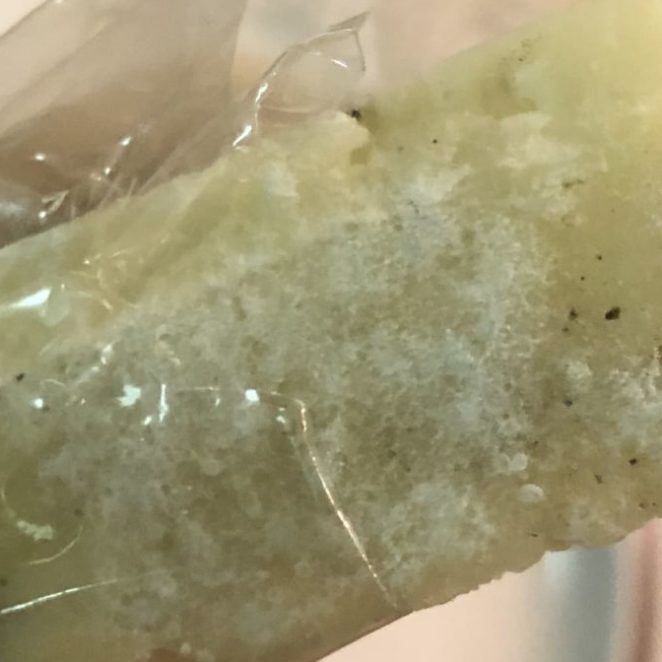 What you see: White stuff on your cheese. You're worried about uninvited mold.
What it is: If it's soft and you can spot "filaments," it's mold. (If it's gritty, it may be harmless crystals.) Read on for more on telling the difference.
Eat or toss: If you determine the substance is mold and it's only on one portion of the cheese, you can cut it out. If it's widespread, the cheese is probably beyond saving.
Is it mold or harmless cheese crystals?
Previously, we wrote about calcium lactate and tyrosine, two types of harmless white crystals that can form in cheese. Both are fine to eat, and, in certain types of cheeses are even used as a mark of quality.
Buuuuuuuut… the smeary white coating that calcium lactate leaves on cheese can be tough to distinguish from a faint white mold. Like this one: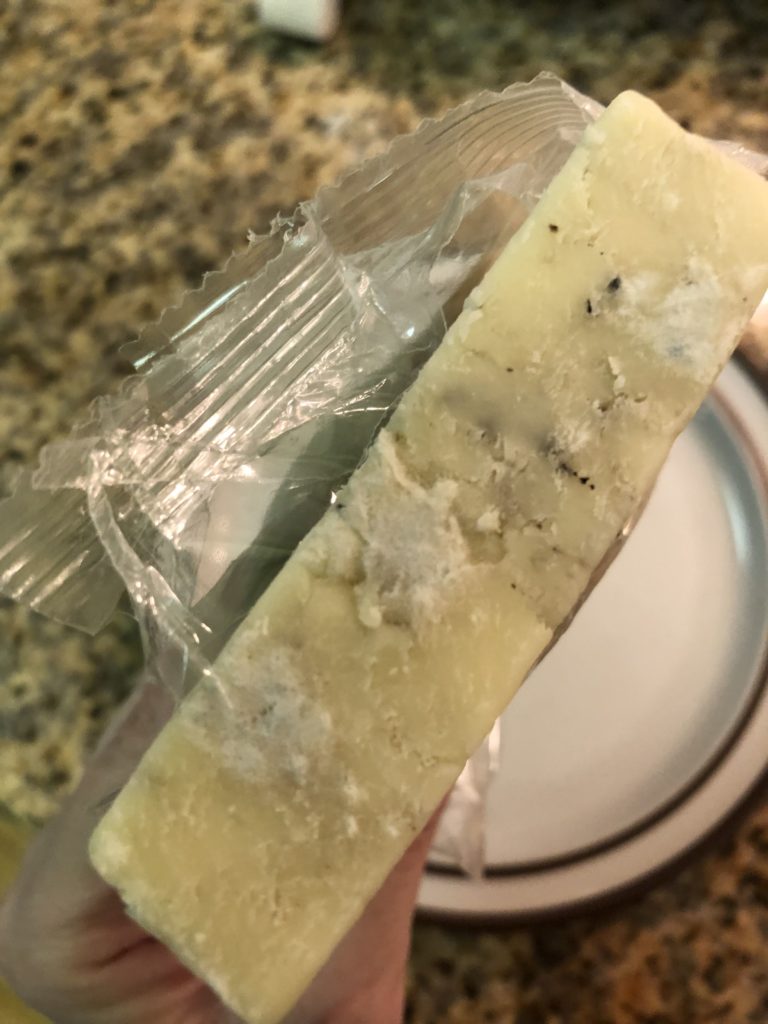 What's a hopeful cheese eater to do? I asked food scientist Nicole Martin for help telling the difference between unwanted cheese mold and calcium lactate.
First, she advised, inspect patches of white stuff for anything resembling threads or fuzz.
"Calcium lactate tends to accumulate in moisture on the surface, but it's generally pretty flat," said Martin, associate director of the Milk Quality Improvement Program at Cornell University. "If you see anything stick up from the surface, then it's more likely to be mold."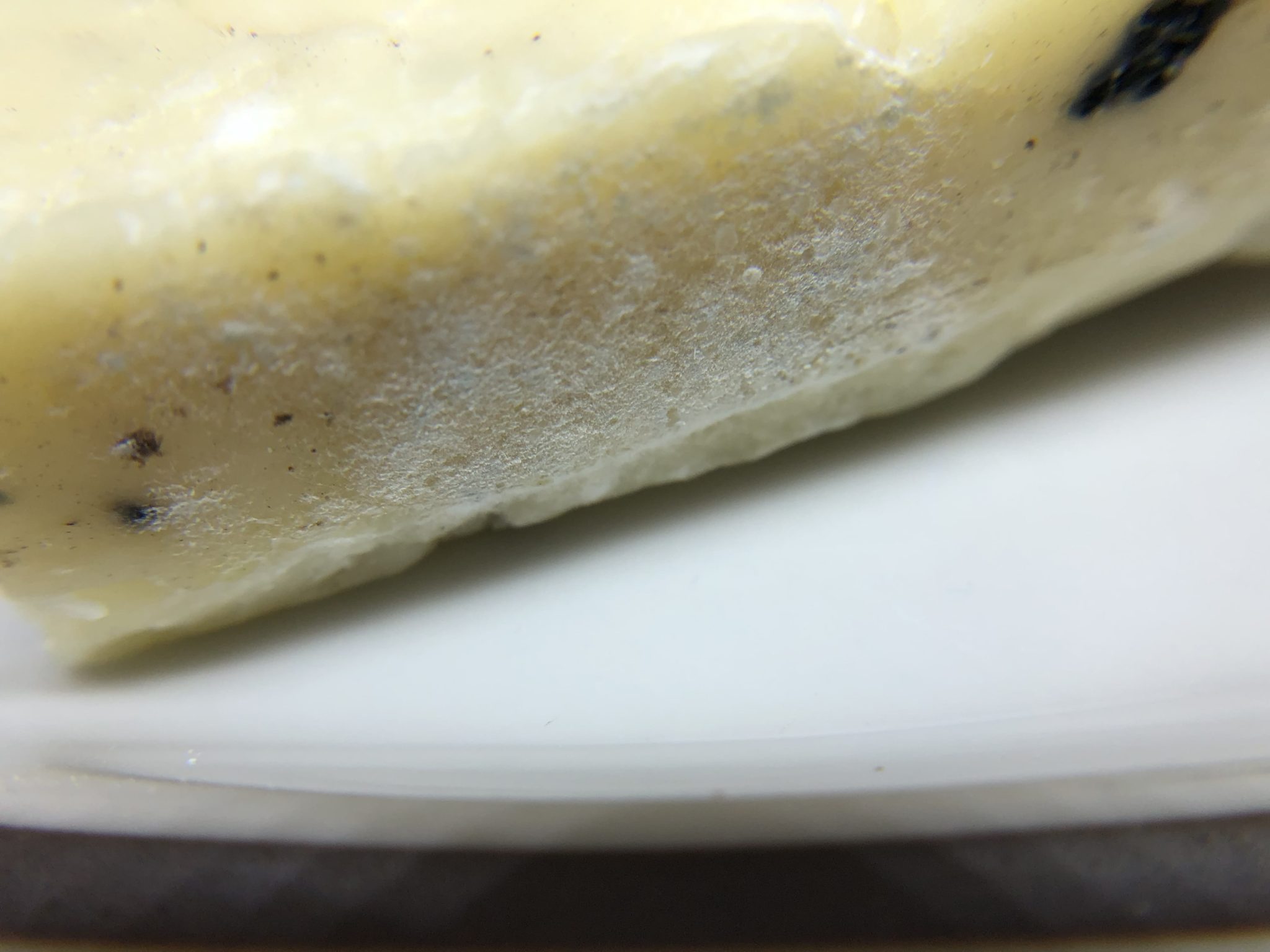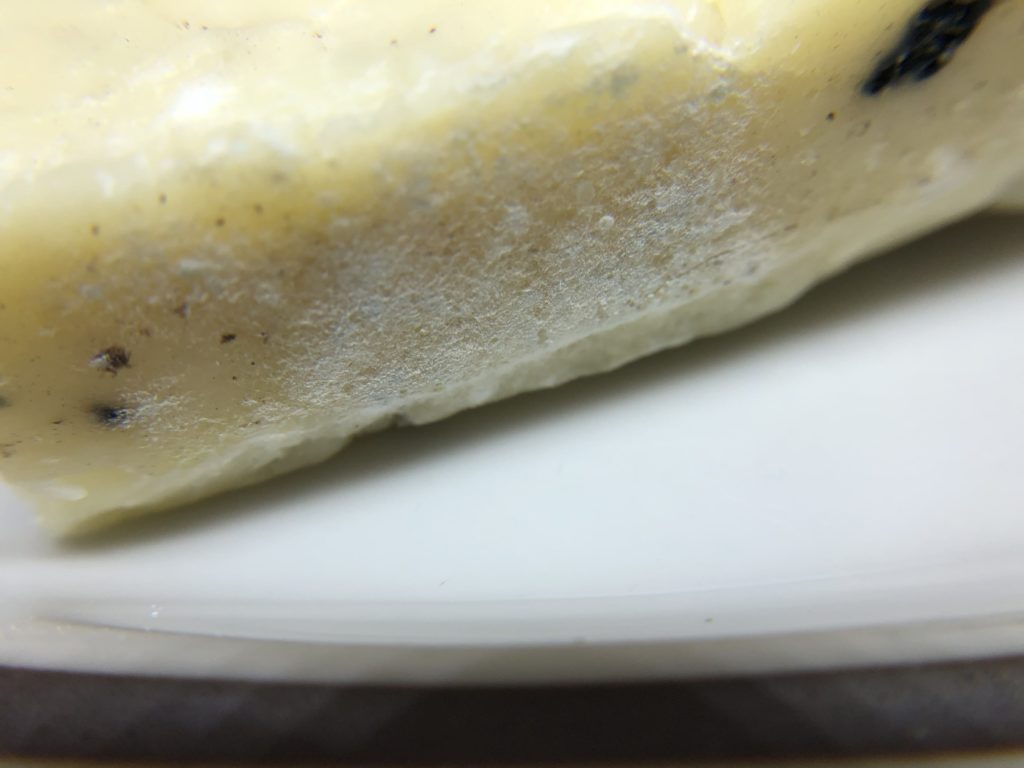 If you're still not sure, Nicole suggests assessing the texture.
"With calcium lactate you should be able to take a knife or something and scrape some off," she said. "It would be hard, sort of crystalline or feel like a salt. With the fungi, it will just sort of disintegrate. Those filaments don't hold up to any kind of scraping. It's like cotton candy. If it's mold growth and you scrape it, it's going to kind of collapse on itself."
Calcium lactate might look like powdery smudges on the surface of the cheese. If you were to touch it, it would feel gritty, Martin said. Mold, on the other hand, would feel "soft and thready."
(Quick science lesson: Those threads are the mold's hyphae. A group of hyphae is called a "mycelium," which is considered the body of the mold.)
While some types of mold are safe to eat and, of course, essential for producing many kinds of cheese, it's not a good idea to consume unidentified, uninvited molds. Some contain toxins we don't want to eat. That said, the molds public health experts are most concerned about grow on grains, nuts and certain types of produce, not dairy products.
An uninvited mold on your cheese (or yogurt or sour cream or other dairy delight), can, however, negatively impact the quality. Molds release enzymes that will change the food's flavor and texture.
In something soft and liquidy, like yogurt, those enzymes more easily disperse throughout the entire food. In a harder product, like many cheeses, the enzymes won't travel as far, so some of the cheese might still be fine.
A firm cheese with mystery mold on most of its surfaces isn't worth saving. But if you just see some small areas or even specks of mold, the United States Department of Agriculture advises that it's OK to cut off the affected parts of the cheese and eat the rest.