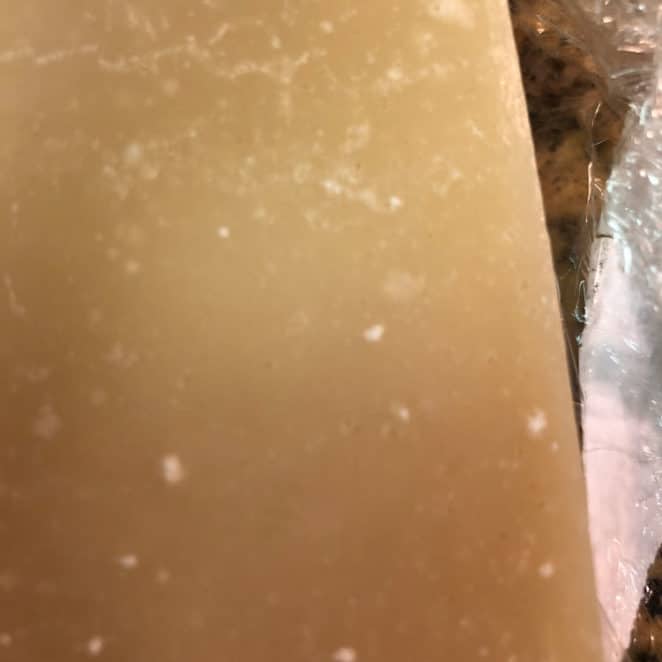 What you see: White dots in your aged Italian-style or gouda cheeses that are clearly not mold.
What it is: Crystals of an amino acid called tyrosine.
Eat or toss: Eat! If an aged cheese and a textured mouthfeel are what you're looking for, you may even want to count your lucky cheese crystals!
Can you eat cheese with little crystals like these? Here's the savory story
Let's get microbial for a minute:
The white specks in the image above are not mold or anything harmful
They are connected to the microbial processes essential to cheese making
As we know, microbes help transform milk into rich, creamy, zesty, sweet, salty, melty amazingness. Cheesemakers rely on different microbes that each have their own styles of munching on the various components of milk, which helps create the wonderful cheese diversity we know and love.
In making aged Italian, Dutch, Swiss and some other cheeses, a bacterial culture called lactobacillus helveticus is added to help spur the development of flavor. This L. helveticus character is particularly good at breaking the milk's protein chains into free range amino acids.
As the cheese ages, the L. helveticus's amino acid work product, tyrosine, accumulates. Tyrosine dissolves in water, but cheese loses moisture as it ages, so there's not much for the tyrosine to dissolve into. When, In the body of the cheese, the tyrosine finds other tyrosine they tend to clump together. When enough bits of tyrosine are partying, you see little white crystal-y clusters and your mouth detects a delicate crunchy melt.
We're all pretty happy about this because that crunch improves mouthfeel. As far as taste goes, interestingly tyrosine has been variously described as adding bitterness, imparting some umami depth or having no flavor at all. The primary reason tyrosine is considered a sign of quality is not its own characteristics as much as that it's evidence of a long and deliberate, and, dare we say, beautiful, aging process.
This post is going to end here because I suddenly need to sink my teeth into some fantastically aged, wonderfully textured, tyrosine-riddled gouda.
But, before I go, one more thing to keep in mind—tyrosine crystals tend to be visible as dots on cut surfaces inside the cheese or inside those little air pockets that look like "eyes"; you're less likely to see them on the outside. Stay tuned for future posts about the other types of harmless crystals you may see assembled on your cheese's surface. Also check out the Cheese Science Toolkit, which gets into more detail and has a great infographic.
Say crystals!