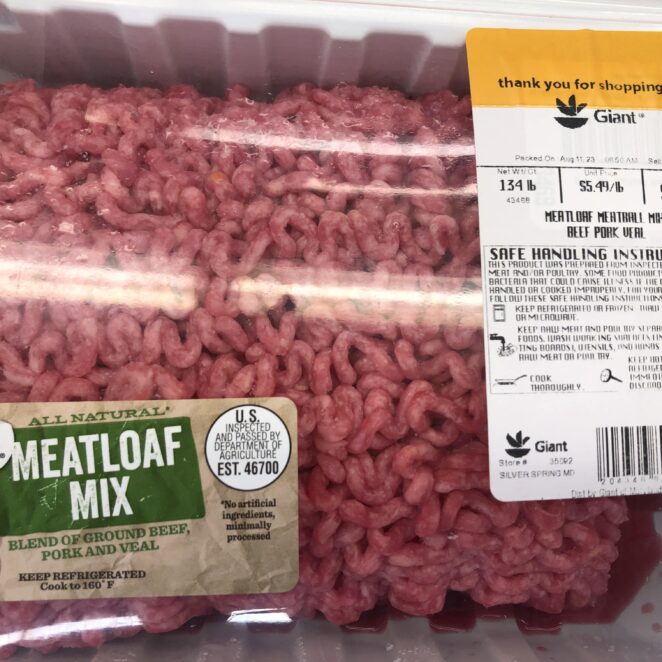 The U.S Department of Agriculture recommends that raw meat be cooked within three to five days of purchase, and one to two days for ground meat. But, since cooking meat thoroughly will kill the human pathogens associated with meat, you actually do have a little leeway in terms of how much you respect the "use by" guidelines. If your meat still looks, feels and smells fresh, it's probably fine. If it develops an odor, feels slimy or otherwise doesn't seem right, it's most likely spoiling and it probably won't taste good, even if you prepare it perfectly. (But if the raw beef turns brown, it could still be fine.)
"Using their senses is exactly what I tell people to do," Janeal Yancey, a meat scientist at the University of Arkansas and the founder of the Mom At The Meat Counter blog, told me. She said the top signs raw meat has gone off are odor and a slimy texture. 
How long is meat good after the "sell by" date?
At my local store, some meat says "sell by" while some says "use by." While "sell by" is for the store's inventory management, and can give you a clue about how old the meat is, you do not need to cook the meat before that date. Once a "sell by" date does pass, you might want to follow the USDA guidelines. In any case, we suggest using the sensory clues described above to assess the meat. 
Vacuum packaged meat has a longer shelf life
Raw meats that are vacuum packaged without air or packed with a special balance of air, will last longer than the meat typically sold on trays with a gas-permeable plastic-film wrap. In the U.K, regulations say that fresh, chilled, raw beef, lamb and pork that is vacuum packaged can have a maximum shelf life of 13 days (and keep in mind that that clock starts when the food is first packaged, not when it arrives at the store or when you buy it). However, eventually some bacteria that enjoy the oxygen-free environment may start to grow. If you ever discover vacuum packaging has puffed up–a sign of gas-generating microbial growth–you should throw it away. 
A cold fridge helps raw meat last longer
Make sure your fridge is set to 40 degrees or less, which will slow bacterial growth and extend the life of your raw meat.
The best way to prevent illness from raw meat is to avoid cross contamination and cook it to a safe temperature
Raw meat can harbor some nasty human pathogens, so it's best handled with care. The most important things you can do to prevent illness from raw meat are to avoid cross contamination (i.e. using a utensil that touched raw meat to serve cooked meat and other foods) and properly heat the meat (here are safe cooking temperatures for various foods). Your best bet is checking with a thermometer. 
For more on how beef's color changes as it ages, visit this post. 
Are you going to the meat-up later?