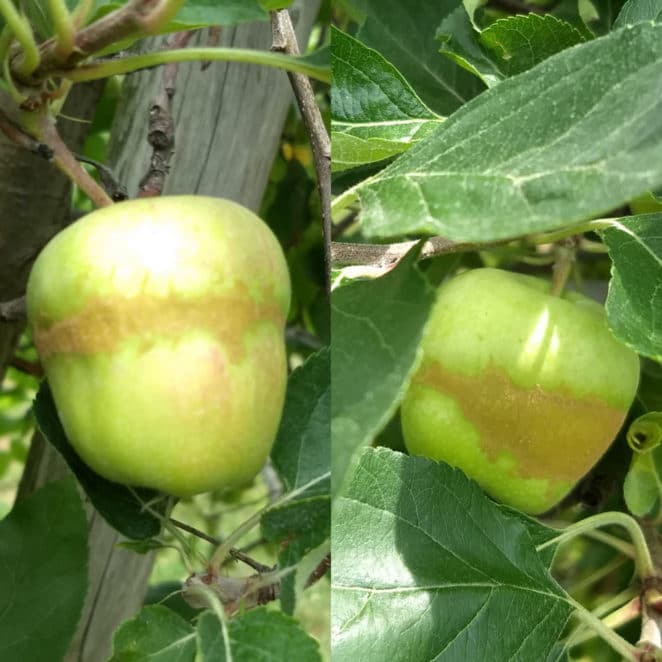 What you see: Rough brown skin forming a thick band that partially or entirely encircles the fruit. The apple is probably shaped a bit oddly too.
What it is: Frost ring, which occurs after there's a freeze when apples are in bloom.
Eat or toss: Eat!
How apples get frost ring
"Frost ring" occurs early in an apple's life, when apple trees are blooming and teeny tiny apples are just starting to grow. Below-freezing temperatures damage the apple's outer skin, which then loses its elasticity.
So, as the apple grows, cracks develop between those damaged skin cells, causing the exposed cells underneath to die. Then, brown wound-healing tissue arrives on the scene. Unlike people, plants can't regenerate skin to look "like new" after an injury, so the patched-up area grows as the apple grows, leaving us with a sometimes dramatic band of corky brown skin on the apple.
It's OK to eat an apple with frost ring
But the apple is certainly still edible. That brown tissue is no different from the rough brown skin you find around the stems of many apples, which we wrote about in an earlier post. If it bothers you, you can peel it off, but feel free to bite into the frost-nipped areas.
So, if you see apples sporting a frost ring at the orchard or the farmers market, don't reject them! They still make for good eating. But you're unlikely to find them at a grocery store as they don't meet aesthetic standards. These apples are often used for making juice.
Special thanks to Dr. Macarena Farcuh at the University of Maryland for providing the photo and helping with this post!
Did you hear about Jack Frost and his apple love? He put a ring on it.