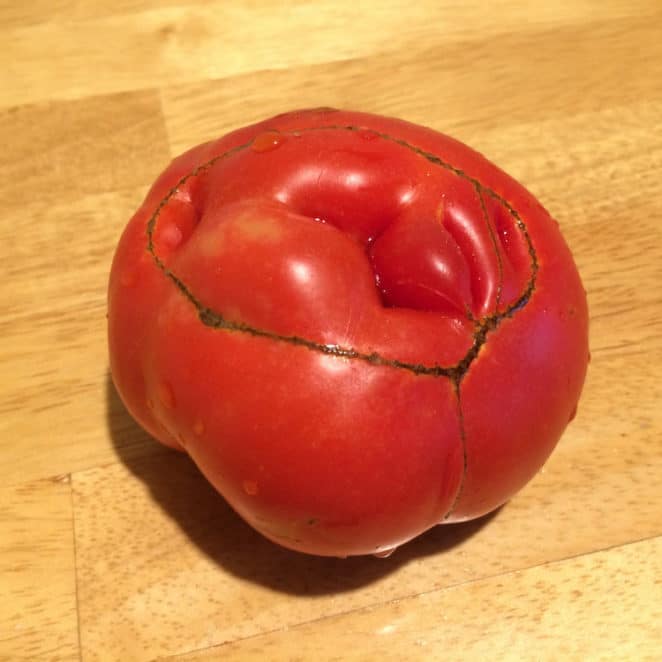 What you see: A scarred ring around the bottom of your tomato
What it is: The scarring is a condition called "catfacing," which is common in some heirloom tomatoes, like this "mortgage lifter."
Eat or toss? Eat! This is harmless scarring. You may want to cut it off for texture reasons, but there's nothing unsafe about it.
It's OK to eat tomatoes with scarring patterns. Here's why
First, as a cat person, I'd like to go on the record objecting to the unfortunate name of this harmless tomato-disfiguring condition. Cats are beautiful creatures, so I'm not sure what about a scarred tomato bottom should invoke the term "catfacing."
But that's what it's called and so maybe I should reframe my analysis. Maybe we should be viewing tomatoes with this bottom-end scarring not as disfigured, but as beautiful and dignified (like cats are), because they're showing us who they are and proudly wearing their tomato heritage on their, um, somewhat bumpy butts.
So, catfacing… this situation starts when the tomato plant is flowering. (Catfacing is technically located on the "blossom end" of the tomato, or the part opposite the stem.) Cold temperatures during flowering, too much nitrogen, certain insects, certain herbicides, or poor pruning can result in these lines.
Essentially what's happening is the problematic conditions mess with pollination. So, the blossoms sticks to the fruit, which prevents parts of it from developing. The rest of the fruit grows like normal, which leads to that strange scarring and an overall uneven look. Large heirloom varieties are particularly prone to catfacing.
(Fun fact: the large heirloom variety pictured here is called a "mortgage lifter" because it helped its developer pay off his mortgage back in the 1940s in West Virginia.)
SOURCES:
Catfacing problems in tomatoes. University of Maryland Extension
Disorders of Tomato. University of Minnesota Extension
While we're at it, here's a picture of me, my husband's back, and our awesome cat. Look at that catface!!!