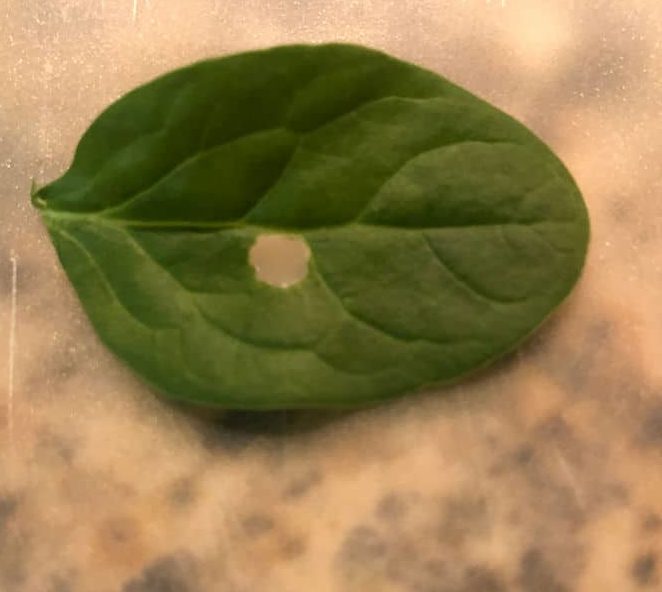 What you see: A spinach leaf with a hole that's not quite a hole; there's a layer of clear tissue remaining.
What it is: Window-paning! Evidence of a picky insect's snacking.
Eat or toss: Trim around it, or, if you're comfortable with a slight additional risk, just give it a good rinse.
So, why is part of this spinach leaf "see through"?
If you've ever eaten around something you didn't like—say, raw onions? Bread crust? Too-sweet frosting?—you might be able to relate to whatever creature snacked on this leaf before you.
Here we have a critter who noshed on what fresh produce specialist Jim Monaghan calls the "'juicy' mesophyll layers." That's the soft, central portion of a leaf where you'll find the chloroplasts.
Left behind is probably some of the leaf's outer protective layer, which, like our own skin, is known as the epidermis. This layer is clear because it needs to allow sunlight to access those chloroplasts so they can photosynthesize.
University of Kentucky entomologist Ric Bessin said the hole in the spinach leaf above looked like the work of a caterpillar. He provided an action shot (below) of a diamondback moth caterpillar, chowing down on a broccoli leaf.
This kind of insect damage, in which a clear layer of tissue is left behind, is known as "window-paning." Kind of poetic, right?
But can you eat a spinach leaf that's been chewed on by an insect?
The undisturbed areas are fine. Whether you drop the leaf into your salad as is, trim around the nibble, or pitch it depends on how comfortable you are with a little additional risk.
Anytime we eat raw fruits and vegetables, we're taking a risk. Rinsing is great, but it's not guaranteed to remove all pathogens, and pristine-looking produce can still cause illness. Fortunately, most of our produce does not contain a pathogen load that's likely to sicken us. (And raw vegetables are very healthy to eat, so it would be silly to forgo them!)
When plant tissue is damaged, as this leaf was by a finicky caterpillar, its water and nutrients become available to bacteria, so any nearby microbes might move in and proliferate. If any of those microbes happen to be human pathogens, that would increase the odds of this leaf causing illness.
But the increased risk over eating regular, unnibbled spinach is probably marginal. Especially if the spinach leaf was thoroughly rinsed and dried in an industrial facility and looks clean (as in, not rotting).
I couldn't find a study assessing the risk from clean-looking, insect-nibbled greens. I interviewed multiple experts for this post, and got a variety of opinions, ranging from rinse it off to trim it out. Rutgers microbiologist Don Schaffner said that since a pathogen might be better able to settle into open wounds on plants, he generally avoids damaged tissue in his leafy greens and would trim or toss this leaf. But, he concluded, "All of that said, I think the risk is pretty minimal."
My sense is that, as food safety dilemmas go, eating this leaf is unlikely to be the biggest food risk you take today. People with compromised immune systems might want to err on the safer side though.