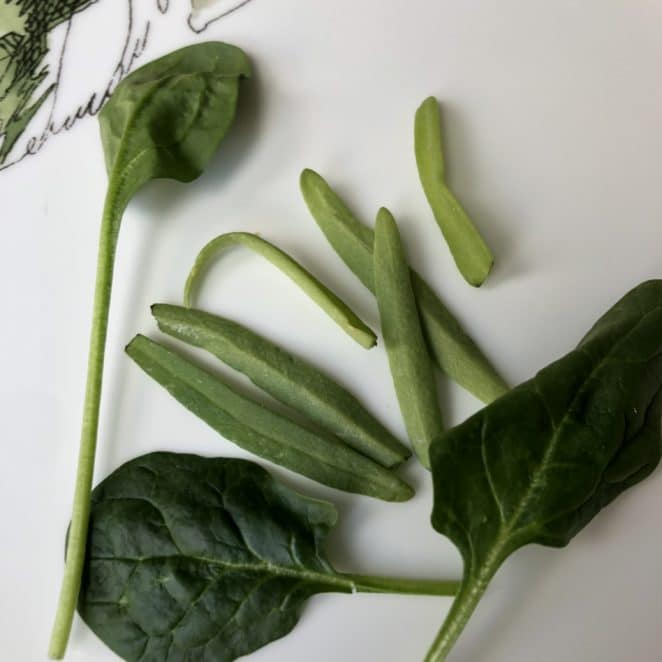 What you see: What looks like a blade of grass in your spinach clamshell.
What it is: A "seed leaf" of spinach.
Eat or toss: Eat! This is just more spinach.
Can you eat the long, thin leaves in a clamshell of spinach?

When you see a long, thin leaf amid your spinach greens, you might wonder if the harvest went awry, allowing grass or another slender-leafed interloper to crash your spinach party.
But those long, skinny leaves aren't intruders. In fact, without them, you'd have no spinach at all. Called cotyledons, these are a spinach plant's (or any plant's) first leaves.
Cotyledons start out tucked inside the seeds of flowering plants. As the seed germinates, the spinach cotyledons emerge and grow. Check out pages 9 to 11 of this book chapter for diagrams of how cotyledons function in a variety of crops. Watch this video of spinach growing in soil and you'll see how the long skinny leaves develop before the rounded spinach leaves you're used to:
Charlie Gagne, a grower at BrightFarms, said clamshells of baby spinach from his company's indoor, hydroponic operations tend to contain a lot of cotyledons because they are harvested especially young, between 12 to 21 days old. Spinach grown in soil on large farms is typically older and its cotyledons have largely withered and fallen away by harvest time, he said.
Spinach grows especially long cotyledons, Gagne said. That's another reason why his company's spinach tends to come with an extra helping of the slender leaves.

"The cotyledons are really small on most other crops where on spinach they can be 3 to 4 inches," Gagne said. "So they're more likely to get picked up by our harvester."

Curious what an indoor leafy greens operation looks like? Check out Gagne's virtual tour of BrightFarms operations: