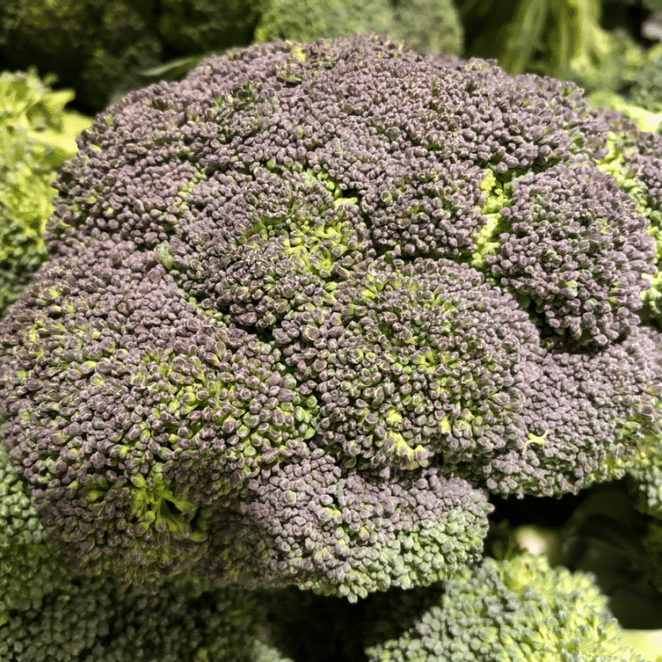 What you see: Broccoli with a blueish tinge
What it is: Plant pigments and/or a waxy coating on the broccoli
Eat or toss: Eat! This is normal for broccoli
Why blue broccoli is OK to eat
This broccoli may look a little blue, but there's nothing to be sad about here. This head just happens to have slightly different coloring than its neighbors.
Two factors could be giving this head a bluish cast. First, a little genetic variation could have caused it to produce more anthocyanins, aka the plant pigments that also bring us the vivid colors in blueberries and red onions.
No glossy mutants here!
A bluish tinge to your broccoli can also come from its waxy coating. Broccoli generally looks a bit dull because it's coated in natural wax that keeps unwanted water out and needed water inside the plant. Plants also produce wax as a barrier against ultraviolet radiation, insects and pathogens.
The wax deters certain insect pests who struggle to traverse its texture. (Fun fact: when plants that typically have a waxy coating don't produce wax, they're known as "glossy mutants," and are typically much more vividly colored than their waxy relations.)
The blueish tint will fade and the broccoli will brighten once it's cooked, especially if it's blanched in hot water, said Jim Myers, a vegetable breeder and horticulture professor at Oregon State University. Neither the pigment nor the wax, he said, impact safety or flavor.
Myers said that grocery stores avoid displaying broccoli with lots of extra anthocyanins as it might turn off consumers, but food companies that freeze and package broccoli don't mind; a quick blanch makes the broccoli vividly green in any case.
In his lab, Myers has also been experimenting with a deliberately purple broccoli variety. Check out a photo of it he provided below, next to a green variety (known as Emerald Pride) for contrast. Gorgeous, right?