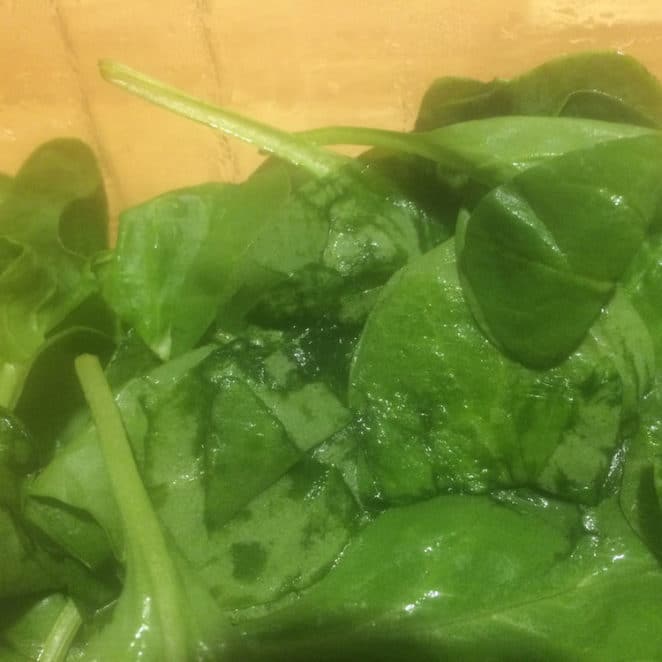 What you see: Spinach that looks "wet."
What it is: Cell membranes breaking down, releasing water; generally, the leaves' cells are collapsing.
Eat or toss: This spinach is still perfectly edible, though clearly no longer ideal for a salad; toss it into a stir fry or omelette.
The story: Spinach is more than 90 percent water, which explains why it's pretty easy to sauté a 16-ounce clamshell of the fresh stuff into a small pile of the steamed variety. That also helps explain why, when left forgotten in the fridge, spinach leaves shrivel into a puddle of "green slime." It's just a consequence of the water escaping their cells as they age.
The spinach pictured here is just starting its green slime journey. As the leaves age, their cell membranes break down, creating slow leaks through which water and other stuff seeps out. Thus we have these wet stains on some of the spinach leaves and the volume of each leaf decreases.
Ever noticed how some spinach leaves have a wet line or crease on them? Even if they looked pristine when you first bought them? That's likely evidence, explains Jim Monaghan, director of the Fresh Produce Research Centre in the United Kingdom, of the leaf having been folded over at some point, possibly when it was being dropped into the clamshell or plastic bag that you purchased it in. Even though the leaf bounced back from that folding and it took a long time to show evidence of it, the site of the bend gets the "wet look" first. The cell membranes along the line were weakened and thus were among the earliest to give out.
So, as long as the leaves have been kept clean, the wilting and sogg-ification is a cosmetic issue and not a safety one. However, Monaghan notes that bacteria are happiest on wet surfaces, so once the leaves start getting the slimy look, if they come in contact with a dirty surface, they're more likely to pick up microbes.
In conclusion, don't panic if you see some soggy spinach leaves, but do eat up the bunch quickly! I see a frittata in your future. . . .
Would you rather be a wet blanket or a wet spinach?