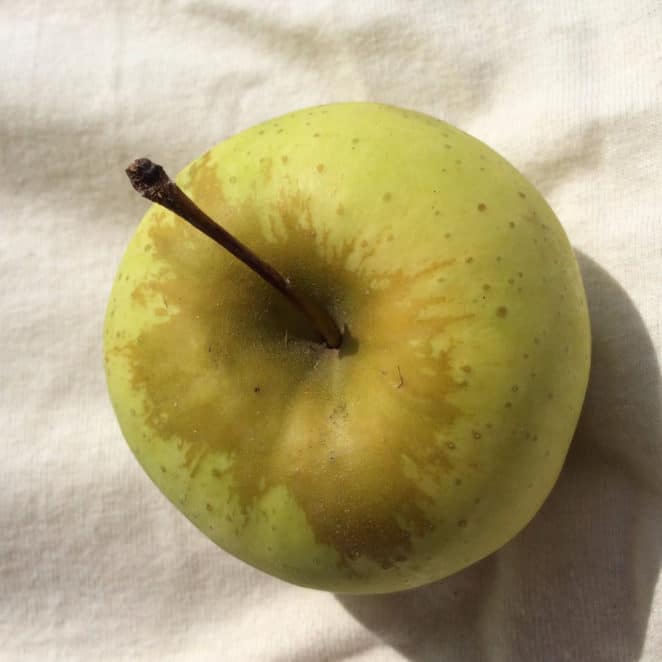 What you see: Rough, brown apple skin, particularly around the stem, sometimes descending down the fruit in lines.
What it is: Russeting.
Eat or toss? Eat! Russeting affects the appearance of the skin, but has no negative impact on the flavor or nutrition of the fruit.
Can you eat the brown stuff around the stems of some apples? Here's the story.
Every so often I get these apples that look like they suffered a sad, fizzled firework burst around their stems. They look weird, but they're nothing to worry about, just something called russeting. Such russeting is caused by damage to epidermal cells, which can stem (ha!) from a number of causes, ranging from cold temperatures to over-fertilization, while they were growing.
Russeting is often connected to moisture early in the growing season—water actually collects in the little basin at the top of the apple, which prompts the apple to create those corky cells. When you imagine water pooling and then spilling over the sides of the apple, that uneven starburst shape starts to make sense.
While it commonly looks something like the apple pictured above, the extent to which the corky texture can cover the apple varies greatly. Certain varieties are more predisposed to russeting; it's particularly common in Golden Delicious apples. Some say that russeting even improves the taste.
"I've never seen any data to support it," said Rich Marini, a Penn State horticulture professor who specializes in tree fruits. "But I've always felt that a russeted Golden Delicious tastes better than one without it."
You'll also see more russeting in apples grown on the East Coast than you will in those grown in, say, Washington state. The reason? The East has wet springs, while Washington's orchards are typically located in drier areas.
SOURCES:
Kansas State Research and Extension – Problem: Apple Russeting
Apple Russeting – University of Minnesota Extension.