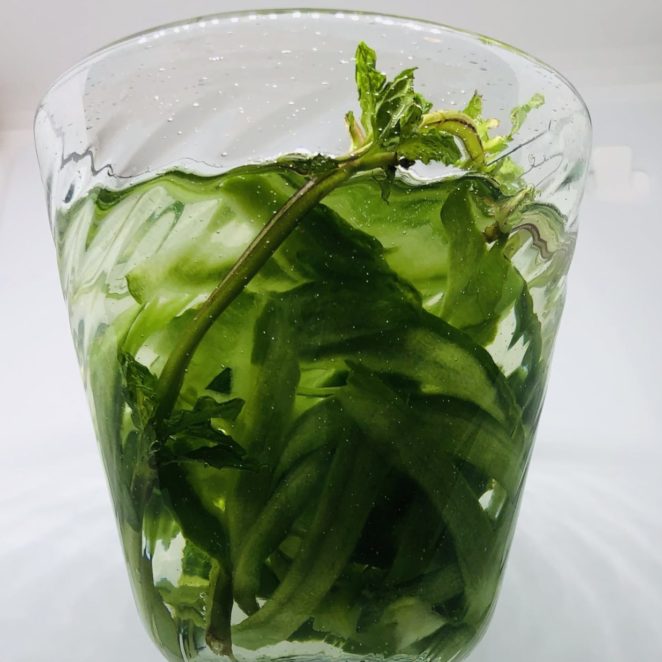 Today's flexipe is inspired by Bettina Stern, co-founder of Chaia, a DC restaurant that channels vegetable love into taco form. One way Chaia keeps operations sustainable is by using each ingredient to its fullest and offering a small menu of carefully curated dishes (More about that here, from our cousins at RescueDish).
Stern makes the most of every ingredient in her own kitchen as well. This summer that's meant lots of refreshing infused waters. Today we're featuring Cucumber & Mint Ice Water, brought to you by peels and stems.
Here's what Stern says: "I am always looking for ways to reduce food waste. I use leftover skins and vegetable and fruit pieces in my repertoire for summer thirst-quenching drink options. Adding bright, fragrant herbs makes still or sparkling waters both beautiful and more delicious."
Print
Mint Stem & Cucumber Peel Ice Water
---
Description
A great way to stay hydrated and use up those cucumber peels and herb stems! This recipe calls for mint stems, but plenty of others would be great too.
---
Mint stems (and any other leftovers from a sprig).
Cucumber peels. 
Water. 
Ice. (Optional)
---
Instructions
Once you've finished peeling a cucumber for another recipe, drop the peels into a pitcher of water.
Add mint stems and any other bits leftover from a sprig.
You can enjoy it right away. But Stern advises that it tastes best if the flavors marry for several hours or overnight.