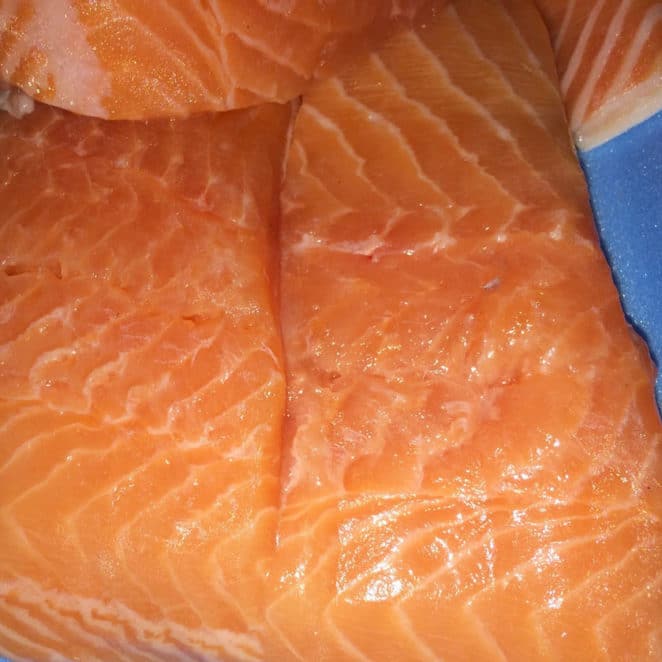 What you see: The center of your salmon looks mushy
What it is: Lots of things could be going on here, but as long as your fish isn't smelly, you're fine
Eat or toss? Inspect, and assuming no off smells, cook and eat!
Can you eat a salmon fillet that looks mushy in the middle? Here's the story
Imagine all the reasons why your own muscles might be soft and you'll start to get a sense of what's amiss in this perfectly edible salmon fillet.
First, there's genetics. Maybe it's simply a less muscular species. Then, let's consider its lifestyle. This salmon was probably farmed, which means it didn't do a lot of strenuous swimming, so it may not have built up its salmon muscles.
If, after the salmon was harvested, it was at the bottom of a heavy pile of other salmon, the pressure would have weakened its flesh. Similar story if it was frozen and then defrosted; its cell membranes could have weakened, making it less firm.
Naturally occurring enzymes or bacteria could also be causing some of the salmon to break down.
And while this mushiness could be a signal that salmon is older, or at least has been through a lot, as long as it smells normal and you cook it thoroughly, it doesn't mean the salmon is more likely to make you sick than a firmer fillet.
Different salmon species and different living and handling conditions simply mean differences in taste and texture. And while purists may avoid salmon showing some mush, some people may not notice or be bothered by salmon with a little mush, especially after its cooked (confession: my grocery store salmon often has this look, and by the time it's on my plate, I've entirely forgotten about it, and never notice anything amiss).
"It's not dangerous," says Brian Himelbloom, a seafood specialist at the Kodiak Seafood and Marine Science Center in Alaska. "It just depends on people's preferences."
Don't be turned off by just a little mushiness!