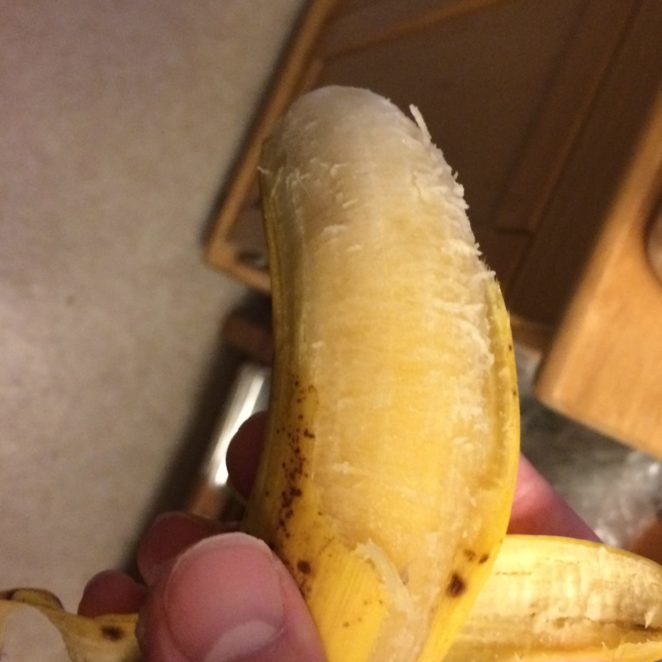 What you see: A seemingly translucent, floppy and very soft banana.
What it is: An extremely ripe banana.
Eat or toss? Eat! Possibly in banana bread!
Is it OK to eat a really soft banana?
I won't deny that there's something about really soft bananas that's a bit squirm-inducing. But, here's the good news: when an unblemished banana gets to that translucent, super soft phase, it's simply aging as planned.
When fruits ripen, their mission is to make themselves as appealing as possible to animals (like us!) that can spread their seeds. One way they do this is to convert starches to sugars. That's why your super-ripe, brown-spotted banana is much sweeter than your still-slightly-green banana. Starch isn't water soluble, but sugar is, so the sugar dissolves into the moisture of the very ripe banana, contributing to the translucent, "water soaked" look, explained Lan-Yen Chang, who is working on a dissertation about bananas at the University of Florida.
The ripening process includes softening, which also makes fruit more appealing to animals. To create a softer, more enticing texture, the banana deploys enzymes to weaken its otherwise firm cell walls. Hence, you get a floppier banana.
Something smells bananas
Have you ever noticed that very ripe bananas have a stronger odor than green bananas? At this stage, Chang notes, the riper banana is producing more aroma molecules.
None of these issues makes the banana unsafe to eat. These changes do, however, indicate that the banana is at the end of its life and is letting down its defenses. The softer, sweeter fruit is more susceptible to bacteria and fungi, so look out for any off colors or odors and don't wait too long to eat!
"This stage is good for cooking banana bread," Lan-yen said.
What are you waiting for? Check out EatOrToss's favorite banana bead recipe here.
SOURCES:
Lan-Yen Chang. PhD candidate. Postharvest horticultural sciences. University of Florida.