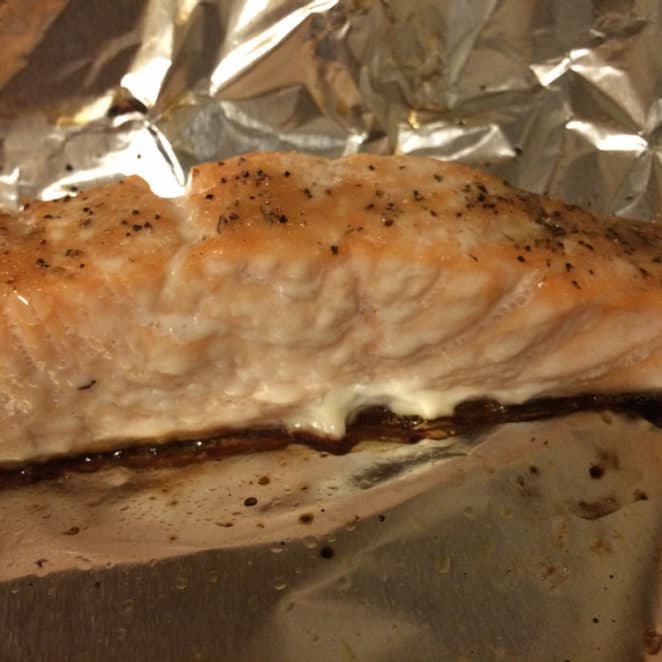 What you see: White stuff oozing out of your salmon as it cooks.
What it is: Perfectly edible coagulated protein.
Eat or toss: Eat!
Is the white stuff on cooked salmon edible?
Salmon's known for being a fattier fish, so I used to assume that white stuff that crept out during cooking was fat. Wrong! It's actually just a weird kind of chalky protein. It's totally harmless, but watch out if you're seeing a lot of it, because you may be overcooking your fish.
While salmon cooks, its muscle fibers contract, pushing out this moisture-filled protein, called albumin,* in the process. As cooking continues, the albumin loses its moisture and denatures, which is when you start to see that chalky white stuff on the surface of your fish. It looks weird, but it's perfectly safe to eat.
Visible albumin is unavoidable when you're cooking salmon, but, given the role that heat plays in pushing the albumin to the surface, it's no surprise that overcooked salmon will be sporting more of the white stuff. The key to determining if salmon is cooked is to make sure it flakes easily (a little transparency is OK). But, if you're seeing a lot of albumin, it's definitely time to check for doneness.
Once I learned that the white stuff was not fat or anything to worry about, it stopped bugging me. But if you want to minimize the albumin on your salmon, America's Test Kitchen suggests a quick brine before cooking.
*Q: What's the difference between albumin and albumen?
A: Albumin is the white stuff on cooked salmon and albumen is egg whites. "Alba" means "white" in Latin.