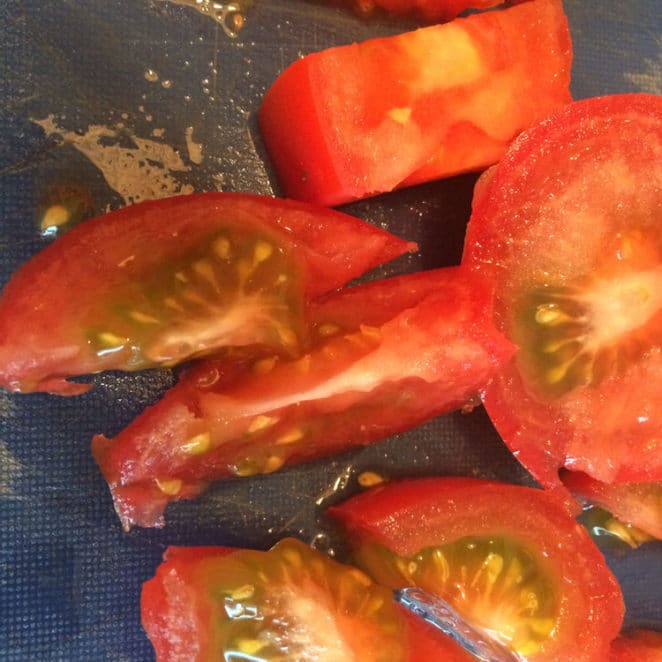 What you see: A green coloration inside your tomatoes, especially in the gel around the seeds
What it is: A particular feature of the breed; or, a physical problem from earlier in the tomato's life
Eat or toss: Eat! Nothing to hurt you here.
So, can you eat tomatoes that are green inside?
We generally expect our tomatoes to conform to our very red expectations, but not all tomatoes are like the others. There are, of course, some heirloom varieties with their orange, red and green hues. And then there are tomatoes like this, which look perfectly red on the outside, but have a green tinge on the inside.
There are a number of reasons why a tomato could be packing a bit more chlorophyll under the hood, but plant breeder Emily Rose Haga suspects that the most likely explanation in this case is simply a breed that tends toward greener interiors.
"In some varieties, when the fruit is ripe it looks red and in some varieties it looks green," said Haga, referring to the juicy material around the seeds. "Some people even prefer the flavor of a greener gel."
Even though this was a standard on-the-vine tomato from a grocery store, Haga says it's possible that the grower produced a number of varieties. That helps ensure that if there was a problem with one, there would be a backup crop. With different breeds come slight differences, hence the slight green.
There are also some ripening disorders that can cause green gel, and stressful conditions might also leave the gel a green color. But those scenarios are probably going to be in conjunction with some other issues. Since this little guy looked pretty clean on the outside those problems are unlikely.
And before we go, here's an image of a yellow tomato with a perfectly normal green interior:
Once again, it's not easy being green.