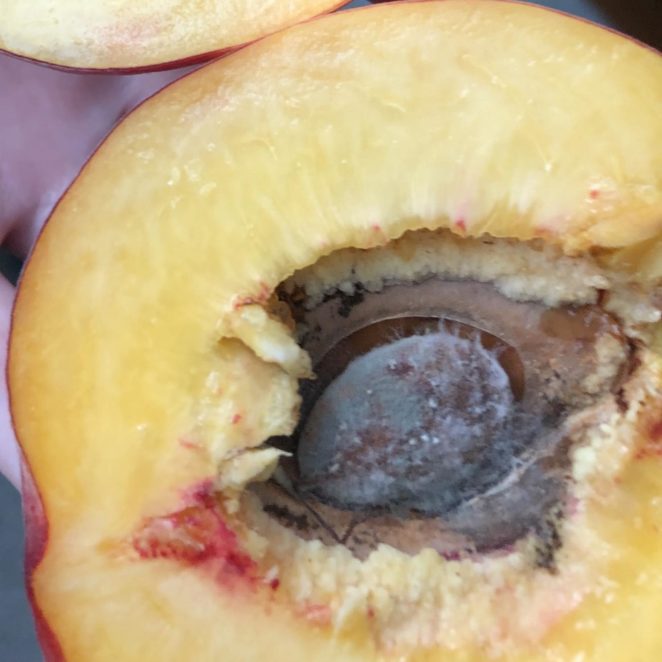 What you see: A moldy pit in a peach.
What it is: A moldy pit in a peach.
Eat or toss: Toss. In a soft fruit like a peach, even areas without obvious mold could be affected. 
Is a peach with a moldy pit safe to eat?
We advise against eating peaches with moldy pits. Even though the mold seems concentrated around the pit, the rest of the peach could still be contaminated. Some molds produce toxins that are unhealthy to consume. In a soft food like a peach, mold toxins invisible to the naked eye could be present in areas that might seem OK.
Now that we have that out of the way, let's talk more about what happened to this hapless peach.
Not the peach split we had in mind
While this peach was still on the tree, something sent its growth into overdrive. Maybe it was too much rain. Maybe the temperatures fluctuated in a confusing way. Maybe the farmer trimmed too much fruit off the tree (which can cause remaining fruit to grow bigger). Maybe something wasn't right in the soil.
In any event, the peach outgrew its old self so fast, its pit split open. Look closely at the peach in the image and you'll see that the pit has divided in half, forming two tiny, smooth, woody bowls. In one of them, you can see the kernel at the center of the pit–that's the seed that a peach tree might have grown from. The mold is concentrated on that kernel.
That white stuff around the peach pit is not mold
The wispy green stuff on this pit is mold that's actively decaying the peach. That's why we're steering clear of eating this fruit. But that bumpy white stuff around the edge of the pit? That's not mold. In fact it's a substance the peach manufactured to try to seal up the broken pit. It's called callus tissue.
You might also see callus tissue as little white bits on a perfectly fine, safe-to-eat peach.
Catherine Belisle, a food scientist who's studied peaches, said to think of callus tissue as clusters of generic peach cells that haven't yet gotten the order to turn into anything specific (like fruit flesh or pit or skin). Callus tissue alone isn't anything to worry about. Previously, we wrote about a split pit peach without mold. Here's what that looked like:
In this case the crack remained internal; the peach's protective skin didn't break, so mold wasn't given an easy path into the peach.
But in the peach we're talking about today, the pit split with such force that the entire fruit cracked open to the world. This allowed mold easy access to the tasty center (Tasty indeed! Some people collect the kernels inside peaches for fancy desserts, though they must be carefully prepped because they contain toxins.) 
While plenty of split pit peaches remain intact, it's also common for their skin to crack. Larger peaches and those harvested earlier in the season are more likely to suffer from split pit. The cracks most often show up near the stem, so you may want to inspect that area before purchasing any especially large peaches.