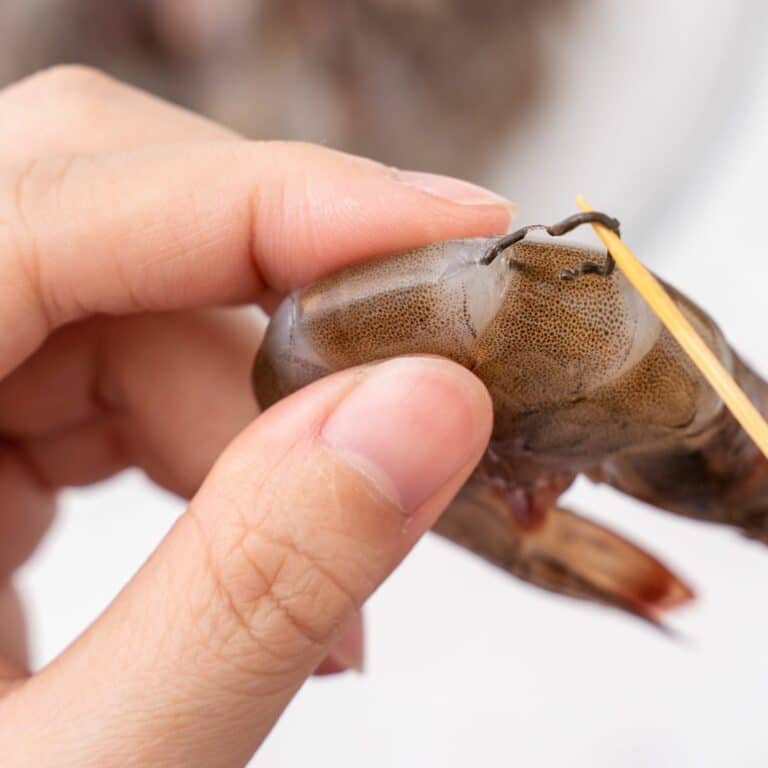 What you see: The black line or "vein" on the outer curve of your shrimp.
What it is: The shrimp's digestive tract! It's sometimes called a "sand vein."
Eat or toss: It's OK to eat it, though it might add a gritty and "muddy" note to your meal. Depending on how much it bothers you, experts advise removing the vein from large shrimp, but note that it's often hard to detect in medium and small shrimp. As long as the shrimp is fully cooked, it's not a food safety concern.
Yep, shrimp "veins" contain shrimp poop
That dark line that runs along the outside of shrimp is exactly what you feared: a digestive tube filled with the gritty remnants of the shrimp's final meals.
But, on to the good news! Despite the yuck factor, it's safe to eat. As long as the shrimp reaches 145 degree Fahrenheit for at least 15 seconds during cooking, any problematic microbes will be killed, according to the North Carolina Cooperative Extension.
However, if you do eat the vein of a large shrimp or prawn, you might notice some grittiness and possibly some bitter or muddy flavors. Shrimp pull bacteria, algae, tiny animals and bits of organic material from the seafloor. Inevitably they ingest some sand or silt along the way.
Julie Anderson Lively, executive director of the Louisiana Sea Grant College Program, said the look of the "vein" varies based on the shrimp's diet. A brownish, blackish color is common, but if the shrimp enjoyed a more colorful meal, you might see the evidence.
"I've even seen kind of like bright pink," she said, musing that that shrimp might have ingested some vividly colored algae.
Sometimes the brown or black line is euphemistically called the "sand vein." While cooks often remove it from large shrimp, it can be harder to detect, and less off-putting, in small and medium shrimp. Those smaller crustaceans eat smaller bits of food and therefore would be less likely to have obvious grittiness. 
Do you really need to devein shrimp?
The extent to which you'll want to remove the vein will vary based on the size of the shrimp, your own personal preferences, and possibly how the shrimp was handled.
Anderson, said she doesn't bother removing the "vein," but it takes a lot to gross her out.
"I know it's cooked and I know it's nothing that going to harm me in any way, shape, or form," she said, noting that her work with fisheries makes her comfortable with things that might make other people squeamish. "I deal with a lot of gross things, so I have a higher tolerance."
And while she has friends who also don't give a second thought to eating the vein, she knows it's not for everyone.
"Other people definitely cannot stand it," she said. They know they're eating crawfish or shrimp poop essentially and that just freaks them out."
The image at the top of this post is sourced from Canva. The photo below was taken at a DC area steakhouse that is not known for its shrimp preparation. WARNING! Extra icky image below!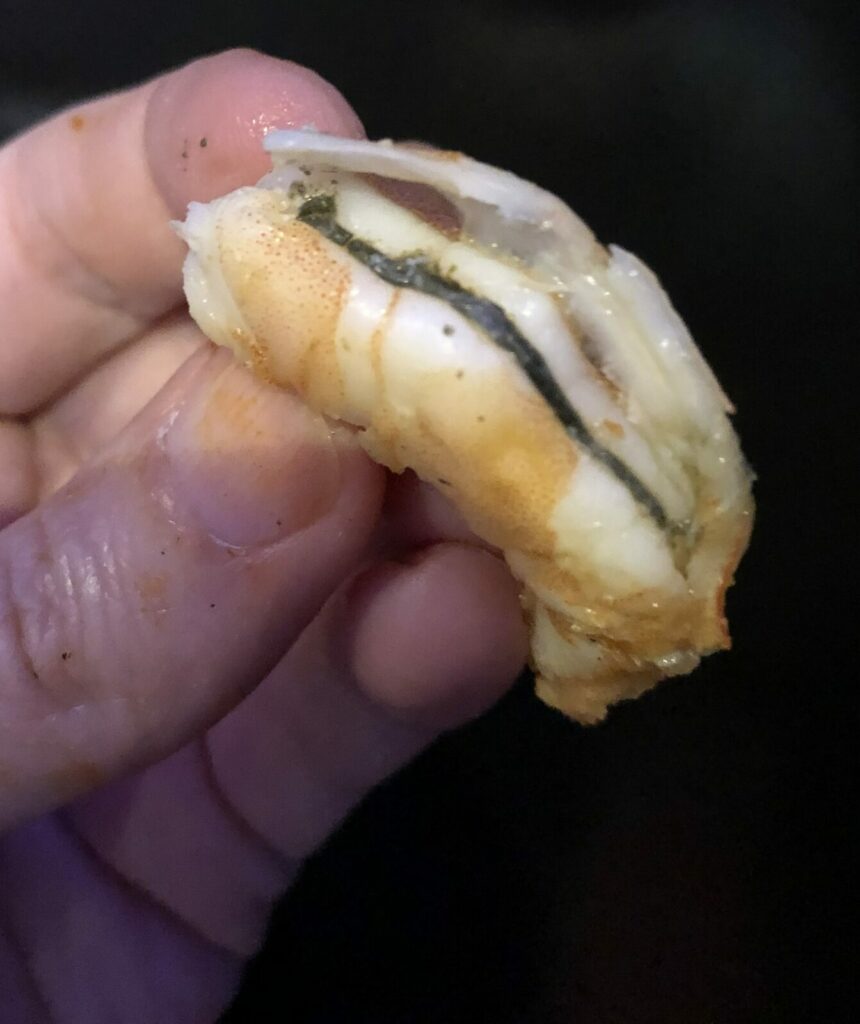 You're so vein. You probably think this shrimp is about you.