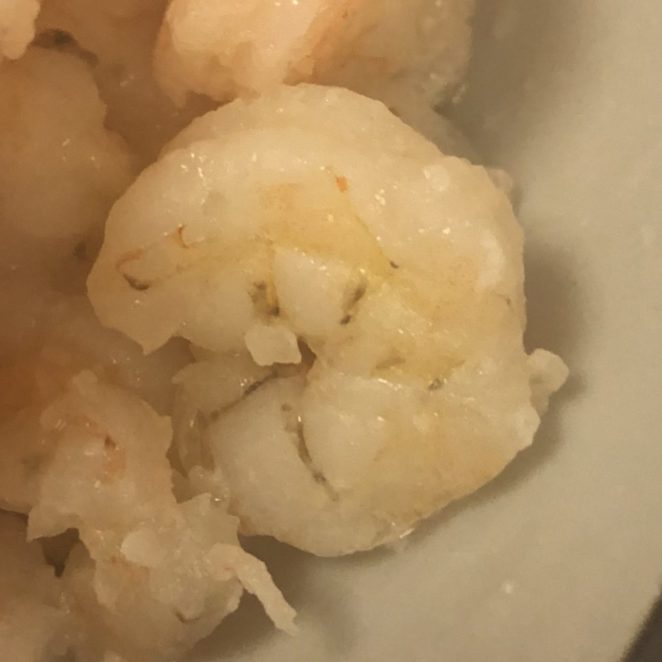 What you see: Dark lines on your shrimp's flesh.
What it is: Likely, naturally occurring discoloration.
Eat or toss: Eat! As long as the shrimp smells and tastes fresh, it's fine.
Black lines on your shrimp?
Previously we wrote about melanosis, a natural, but very off putting phenomenon that leaves ever expanding black blobs on shrimp shells, tails and heads. Like this: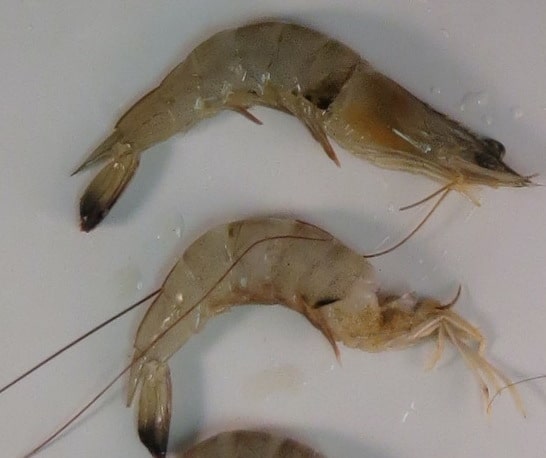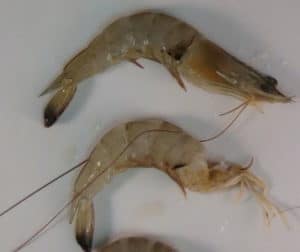 Melanosis, which gradually shows up after shrimp are removed from water and exposed to oxygen (similar to how apples and other foods brown), is harmless, but unsightly. Since it gets worse over time, it can signal that shrimp is older, but it can also show up while a shrimp is still perfectly fine to eat. 
Also known as "blackspot," melanosis is usually associated with the shrimp's outer shell, but it can appear on the flesh itself. That could be what's going on here. Melanosis tends to accumulate in the head, tail and where the shell segments connect, which might have been just above the pinwheel-style black lines on this less-than-normal-looking shrimp.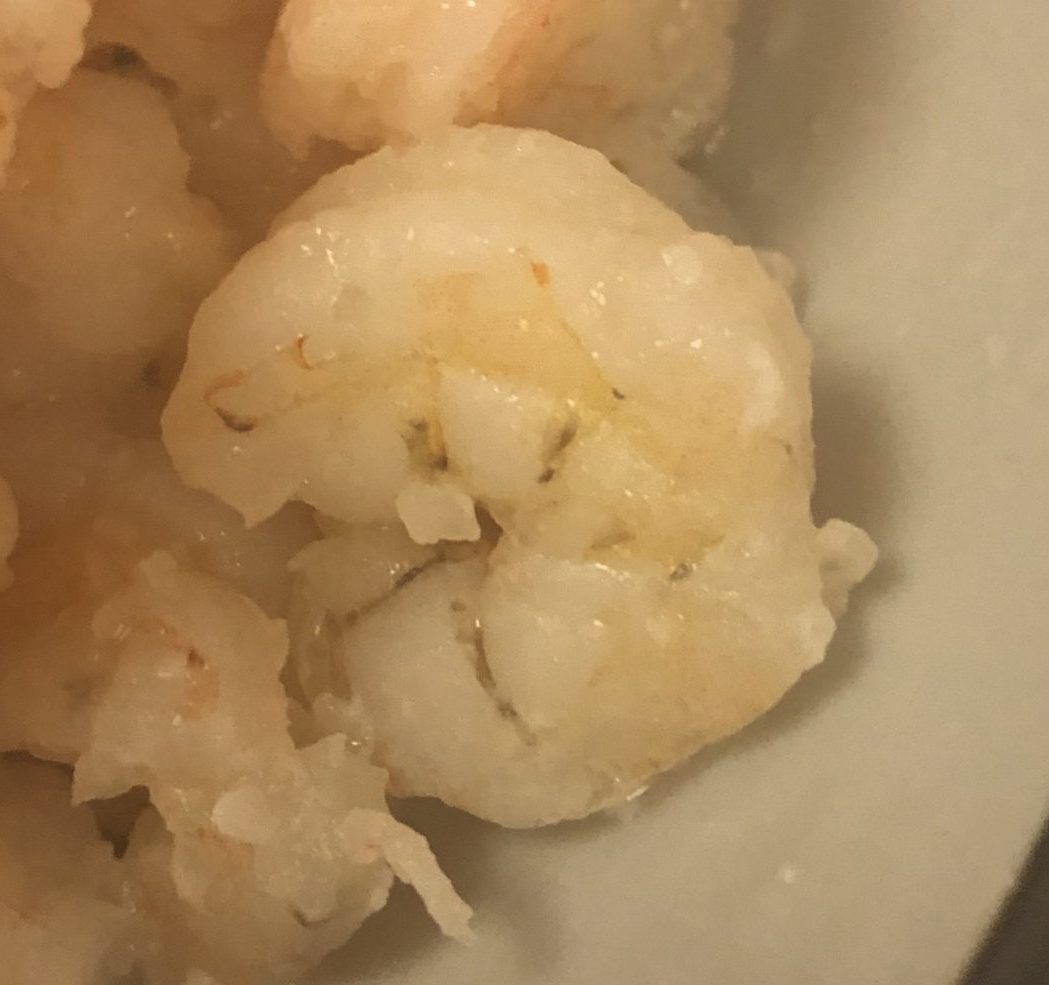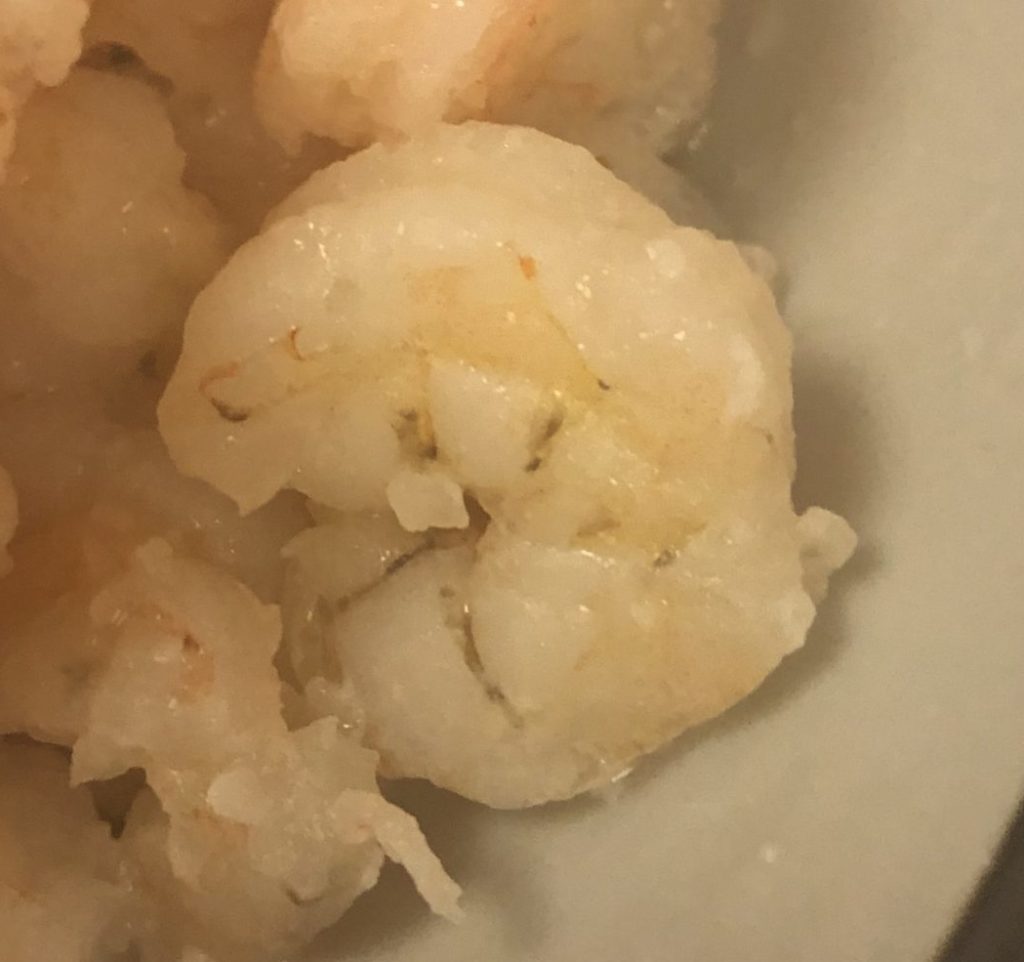 It's also possible, fisheries specialist Julie Anderson Lively told me, that this is simply some naturally occurring discoloration on the shrimp. Just as animals of the same species can have different color patterns (think of the wide variety of coats cats can have, for example), this shrimp may have just been programmed a bit differently.
"If you put a bunch of shrimp side by side, you'll see slight differences in color patterns," she said.
In any event, the black lines, while off-putting, don't indicate a food safety risk. To determine whether the shrimp are still edible, just sniff. Shrimp will very quickly develop a foul odor when it's no longer good to eat.
"As long as it's smelling more like the beach or the coast or the water it's great, " Lively said.