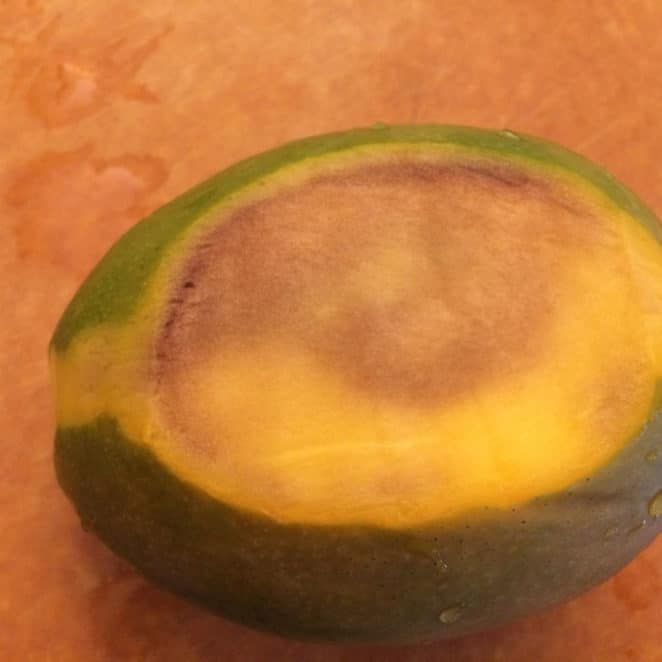 What you see: A brown, possibly purplish color when you slice into your mango.
What it is: Deteriorating mango flesh.
Eat or toss: Toss! This mango will not taste good.
You can eat a mango with discoloration like this, but you may not want to. Here's the story.
This mango was most likely a victim of a too-hot hot water bath.
What, you might ask, was a mango doing taking a bath? Well, before any mango makes it to the U.S., it must undergo such a hot soak, the better to kill any buggy hitchhikers that could be bad news if they landed in the U.S.
Most mangos make it through the 90-minute bath, which I like to call the Fruit Fly Prevention Spa, just fine. (Check out what "the spa" looks like at the bottom of this post!)
But something went awry with this mango. The 115-degree Fahrenheit water damaged its tissue, inhibiting key enzymes and causing its cell membranes to leak compounds that prompted it to, among other things, discolor and eventually rot.
In that hot water bath, the mango may have been particularly close to the heat source. Or, it may have accidentally been left behind in the pool (and who doesn't want just a little more time in a hot bath?).
In any event, circumstances cooked it hotter than planned and the fruit was damaged beyond repair. While it looked fine from the outside, its innards were deteriorating during the days or possibly weeks it spent in transit from the packing house to the store.
The reaction that caused the discoloration is similar to what you see when sliced apples turn brown. In both cases, cell membranes lose their tight seal and leak chemicals that react with oxygen to form dark colors.
But, in the just-sliced apple, the disruption comes from your knife breaking open cells—the fruit overall is still healthy. In the case of this mango, however, heat from the hot water bath spread throughout the fruit, causing cells to weaken.
The only thing that slowed this mango's demise was refrigeration it may have experienced on the way to the store. While too-cold air can further damage a mango, the right amount of chilling makes everything, including tissue deterioration, go slower.
But not even perfectly chilled air could reverse this situation.
To be fair to the Fruit Fly Prevention Spa, other circumstances that could have caused this mango to take a turn for the worse. Storing the tropical fruit in a too-cold environment could have also damaged the cells. A nutritional problem could have led to the discoloration as well.
This mango isn't unsafe to eat; it just won't taste good. Jeffrey Brecht, postharvest plant physiologist at the University of Florida, offers this succinct advice: "That would be a toss."
How to tell if a mango has gone bad
We know that the mango featured in this post has gone bad because its flesh is discolored. Other ways to tell if a mango has gone bad are if it gets extremely soft and develops any off odors or wet or slimy lesions on the surface–in such cases a microbe probably got to the mango before you did. It's common to find decay near the fruit's stem–that's one of the easiest places for microbe's to gain entry. Bruises, where the flesh gets mushy, also provide easier access points. But keep in mind that many visual defects that might make a mango seem unfit to eat are merely cosmetic. Check out the EatOrToss Mango Library for images of other common mango afflictions.
Updated May 2023