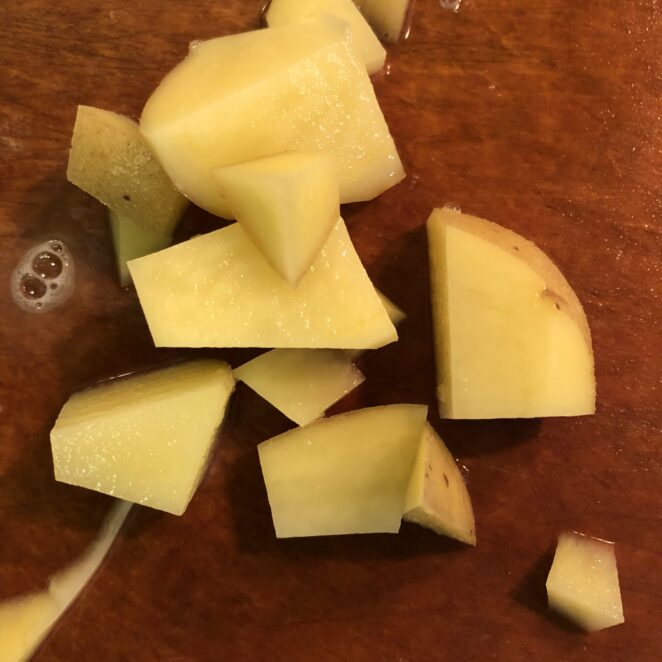 What you see: A potato that squirts while you're chopping.
What it is: A potato packing lots of water!
Eat or toss: Eat! This potato is just fine. 
Is it OK if a potato squirts liquid when you slice into it?
While potatoes might seem all dry and shelf stable in your kitchen, they actually pack a lot of water into their cells. Raw potatoes are hard because of the pressure from holding in all that water.
(For anyone looking to flex their high school science muscles, we're talking about turgor pressure from liquid in the cells' vacuoles.)
Slice a potato and your knife cuts open cells, which allows a special potato brew of water, salts, sugars and other components to escape the former confines of their cell walls. Field conditions and the potato variety can influence whether a tuber packs more liquid, and how tightly it holds onto that liquid. With enough pressure a mere slice of a knife can release a mini jet of potato water–which happened when I sliced into the very normal-looking potatoes pictured here.
Nora Olsen, potato specialist and professor at the University of Idaho, said that while potatoes' liquid content doesn't increase after harvest, storing them in a cold place can cause the water to move around. So, in some cases cold potatoes might be more likely to be squirty potatoes.
Probably less likely to squirt? Old potatoes. Overtime, potatoes lose moisture in storage. This causes their texture to suffer and can make them look wrinkly. They might still leak water when you chop them, but they won't spray. 
Did your squirty potatoes leave a mess on the cutting board? Here's what's going on.