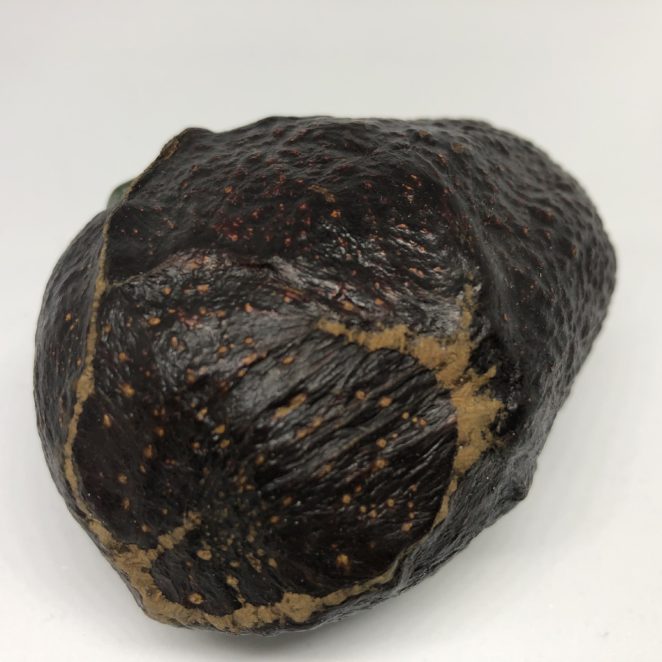 What you see: Raised lines and scars on the avocado's peel; the fruit's overall shape is distorted.
What it is: Ridging!
Eat or toss: Eat! This disorder only affects the exterior of the avocado.
Don't judge this avocado by its scars and bumps!
With surfaces like topographical maps, avocados like these showcase a disorder known as "ridging."
Its exact cause isn't fully understood, but experts believe that tiny insects (specifically mites and thrips) cause some kind of disruption during the flowering stage (avocados and other fruits develop from the ovaries found within flowers). Genetics and weather may also contribute to ridging, according to the Hass Avocado Board.
So, something early in the avocado's life stunts and distorts growth, leaving ridges that expand and grow as the rest of the fruit does. Kristine White, director of global quality assurance and research and development at Mission Produce, compared them to stretch marks. With their uneven shape, ridged avocados are also more likely to scrape and catch against other surfaces, leading to scarring.
"It's important to note that ridging does not cause internal damage to the fruit, and the fruit can ripen for eating as usual," White wrote to me. She noted that Mission, a major avocado producer, uses pest management practices to minimize ridging.
Due to ridging's effects on growth, impacted avocados are usually smaller.
Below is an image of the avocado flesh impacted by ridging. You'll see that the avocado's shape is warped, even beneath the peel, but it otherwise looks perfectly fine and great for eating.
Fight food waste by buying "ridged" avocados
Avocados with ridging can taste great, but can be picked over by consumers, and thus go to waste. Want to make a difference? Buy these rugged souls!