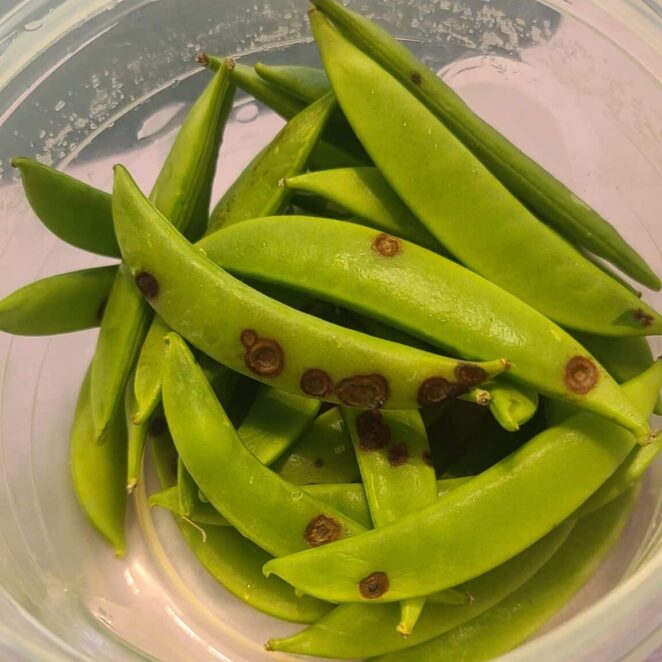 What you see: Large, rough, ringed "spots" on your snap peas. 
What it is: Fungal growth.
Eat or toss: Mostly toss, but if some pods look normal, you could still eat them. If you're desperate, you could trim around the spots with wide, one-inch margins, but by then you might not have much to work with. 
What are the fungal spots on these beans?
Reader Kitty H. bought these sugar snap peas at a supermarket, then stashed them in a jar in her fridge. When she went to use them, they looked, well, spotty.
Unfortunately, a fungus started dining on Kitty's beans before she could eat them. I checked in with Jim Myers, a horticulture professor at Oregon State University, who said it was hard to say exactly what fungus, but that two types, ascochyta leaf blight or anthracnose, were possible.
Widespread fungal spots on beans render them inedible
Anytime you spot an unknown, uninvited fungus on your food, you don't want to eat the affected area–some fungi are harmless, but some can deposit toxins that could be harmful if you consume them. Any obviously unaffected snap peas would probably be OK, but you'd want to inspect them carefully and might want to cook them just in case something else was lurking (like a pathogen), and give them an assessing taste before serving them.
"I don't know whether there are any toxicity problems with the fungus, but I personally would not eat these," said Myers, who works with a variety of different beans and peas. 
If you're desperate, mold guidelines from the USDA advise that you should entirely discard a soft food with mold on it, but can get away with cutting one-inch margins around a firm fruit or vegetable. But, once you trimmed these pods, you might not have much left to eat. 
Why toxins might be present, even where you don't see fungal growth
Even in areas that still look OK, the fungus could be at work. Fungi pave the way for destruction by releasing biochemical cocktails that start to break down the plant tissue so the fungi's threadlike structures can then absorb nutrients. Those enzymes and other substances could taste foul or be unhealthy to eat.
Here's more detail from Myers: "Many fungi (especially necrotrophs of which Ascochyta is one) excrete enzymes and other compounds into a wave front ahead of the mycelia [the fungus's filaments]. Some such as oxalic acid modify the pH of the cellular environment so that their enzymes (pectinases and cellulases) have optimal functioning in 'predigesting' the plant tissues for uptake when the mycelia arrive."
This snap pea fungus grows in "rings"
One thing that gave Myers some clues about the type of fungus at work here are the "growth rings" in the spots. Look closely and you can see that each spot is made up of a series of circles. This is because the fungus grew in cycles, likely responding to temperature or light changes. In the wild, that might have been the natural cycle of the day; but in Kitty's refrigerator, it could have been the cycles of the fridge.
"The number of rings corresponds to the number of cycles the lesion has undergone as the pathogen develops," Myers said.
The spots themselves are made up of a combination of dead snap pea cells and the fungus's filaments and "fruiting bodies." ("Fruiting bodies" are the portions of fungi that release spores; the mushrooms we eat are large fruiting bodies, but they can also be quite small.)
To prevent fungal growth, store snap peas in a breathable container or bag
Kitty had been storing her snap peas in a screw-top container in her fridge. As fresh produce, snap peas are alive and respiring, which includes releasing moisture. All that moisture would have been trapped in the container, providing exactly the kind of wet, humid environment that fungi enjoy.
"We sometimes hold snap beans in the cooler, usually in paper bags, but if we put them in plastic bags they come out soaking wet," said Myers, whose work includes breeding new cultivars of beans. 
To keep fresh green beans and peas in peak condition, SaveTheFood advises storing them in a breathable bag in the high-humidity drawer. They suggest eating the beans and pods as quickly as possible, ideally in three to five days. Honestly, here at EatOrToss headquarters we've found they've lasted longer than that. But, in any event, you'll want to get to your veggiesWe sometimes hold snap beans in the cooler, usually in paper bags, but if we put them in plastic bags they come out soaking wet, before any intrepid fungi do.
SOURCES:
Jim Myers. Professor, Vegetable Breeder and Professor. Oregon State University. College of Agricultural Sciences. Department of Horticulture.