Exhibit A: The bagel below was nearly pitched after a luncheon, but my resourceful husband rescued it and popped it in our fridge. Refrigerating it was the right move because we weren't going to eat it in the next few days. But, well, you know how it goes. Before long the rescued bagel dried out and became more like a rescued rock.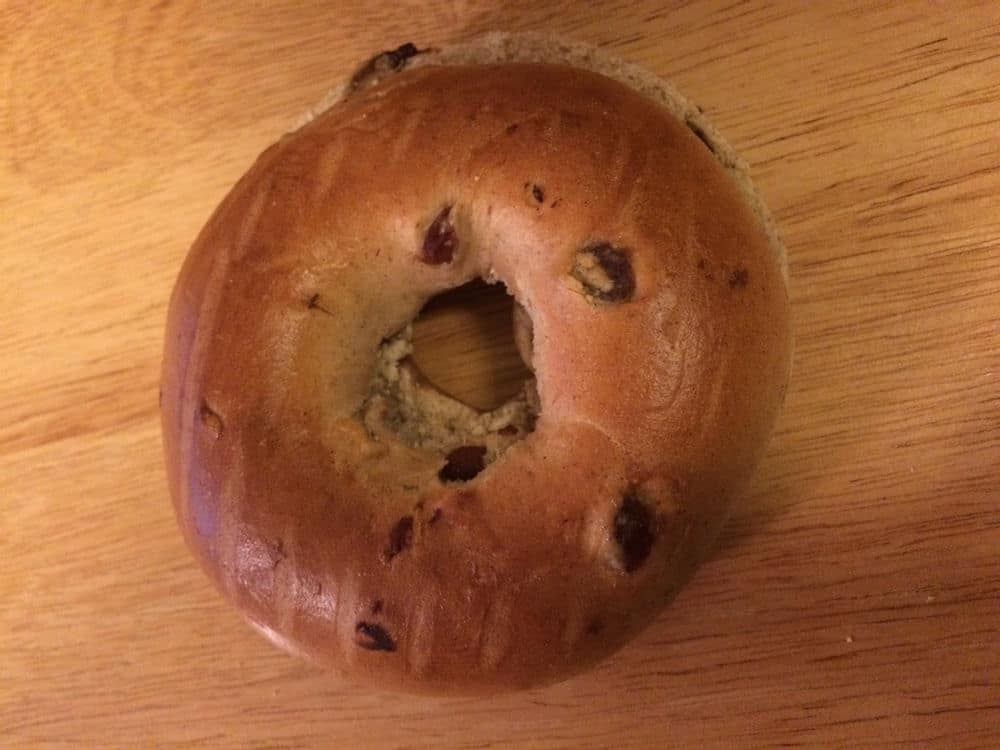 Exhibit B: I was no match for this oversized dinner roll so I took it home, certain I could do something with it.
The solution
In both cases, these starchy castoffs formed the backbone of dinner. After some quick work with eggs, milk, cheese and veggies the hard bagel and the rejected roll came back to life as something like supple soufflés.
You could just call these creations "frittatas," but in the oven they delighted us by puffing up and turning golden. Mmm. Soufflégal!
So here's how to make it happen:
Print
Stale Bagel Soufflégal
---
Description
Uses up hard bagels, stale bread, bread ends. Add eggs and some heat and everything puffs up like a tender soufflé!
---
Stale, hard bagel. One or two. Or dinner rolls, or any other bread. While a panzenella requires a certain type of bread, just about any will do for a soufflégal). Keep in mind that a single bagel goes a long way. One is probably enough for four servings.
Eggs. 6-8. More if you're using two bagels. Fewer if you want to use more milk, but I wouldn't go fewer than 6 eggs total.
Milk. As much as makes sense to you. I poured enough into the egg and bagel mixture so that the bagel pieces were completely covered.
Onion. At least one. Roughly chopped. While the rest of the veggies are a bit of a free for all, don't skip the onion. In a pinch, a lot of green onion would be fine.
Veggies. Just about anything will be great. What do you have in the fridge or freezer? Spinach? Zucchini? Red peppers? Mushrooms? Green onions? Extra fresh herbs?
Herbs, salt, pepper. Whatever sounds good to you will be great! I like to add basil and oregano, especially if I'm using parmesan cheese.
Cheese. I like to use shredded parmesan in soufflégals (and frittatas). Cheddar would also be good. Goat cheese too. Or, in the spirit of the stale bagel, you might try adding some leftover cream cheese.
---
Instructions
Pre-heat oven to 350 degrees.
Break eggs into a large bowl and beat them together. I don't find it necessary to beat them until they're totally uniform, but if you prefer it that way, go for it!
Tear bagel into small, bite-sized pieces and mix with the eggs.
Pour milk into the egg mixture, enough to cover the bagel pieces.
Let the bagel, milk and egg mixture soak while you prepare the veggies.
Chop the onion and sauté it in the same pan you'll be using to make the Soufflégal. I used an 8-inch cast iron pan.
Add other veggies and sauté them with the onion.
Once the veggies have softened to your satisfaction (how much time will depend on the veggies), pour them into the egg and bagel mixture.
Add as much cheese as you like.
Transfer the bagel-egg-vegetable mixture to your sauté pan. Cook over medium heat.
Once the mixture has set on the sides, put it in the oven to finish it off (if your sauté pan isn't oven-safe, just transfer to an oven-safe baking dish first). You'll know it's done when the top is a bit golden and puffy. Test it by putting a fork in the middle and making sure it comes out clean.
Notes
The Soufflégal is best enjoyed straight out of the oven. The one pictured here was still good the next day, but we found that the bagel bits were at their best the night it was prepared and did start to toughen up a little the following day (they might stay more moist if you let the bagels soak more). The dinner roll version didn't have this issue. But in any event, you get the idea. Veggies and bread products unite with eggs and milk for a yummy and cozy dinner!
Oh, and a final note from the husband who rescued that first bagel:
For all you ketchup fans out there, Soufflégal is an excellent ketchup delivery vehicle.