What you see: A white film on your avocado's peel.
What it is: Likely copper sulfate residue.
Eat or toss: Rinse, scrub, peel and eat.
White film on avocado may be fungicide residue
Avocados are susceptible to a fungal disease known as anthracnose, which can destroy the fruit, ruining a farmer's crop or your plans for brunchy toast.
The organic avocado pictured above safely evaded a fungal infection. But it appears to still be wearing one of its defenses: residue from a fungicide called copper sulfate. This is one of the few synthetic pesticides the U.S. Department of Agriculture allows on organic produce.
The Hass Avocado Board reports that copper sulfate "may leave visible bluegreen spray residue, which does not in any way adversely affect internal quality or food safety."
The National Pesticide Information Center, which is operated under a cooperative agreement between the U.S. Environmental Protection Agency and Oregon State University, recommends rinsing and scrubbing to remove the residue.
Moist conditions can cause funguses to grow on avocados
Funguses need moisture to thrive, so, before spraying a mist of copper sulfate, farmers can try to maximize their groves' exposure to the drying effects of sunlight. That can be done by distancing trees from each other, pruning and reducing shade. Quickly removing any diseased fruit and leaves also helps.
But in rainy, moist regions, the fungus is still difficult to control.
So, farmers spray the leaves and fruit with copper sulfate, which, in wet conditions, zaps microbial invaders with copper ions.
Why the extra white stuff around the avocado's stem?
Wind, rain and simply brushing up against other parts of the tree can reduce the copper sulfate coating. And, as the avocado grows, its surface area increases, further thinning the protective copper layer. So, farmers sometimes spray multiple times.
With multiple sprays, copper sulfate residue can build up in crevices, as you see here around the stem.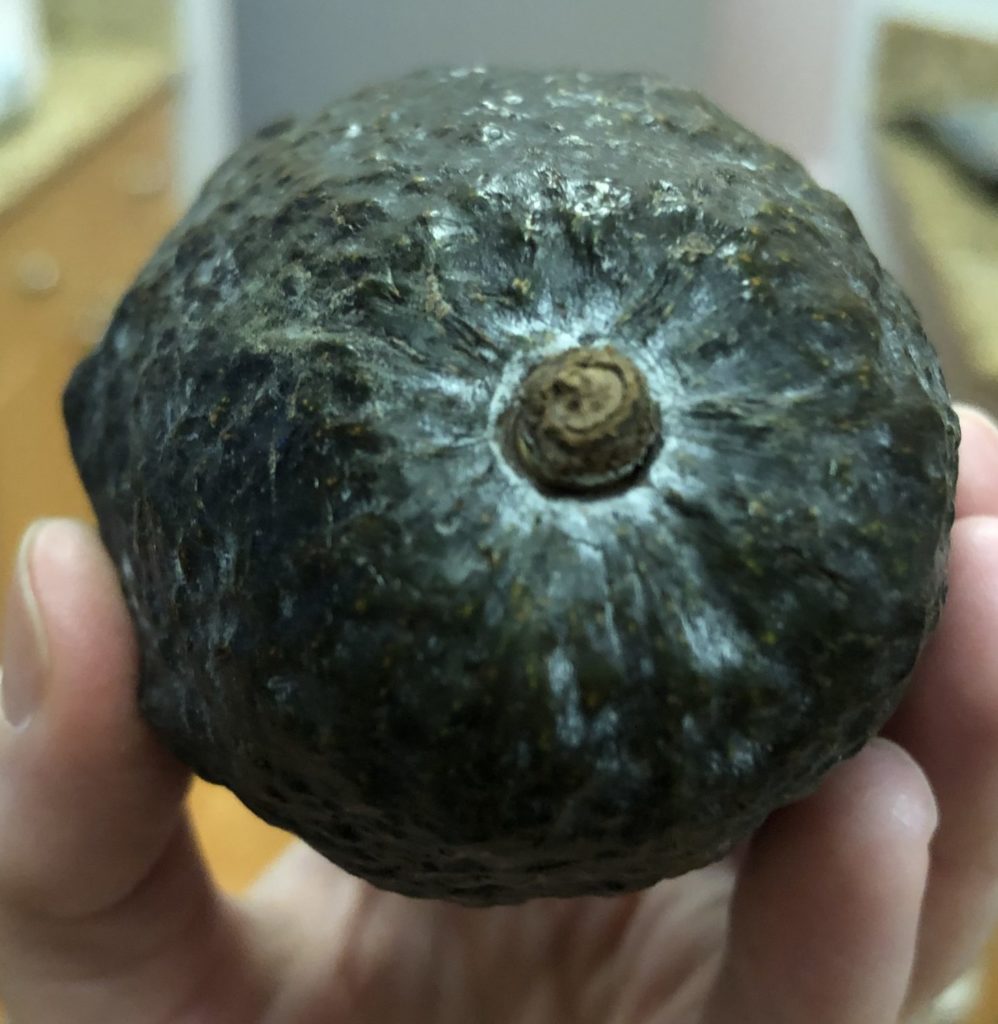 Yes, organic avocado growers use pesticides
While we generally assume that organic agriculture is "chemical free," that's not exactly the case. Certain pesticides, like copper sulfate, are permitted on produce with the USDA organic label.
For a primer on pesticide allowance in organic foods, check out the Rodale Institute's write-up. It notes that copper sulfate is allowed because the USDA determined that, with restrictions on its use, it was safe for the environment and human health.
Should you worry about ingesting this residue?
Copper is an essential nutrient that our bodies need in small doses, but that can cause illness if ingested or inhaled in large amounts that the body can't process. As they say, the dose makes the poison.
When I asked the NPIC about the risks involved in consuming the residue, they pointed out that it's basically impossible to eat enough copper sulfate residue-coated avocados to induce an acute, copper-induced illness. The avocados themselves would make you sick first. (For more than you'd probably ever like to know about copper sulfate, check out this technical fact sheet from the NPIC.)
Still, you don't want to deliberately ingest any lingering white stuff and absolutely should not consume the residue (which would include other inactive ingredients) to up your copper intake. So, follow the NPIC's guidance and scrub off any copper sulfate before cutting into and eating your avocado.
And before we go, please keep in mind that some types of "white stuff" that might appear on your produce are naturally occurring and nothing to worry about. Like the white film you might notice on grapes, or the way carrots turn white when they dry out. Find a host of scenarios involving unexpected white coloration in the Food Index.