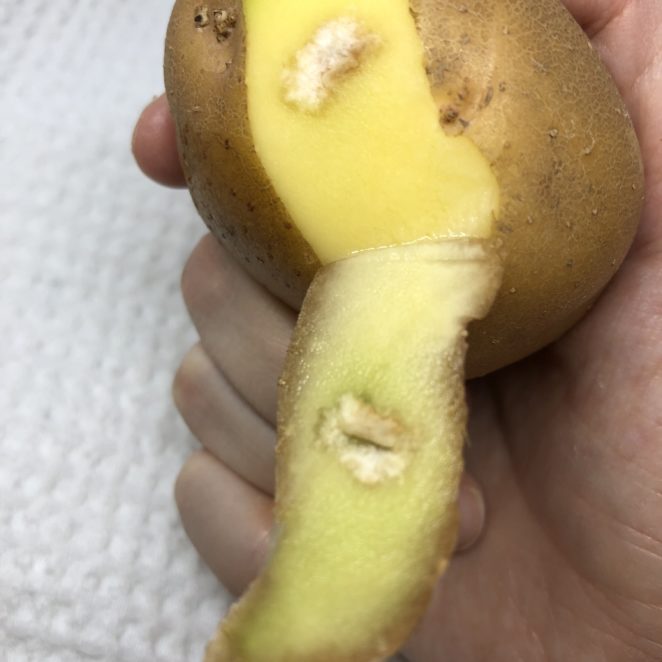 What you see: A strikingly white area just below the potato peel.
What it is: A white "knot," basically a bruise that didn't turn dark colors, as bruises typically do.
Eat or toss: Eat! The potato is fine. You just may want to cut out the "knot," which might have a hard texture, but you also might not notice it.
A white spot under your potato peel could just be a bruise
In a typical potato bruise, damaged cells leak contents that mix with each other and the air creating dark colors.
Known as enzymatic browning, you've also seen the result of this string of chemical reactions when produce ranging from apples to avocados is wounded. The brown and black colors come from melanin (yep, from the same family of pigments that does everything from darkening human skin to causing spots like these on salmon).
But in today's featured spud, it appears that there was a bruise, but the usual chemical reactions didn't take place; nothing mixed together to form the characteristic dark color. This is likely because the little units within the cell that normally keep those chemicals (enzymes, for example) separate weren't broken open.
"For whatever reason the way this impact occurred, it didn't allow some of those organelles inside to burst and start mixing with each other," said Nora Olsen, a professor and potato specialist at the University of Idaho.
"It broke up the cells, but not to the point where some of the other things were able to mix together and cause that melanin."
So, we're seeing light reflecting off bundles of starch and parts of the cell, but the cell's chemical components aren't mingling so we don't see any dark colors.
It's also possible that cells in "white knots" contain more starch granules, and larger starch granules than the cells in the rest of the potato, which would enhance the white look.
White area under a potato peel is unlikely to be mold
If you see an odd-looking white area like this under a potato's peel, you might wonder about mold. But, assuming the exterior of the potato looks normal, Olsen points out that that's simply not how mold forms on a potato. You wouldn't have normal-looking outer skin with mold just below it. Instead, you'd see that section of the potato deteriorating (getting softer, discolored, wrinkled or squishy) or you might see fuzz.
Microbial activity can look different depending on the type of microbe, but here's one example. In any event, as you'll see below, the yellow potato starring in today's post looks very "clean" on the outside.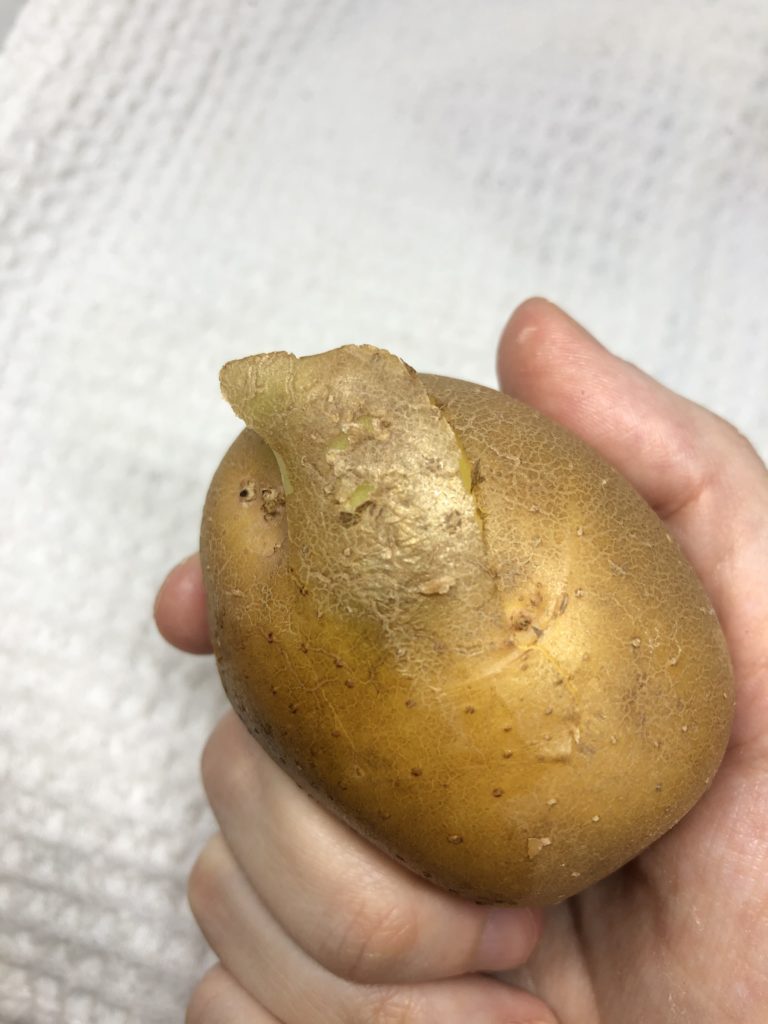 How did the potato get bruised?
Potatoes can be bruised in many ways, from hitting rocks in the field to rough handling during sorting (not to mention unlicensed, underground potato boxing matches). The potato's age, as well as its water content and the various temperatures to which it is exposed can affect susceptibility to an impact.
"White knot" potatoes are fine to eat
There's no need to worry about eating this potato. Some sources I reviewed described the knots as "hard" so texture could be an issue. Olsen said she might or might not cut out the knot, but wouldn't be concerned about its flavor or texture.
You could just leave it alone and see if you notice. You might…knot 🙂