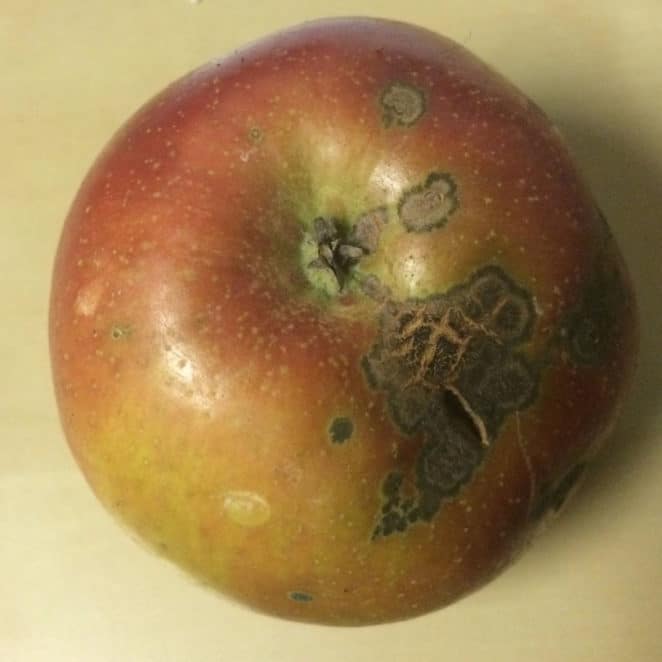 What you see: Scab-like browning on apple skin.
What it is: Apple scab!
Eat or toss? Eat! Just cut away the area affected by the scab. This is a fungus that hurts the apple's exterior, but won't hurt you.
So, can you eat an apple like this with "scabs" on the skin?
You know how your mother always told you not to pick at scabs? Well, here's a rare exception. If you encounter an apple suffering from the appropriately named "apple scab," you can just pick it off with your finger (or a knife) and enjoy the rest of the apple.
Apple scab just hangs out on the surface and won't lead directly to the decay of an apple. Unlike some other fungi, it doesn't produce the enzymes that would be needed to cause rot, says Kari Peter, assistant professor in tree fruit pathology at Pennsylvania State University.
Just one caveat. The apple pictured above got so infected that a crack developed in its skin. If you see such a crack, pay careful attention to that area as it's possible that a more threatening pathogen could have snuck in. If you don't see any signs of mold or decay, it's still probably a good idea to cut out the cracked area, but you don't have much to worry about.
While consumers needn't be concerned, Peter notes that apple scab can be devastating for farmers, and tends to strike in wetter climates. It not only means cosmetically unappealing fruit, but can also cause trees to drop their leaves.
"Apple scab is the most feared pathogen for apple growers," she said.
SOURCES:
Apple Scab – Penn State Extension
I said crabapple, not scabapple!