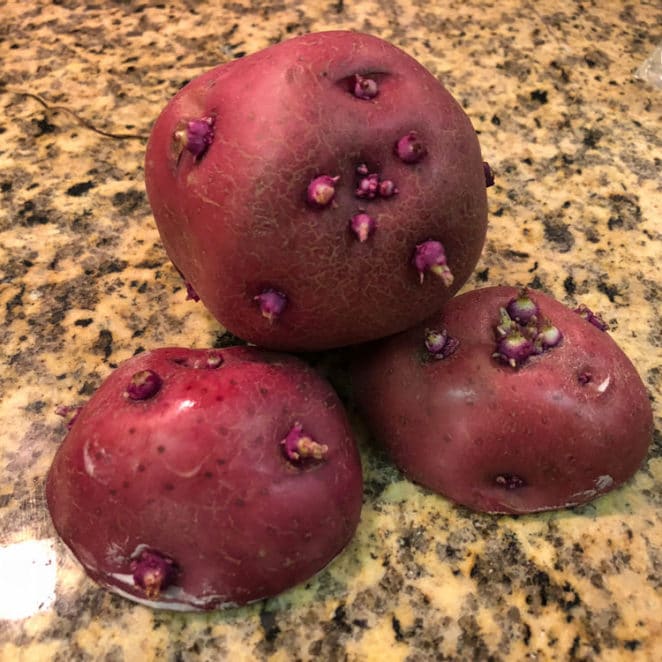 What you see: Sprouts growing from your potato's "eyes."
What it is: The potato trying to grow new potatoes! But the sprout may have higher concentrations of toxins you don't want to eat.
Eat or toss? How robust are the sprouts? If they're just about the size of pen-tips, scrape them off while you're cleaning the potato. If they're longer, cut them out, including the "eyes" they emerged from.
So, can you eat a potato that's sprouting? Here's the story
When a potato starts sprouting, it's just doing what potato plants do—growing and making more potatoes! And like any good parent, the potato wants its family to stay safe. So, sprouts, which are vulnerable once they emerge from the protective cover of soil, come equipped with defensive toxins called glycoalkaloids.
These toxins, which can cause gastric distress, headaches and neurological problems if you ingest too much, also accumulate in potatoes that have been roused from their protective earthen dens and exposed to light (their green color tells you to beware; more here).
But, not to worry, dear potato eater. You can easily cut out the sprout and the "eye" it emerged from to remove the risk. And even if you do ingest some extra glycoalkaloids, rest assured that trace amounts will likely exit your system quickly with no distressing gastric events. Plus, as long as your potatoes don't have any extra bitter flavors, you can be reasonably confident that you avoided the glycoalkaloid threat.
Size of the potato sprout makes a difference
Nora Olsen, potato specialist for the University of Idaho, says she doesn't worry much about small sprouts; typically, she'll try to scrape off pen-tip sizes sprouts from potato eyes while she's cleaning her potatoes. But she doesn't stress about them, even if some small sprouts remain.
"Little sprouts like this are not adding any major concerns," she said of the russet potato with the small sprouts pictured below. "I frequently eat potatoes with sprouts like this."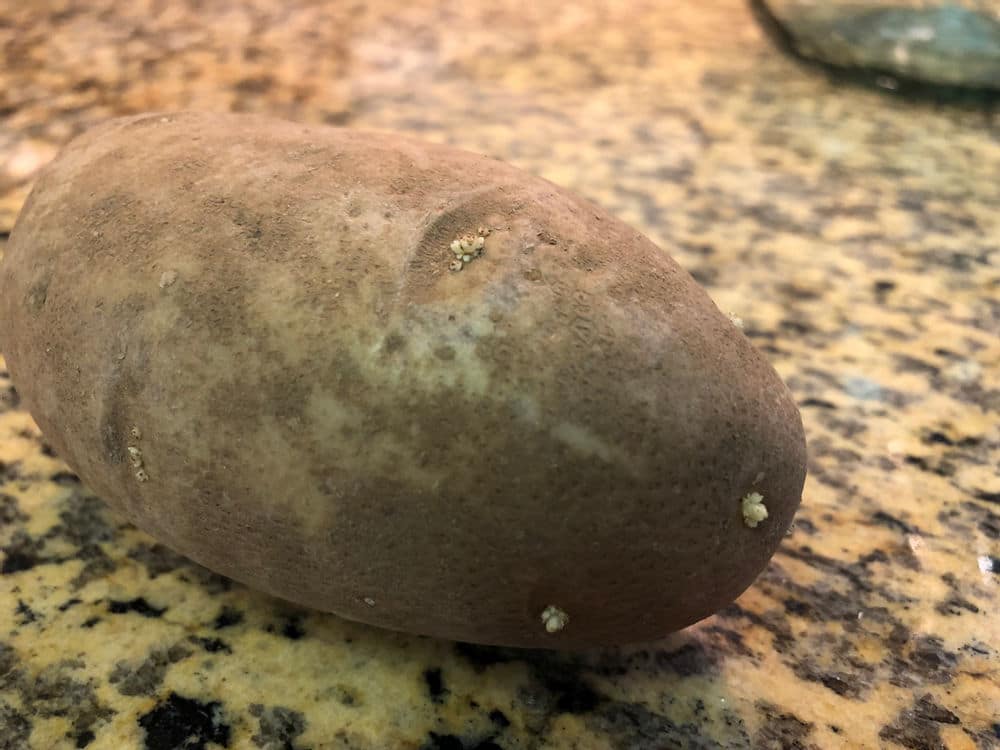 As the sprouts get bigger, concern about their concentration of glycoalkaloids also increases. But, only in the sprout and the "eye." The rest of the potato is unlikely to be packing excess toxins (unless its skin is also turning green), but the sprouting action will degrade its texture. A big sprout or a bunch of advancing sprouts may leave the potato dehydrated with a "flabby" feel, Olsen said.
So, if you're seeing sprouts the size of those in the image below, or bigger, you'll want to cut them out, and prepare for the possibility of an off texture.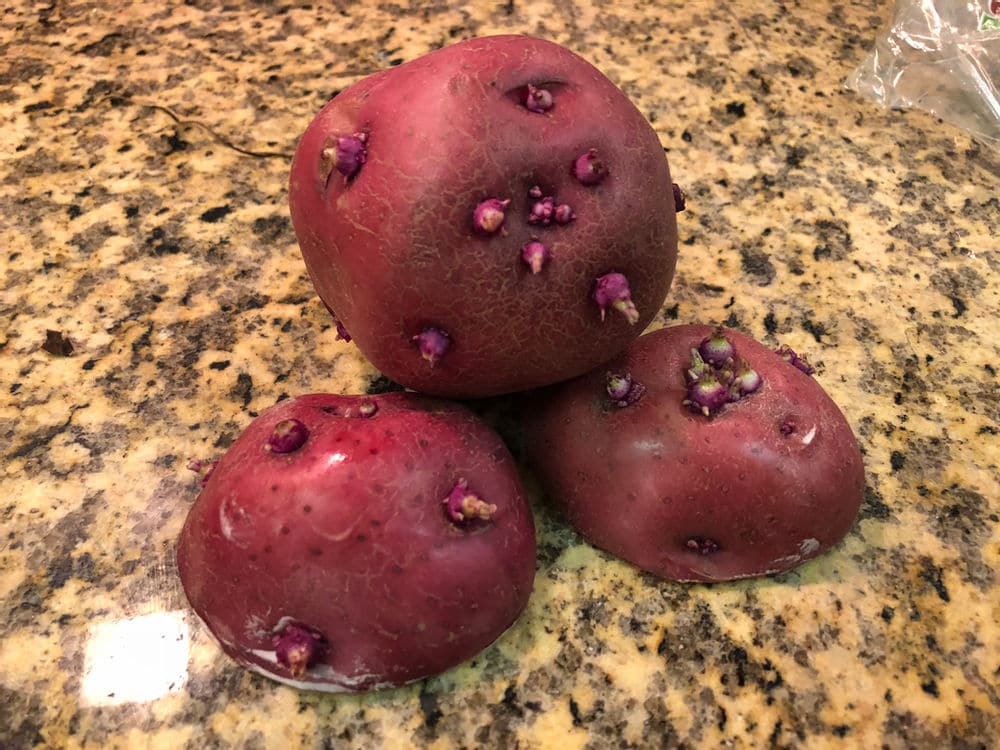 "You're not going to want to eat a salad of sprouts"
Glycoalkaloids deserve our respect, and we have good reasons to be wary of them in our potatoes, but it's also worth keeping in mind that it's only at elevated levels that they can cause problems.
Glycoalkaloids are present in all potatoes at low and harmless levels; they actually contribute to the potato flavor you know and love. To get sick, a 200-pound person would need to eat something like 20 pounds of normal potatoes. Obviously that's not going to happen.
But to encounter ill effects from those glycoalkaloids, that 200-pound person would only need to eat two pounds of very green potatoes, which would probably taste bad and might even make our 200-pound friend's throat burn—a good clue to put down that spoonful of mashed spuds.
Olsen notes that in the U.S., potatoes are bred to have low glycoalkaloid content, further reducing the risk.
As for those sprouts, it's hard to say exactly how many it would take to make you ill, but it would be a lot.
"You're not going to want to eat a salad of sprouts," Olsen said.
I told you they had eyes in the backs of their potato heads!