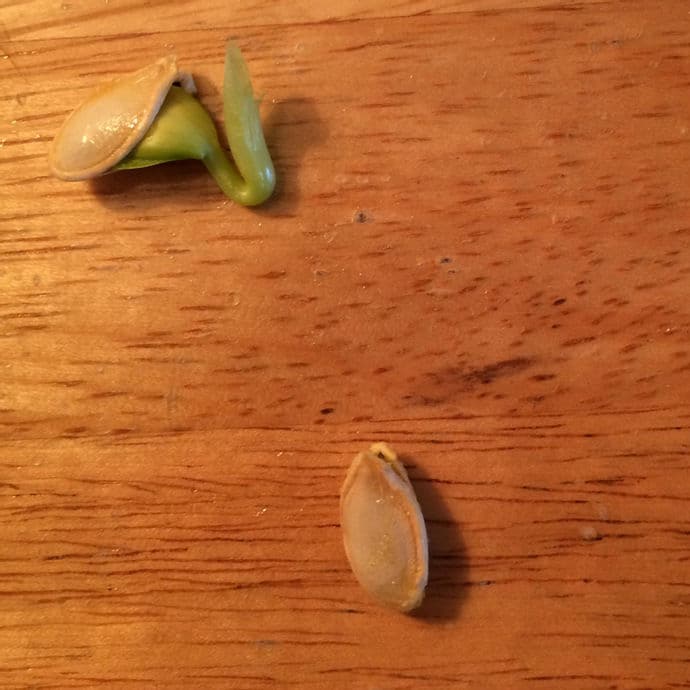 What you see: Sprouting seeds when you cut open your squash.
What it is: Sprouting seeds!
Eat or toss? The squash flesh is still safe to eat and feel free to munch on the sprouts. Keep in mind though that the squash's flavor and texture may not be ideal.
So, can you eat a squash if its seeds have sprouted?
To all passersby this squash may have appeared to have been doing nothing more than resting on my kitchen counter for a month or so. But deep in Squash Hollow things were quite busy; seeds were sprouting!
These seeds responded to warm temperatures and humidity and determined that, well, now was a good time to turn on their growing engines and get to work.
"The hormones that suppress germination are decreased as the temperature and humidity trick the seeds into thinking that the time is right to grow," explained Penelope Perkins-Veazie, a horticulture professor at North Carolina State University.
The technical term for sprouting that occurs inside the fruit (squash are in fact fruit) is vivipary. You may have also seen it in tomatoes and other fresh produce.
Fortunately, there aren't any extra food safety issues to worry about here. The squash sprouts themselves are edible (if you try one, please report back on how it tastes!), and their sprouting doesn't cause any kind of chemical change that would make the rest of the squash unsafe.
However, by the time a squash is sprouting, its orange flesh is no longer in its prime. It will probably be stringier, less sweet, less nutty, Perkins-Veazie said. I ate the butternut squash that yielded these slightly sprouted seeds and found it to be OK. However, Kitchn writer Emily Han reported that a more heavily sprouted spaghetti squash she encountered tasted very bitter.
There's a logical reason why the squash's quality declines when the seeds sprout, Perkins-Veazie explained. "It's taking its resources and feeding the seeds."
SOURCES:
Penelope Perkins-Veazie. Horticulture professor. North Carolina State University
I'm a squash seed
See me sprout
Sprouting, sprouting,
Sprout it out!