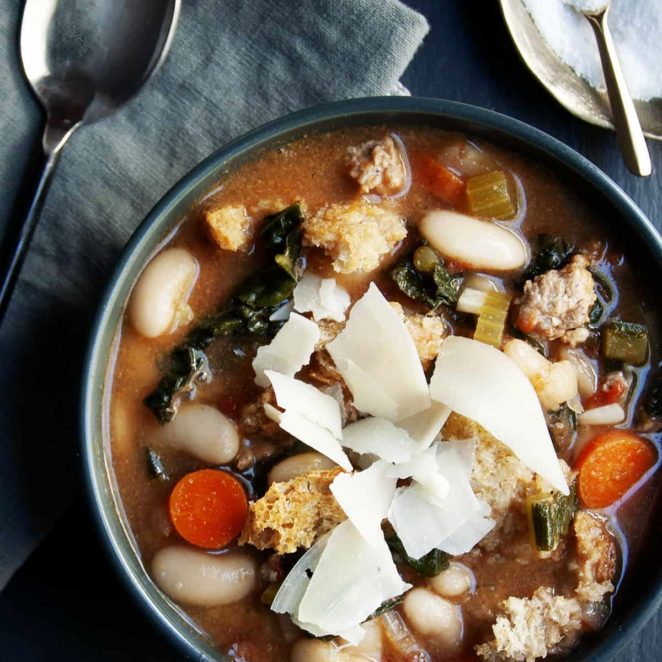 Soups are pros when it comes to gracefully transforming odds and ends into dinner. We've collected five recipes from popular food blogs that demonstrate just how easy that can be (and thanks to the featured blogs for providing photos!). Need to use up veggies, meat, cheese, pasta, bread, herbs and spices? These recipes should provide a little inspiration.
And don't forget that you can make broth from veggie scraps by following this flexipe. Potato cooking water, as well as aquafaba (the liquid from canned chickpeas) can be used to give soups a more velvety texture.
Scrappy cooking is souper fun, no?
This cabbage soup from Vegan Huggs is super flexible. Don't have onions? Try leeks or shallots, suggests recipe developer Melisssa Huggins. Don't have carrots and celery? How about parsnips or a handful of mushrooms? The flavor will vary, but it will still be delicious, Melissa writes. She even offers an alternative if you don't have tomato paste: deglazing the pan with dry white wine. Get the recipe, and all the ideas for substitutions and change-ups, at Vegan Huggs.
Here's another basic soup where the substitutions are easy. Trade the sausage for another type of meat (or no meat), trade the orzo for another type of pasta and trade in and out whatever veggies you have to use up. Try not to skip the onions, celery, carrots and crushed tomatoes, though. They form the backbone of this soup from My Sequined Life. Recipe developer Alyssa notes that it's "a great recipe to use up odds and ends from your kitchen."
Sharon from The Helpful GF says this simple stew will provide a home base for stray veggies, whether they're fresh, canned or frozen. The recipe also calls for potato starch, but you can skip that, or just save the water from boiling potatoes–it contains a nice amount of starch that will help thicken the soup. While we're at it, you could also use aquafaba, aka, the liquid in a can of chickpeas, to help give the soup body.
By definition, this soup is designed to soak up leftovers! Its Italian name translates to "reboiled" because it literally calls for leftovers–vegetables, pasta, beans, bread, cheese, you name it–to be tossed in and "reboiled." Some people make a pot and then add leftovers as time goes by, resulting in a soup that dishes out new flavors every day. Pinch and Swirl has more.
Abi of Very Veganish calls this a "kitchen sink" recipe. The base of tomato, onion, carrot, celery and seasonings can host whatever other veggies (or cheese, or meat or plant-based meat) you need to use up. Abi writes, "Throw in whatever you've got on hand to make this comforting plant-based, vegan, oil-free soup."