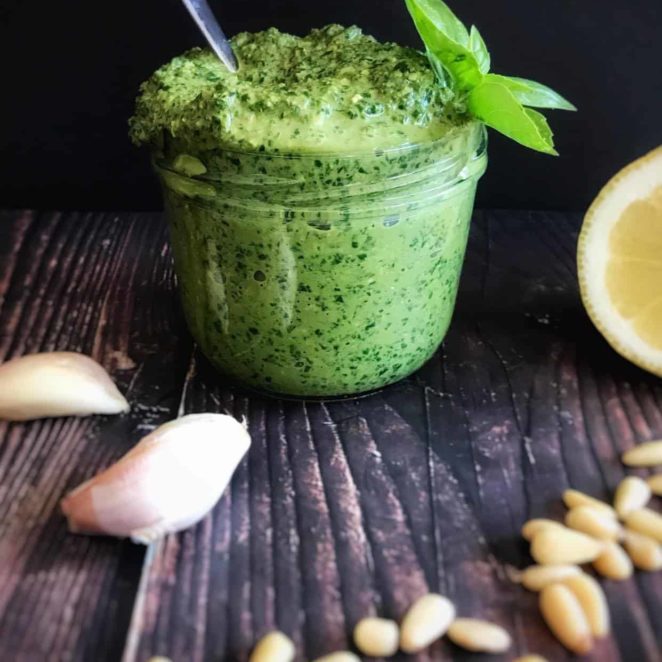 We previously shared a collection of desserts that use aqaufaba (the liquid leftover after preparing chickpeas or simply opening a can of them) in everything from brownies to frosting. But aquafaba isn't just for sweets; its rich texture and prowess as an egg replacer make it adept at savory preparations too. It can whip up into mayo, help a crunchy coating stick before frying, form the backbone of a pasta sauce, or bind ingredients together. You can also add it to a soup to create a thicker texture.
We've polled pro food bloggers and curated a number of savory preparations that show just how many tricks this humble, often-wasted ingredient can do. All images are courtesy of the featured food blogs (thanks, everyone!). Really, what can't aquafaba do?
In this recipe from Vegan Huggs, pieces of marinated tofu are dipped in aqaufaba to help a crunchy coating of panko and sesame seeds stick. Brilliant and delish! If you have enough marinade leftover, we recommend simmering it on the stove and using it as a sauce.
Aquafaba flexes its fluff muscles in this easy recipe from Plant Based Folk. The chickpea water provides the texture, a neutral oil gives it richness, lemon juice stabilizes and mustard (and/or) any herbs of your choice add flavor for a mayo that you'll want to slather on everything. While we normally suggest tweaking portions to what you have on hand, this is a recipe to follow to the letter as aqaufaba fluff can collapse if the ratios aren't right.
Whether you're trying to use up some aquafaba or want to make a pesto that's lighter than the standard cheesy and oily affair, this recipe from No Sweat Vegan is here for you. Full-bodied aquafaba stands in for oil; nutritional yeast does the job of parmesan cheese (though if you're not trying to make it vegan, cheese is still welcome!). Recipe developer Julianne Lynch also suggests adding some spinach, in addition to the basil, to up the nutrition. While you're at it, you might scour your fridge for other veggies that need using up and might be nice either in the pesto, or dipped in it.
You might think of crepes as dessert or maybe just breakfast fare, but they can also be a perfect backbone to a meal. Eggs are often a central ingredient, but Sarah of Champagne Tastes has figured out how to coax aquafaba into crepe-y goodness. While you might fill them with fruit or chocolate for dessert, they'll be dinner decadent with cheese (vegan or not) and veggies.
Chickpea and aquafaba recipes
The recipes below aren't a good fit for leftover aquafaba (because they also use chickpeas so presumably you'll be opening a new can), but they are great examples of how you can use the liquid along the with the beans. Something else to consider? If you're making soup, just add the liquid too! It'll keep the broth thick and comforting.
Veggie Desserts recipe developer Kate Hackworthy says the secret to a fluffy hummus, like this one which blends carrots into the mix, is to add a few spoonfuls of aquafaba. (If your carrots come with the tops still one, make pesto too!)
Oats, chickpeas and carrots form the "meat" of this "burger" while aquafaba binds it all together. Developed by the nutritionist behind VNutrition, this burger is great topped with sriracha or whatever sauce strikes your fancy. Might we suggest a nice aquafaba vegan mayo (see above!).
Still more ideas for savory preparations with aquafaba
Aquafaba's versitility is legendary. Here are a few more ideas before we go: