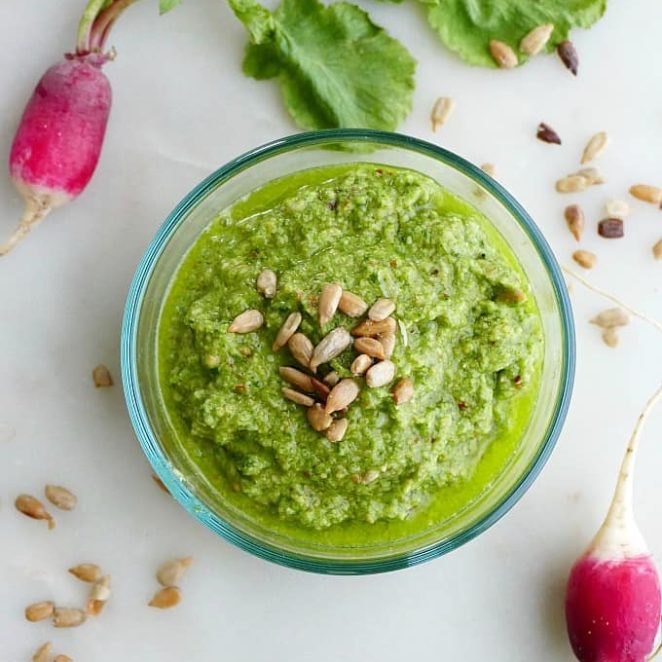 Yes, you can eat radish greens! You might sauté them, cook them in soup, put the tenderest ones in salads or blend them into pestos. They can up nutrition and flavor, while helping you stretch your grocery dollar and avoid waste.
Here are four recipes for radish green sauces and pestos. Thanks to the featured food blogs for sharing their photos and root-to-leaf brilliance!
Pro tip: Use the greens atop root vegetables quickly! And separate the roots and greens as soon as possible after purchase. Shelf life is diminished while the greens are still attached.
Combine radish greens, roasted red pepper, garlic and olive oil in a food processor and in a few pulses you'll have this sauce from Sarah's Cucina Bella. Sarah says that the greens add an earthy flavor. She recommends the sauce on chicken, steak or seafood. You might also consider customizing it to your taste, or based on whatever you have on hand. Need to use up any nuts, cheese or other leafy greens? Toss them in!
Trade basil for radish leaves and pine nuts for sunflower seeds and you have this bright, budget-friendly pesto from It's a Veg World After All. Lizzie, the registered dietitian and recipe developer behind it, notes that radish greens can be pretty dirty. She suggests some dunks in a bowl of cold water to help remove the grit. We suggest a final rinse too.
Gina Matsoukas of Running to the Kitchen describes radish greens as having "peppery bite." She urges you to try them in salads, but notes that greens that are smaller and more tender (i.e. younger) tend to be better raw. As the greens age they get fuzzier. But that texture can be blended away in a pesto. While the recipe above relies solely on radish greens, Matsoukas's take also includes some mild baby greens. She recommends her radish green pesto on anything from meat to toast.
Here's a root-to-leaf main course take on radishes from Cooking Chat. Recipe developer David recommends roasting the radish root while you spin a pesto from its greens. Layer everything atop pasta and you have an earthy, spicy, no-waste dinner.