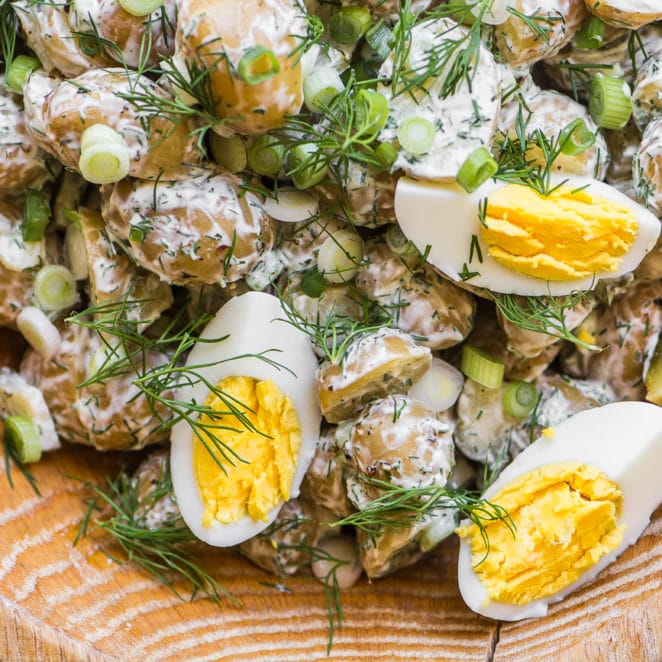 One of the easiest and fastest ways to make the most of your pickle juice is pouring it over your salad. Treat pickle juice like the vinegar in a standard dressing recipe; it adds acidity and complexity.
What kind of salad is a good fit for a pickle juice dressing? Any salad, really, but we've collected some inspiration from food bloggers across the internet (and many thanks to them for providing photos). Whether it's a carb-happy potato salad, or a veg and protein-forward burger salad, your pickle juice can pull its zesty weight long after the last pickle has been plucked from the jar.
And make sure to check out our other posts about making the most of pickle juice, including pickle juice bread and dips and spreads you can make with pickle juice.
Celery, onions, and beans wear a creamy, pickley sauce in this salad from Two Healthy Kitchens. The recipe authors say it's a riff on a signature salad from a now-closed Ohio restaurant (Nick Anthe's) that a local paper once called "mysteriously magical blend of textures and flavors." We knew pickle juice was magic!
Here's a great base for your pasta salad dreams. Homemade Heather's recipe marries a pickle juice dressing with white cheddar cheese, elbow macaroni and pickles themselves. It's just begging for your to load it up with veggies like broccoli, peas, carrots, mushrooms… whatever sounds good and is available in your kitchen!
It's a burger! It's a salad! It's a use for pickle juice! For those dodging carbs, this salad from Haute & Healthy Living totally makes up for the missing bun. The registered dietitian who developed the recipe says pickle juice is the secret in the signature special sauce.
Here's another entry in the burger salad canon, this time from The Clean Eating Couple. A loaded salad, complete with bacon, cradles a meat pattie while dressing all the crunchy, fresh veggie burger toppings in a pickle juice vinaigrette.
Coming to you live from EatOrToss headquarters is Pickle Juice Panzanella! It's as easy as toasting cubes of stale bread (or bread otherwise at risk of going to waste), as you would for a regular panzanella, and dressing them with olive oil, pickle juice and the seasoning that strikes your fancy.
With peas, onion, turnip and carrot, this salad mimics a potato salad, but with fewer carbs. Pickle juice helps it sing.
For a potato salad that's truly all about the potatoes, check out this Dill Pickle Potato Salad, brought to us by The View From Great Island. Pickle juice blends with mayo and buttermilk to give everything a silky coating. Hard boiled eggs and fresh dill accent the potato-y goodness.
Potatoes, pickles, celery and onion form the backbone of this Texas potluck darling from Mommy Travels. Pickle juice, mustard and some other saucy ingredients help everything shine.
Pickle juice plays well with potatoes, hardboiled eggs, celery and a host of spices in this Southern Potato Salad from Southern Bytes.