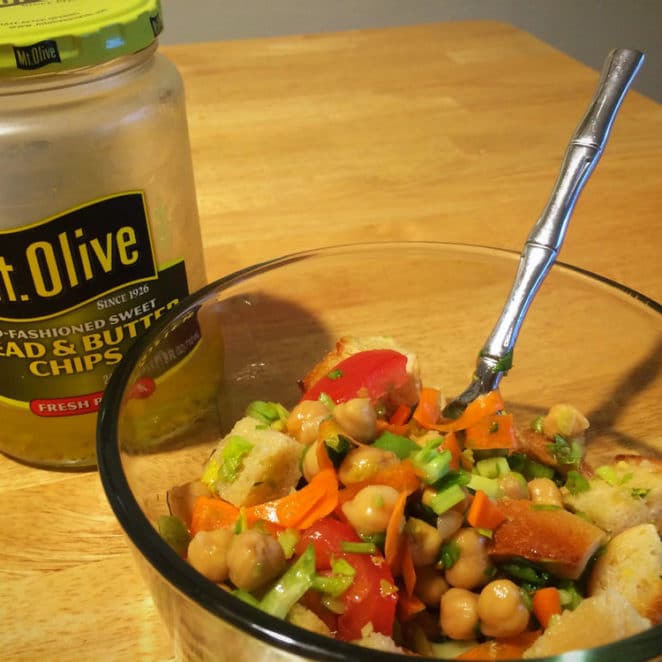 You know how sometimes you're about to move to a new house and you think to yourself, "I really should use up that jar of pickle juice I saved."
And then your husband goes to an event and comes back with a bagel that he rescued from being thrown away.
And you just made soup the night before and still have some fresh carrots and celery in the fridge.
I know, it happens to all of us.
But, fortunately, there's a great outcome here. It's something I'd like to call, "Pickle Juice
Panzanella."
This is simply a specialized version of Panzanella where instead of using vinegar, you add a generous pour of pickle juice. It's delicious!
Print
Pickle Juice Panzanella
---
Description
A way to use up pickle juice and stale bread. Even bagels!
---
Sturdy bread. The bread might be stale or otherwise needing to be used up. A day-old bagel worked out well for the rendition pictured above.
Veggies that you have available.  I used carrots, celery and tomatoes. I found this was a great way to use the softer stalks and leafy areas of the celery. I simply chopped them very fine. And of course, if you still have some pickles in that jar, definitely throw those in too!
Legume of some sort. Chick peas worked well for me. Other beans, like white beans or kidney beans would be nice as well.
A generous pour of pickle juice. I'd estimate that I used about half of a the liquid left over after we had emptied this jar of its pickles.
Olive oil. Use this for toasting the bread and add just a drizzle to the salad.
---
Instructions
Tear bread into bite-sized pieces. Toss with olive oil and toast.
Chop veggies. The size doesn't matter, but it's nice to keep them relatively uniform. Since I was using crunchy veggies like celery and carrots, I kept them pretty small. I also added chopped tomato, but left those pieces bigger.
Add veggies and bread to bowl. Stir well. Ideally the bread is absorbing lots of tomato juices!
Add beans or chickpeas. (Bonus tip: chickpea water, also known as aquafaba, has all sorts of uses, so go ahead and save it!)
Add a generous pour of pickle juice.
Pour some olive oil over everything.
Keep tossing and calibrating until it all tastes just right!
Try to say "Pickle Juice Panzanella" five times fast.