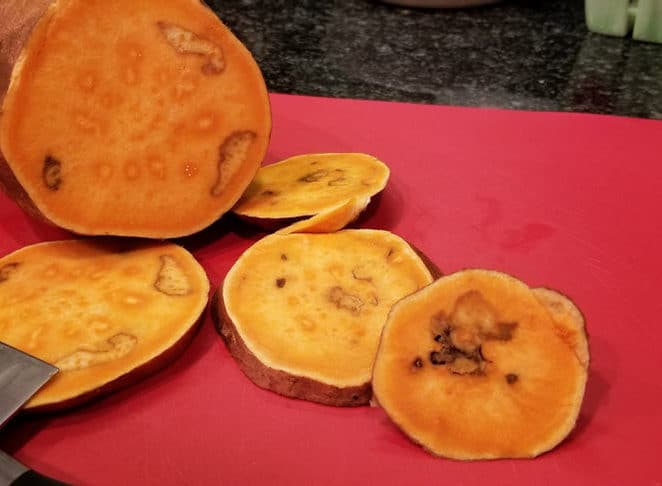 What you see: Discolored, dry-looking patches in sweet potato flesh, more toward the outside than the inside. The exterior of the sweet potato probably looks normal.
What it is: Dead and dying cells, aka "internal necrosis." Scientists are still trying to understand why this issue strikes a common sweet potato variety.
Eat or toss: Cut off the affected areas. The rest of the sweet potato is still fine.
Dead and dying cells create off colors in this sweet potato
Normally, the plant cells in our fresh, raw produce are alive, even breathing. But in this sweet potato something went wrong and clusters of cells are dying.
The discolored areas and the flesh immediately surrounding them will probably taste bitter and otherwise "off," a sign of cellular distress. Researchers call this condition "internal necrosis."
It sounds grim, but you don't have to scrap your dinner plans. This is a quality issue, not a safety issue and with a good trim, the rest of an afflicted sweet potato should cook up just fine. Amanda M., a Washington, D.C. reader who sent us the photo above, confirmed that the inner areas of her necrotic roots tasted normal. Indeed, internal necrosis tends to strike closer to the sweet potato's exterior, leaving the central portions perfectly edible.
But, this disorder is also sneaky: Typically, nothing on the potato's exterior will signal that things aren't well within. Only slicing into it will reveal the problem.
Covington sweet potato disorder is "an enigma"
And no, the sweet potato isn't infected with any kind of vicious disease. Rather it was, somehow, at some point, stressed by its environment and certain cells eventually started to give up the orange ghost.
"That is a physiological disorder that's still somewhat of an enigma," said Louisiana State University horticulturalist David Picha. The disorder, whose cause has stumped scientists so far, impacts a newer sweet potato variety.
When this condition shows up, Picha said it's likely that something in the field didn't go to plan—possibly too much or too little water, too warm or too cold weather or an agricultural treatment that rubs the potato the wrong way. The sweet potatoes are usually fine when they're first harvested, but after some time in storage, this problem shows up in a small, but not insignificant percentage of Covington sweet potatoes. This variety is prized for its high yields, long shelf life and uniform size, but the longer afflicted roots are stored, the worse the internal necrosis.
"Some years it's much worse than others," Picha said. "It's highly variable."
As for dinner, he suggests trimming to isolate the good parts and opting for a dish that involves a nice mash or puree.