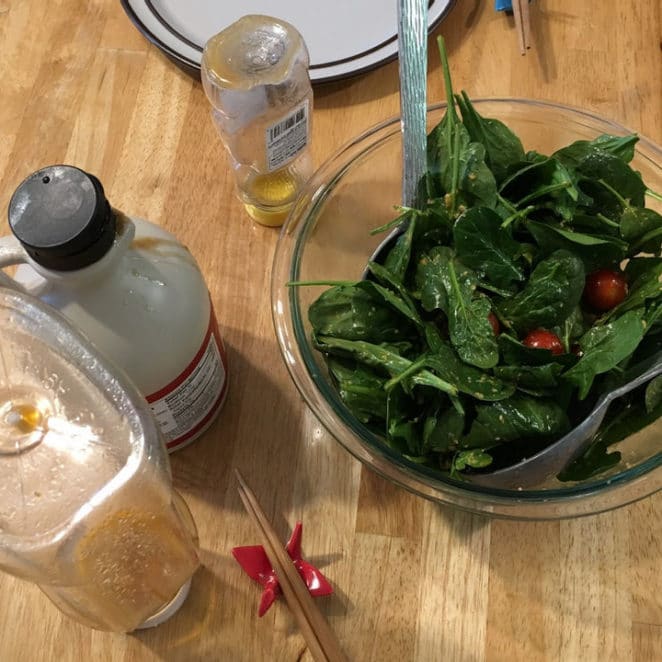 The other night I was making my favorite tofu recipe, which involves a ginger-garlic marinade and is basically foolproof. (Stay tuned and I'll post it here one of these days!)
I found myself with leftover ginger, and I had planned to serve a spinach salad, so I wondered if I could whip up something like that ginger dressing they serve at Japanese restaurants. After some Googling I learned that that dressing often contains ingredients like ketchup, honey, soy sauce, and, of course, ginger (example, example).
This was very convenient because I had several nearly empty bottles of those ingredients, and I had recently read this Food52 piece about how shaking some oil in nearly empty bottles and jars can help you extract the last bits and be the jumping off point for some fantastic salad dressings.
And, thus, I give you:
Print
Last Remnants Ginger Dressing
---
Description
A great way to use up and extract the last drops from your sauce jars, ketchup bottles, maple syrup jugs and honey dispensers while making a delicious dressing.
---
Soy sauce. Maybe you have some takeout packets you need to use up?
Ginger. One or two small "thumbs" is a solid amount, but if you're cooking your main course with ginger, chances are whatever is left over will yield a nice dressing.
Olive oil
Last remnants of ketchup or another tomato-based or tomato-adjacent sweet sauce. Ideally the last bits of a nearly empty bottle. Barbecue sauce could be interesting. As could chili sauce or cocktail sauce. Put some olive oil in the jar and shake until you loosen as much as possible.
Last remnants of honey and/or maple syrup, or something else sweet. Just as with the ketchup, slosh around some oil to help extract the final drops.
Last remnants of anything else you want to experiment with. Mayo? Horseradish? That random specialty marinade?
Additional ketchup, honey, etc., as needed (just in case the last remnants don't carry you all the way there)
Salt
Pepper
Something acidic. Rice vinegar and/or lemon juice would work well.
OPTIONAL:
Garlic. Fresh or garlic powder.
Celery or carrots or another veggie you can blend to help give the dressing body
Sesame oil (I think this is important to give it a certain signature flavor, but it's not required)
Water to help thin the dressing, as needed
Any herbs or spices that sound good to you!
---
Instructions
Put ginger (and fresh garlic or other vegetables, if using) in a food processor and blend until smooth.
Put some oil in all of the "last remnant" bottles you'll be cleaning out. Slosh around and pour the results in with the ginger.
Add salt, pepper, and any other spices you may be using.
Blend again.
Taste and blend and add more oil, ketchup, honey, vinegar, soy sauce, or whatever else you think sounds good until the dressing lands where you want it to.
Use to top any salad. We liked it on spinach!